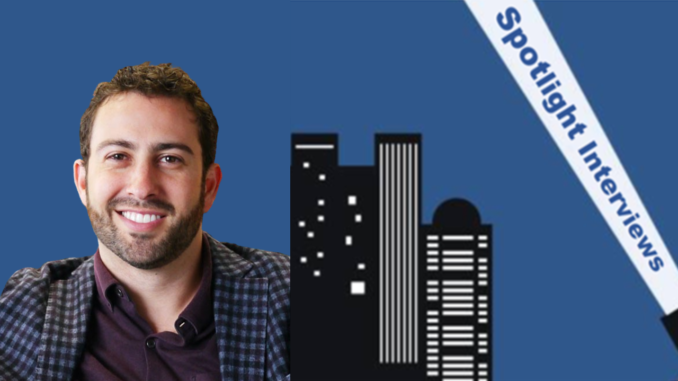 Zach Goldstein is the CEO and Founder of Thanx, a leading guest engagement and retention platform helping restaurants and retailers become more digitally agile to maximize customer lifetime value. Prior to earning his MBA from Stanford, Goldstein honed his experience in the customer loyalty space at Bain & Company, helping companies perfect their retention and reward strategies as early as 2005. Goldstein was recognized by Nation's Restaurant News on it's 2020 Restaurant Power List and has earned a reputation as a vocal thought leader in the restaurant-tech space through his Food Fighters podcast and authorship such as the widely-revered Four Horsemen of the  Restaurant Apocalypse?
In this interview, Goldstein explains why the concept of loyalty has become a hot topic in the restaurant industry. He identifies the primary problems with traditional loyalty programs and explains how Thanx addresses these issues. He also highlights the importance of understanding a customer beyond demographic data and explains why he believes that the next wave of restaurant technology innovation will focus on the capture and usage of customer data to drive lifetime value and repeat purchasing. 
Could you share the story behind founding Thanx and what inspired you to create a customer engagement and loyalty solution for restaurants?
We built Thanx because all restaurants — from the largest enterprise-level brands to emerging concepts — need to focus on driving customer lifetime value and may struggle to capture the data necessary to be successful. These days "loyalty" is a hot word in the restaurant industry with the buzzy launches from Chipotle, McDonald's and others over the last few years. Brands that were ahead of the curve on digital guest engagement, customer data, and loyalty thrived during COVID; the rest struggled. Thanx has become a leading complete guest engagement platform with loyalty at its core; we've helped rid the industry of punch cards and expensive buy-x-get-y reward models, but we still have a long way to go.
Can you talk a bit about your platform capabilities, including those that were added with last October's Loyalty 3.0 upgrade – e.g., your Loyalty Points Engine, Self-service Loyalty Program Designer, and Self-service Rewards Marketplace?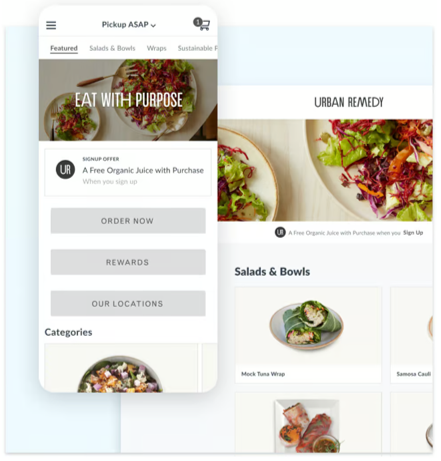 Last year, Thanx announced a major platform redesign (Loyalty 3.0) focused on helping restaurants build distinctive, non-traditional loyalty programs that cater to the individual and focus on access exclusivity over rote discounting. With innovative non-discount rewards such as Hidden Menus, a real-time configurable points marketplace, and true marketing automation, we took a major leap forward in helping restaurants incentivize customers to order direct, mitigating losses to third-party delivery aggregators.
We see four primary problems with traditional loyalty programs:
One-size-fits-all loyalty drives poor revenue capture and a high dependency on discounting.
Overly complicated marketing tools lead to generic emails with low engagement rates and little return on investment.
Clunky ordering user experiences (app and web) and poorly integrated loyalty drive guests to the convenience of third-party delivery apps, sacrificing lifetime value.
CRM data is siloed from other systems, limiting restaurants' ability to be customer-centric.
Our solutions at Thanx:
On-brand loyalty that captures more data and is not discount-dependent; we're the only loyalty platform that automatically associates all purchases (in-store and online) with the identity of the consumer via credit card tokens.
Powerful marketing automation that is easy to use and drives measurable revenue; some of our most powerful one-click campaigns include second and third purchase activation and next-day cart abandonment automations.
Loyalty-integrated ordering experiences that win and retain guests on first-party channels; not only do we build five-star mobile apps, but we're the only loyalty player to also offer on-brand mobile web ordering as well. Thanx ordering experiences feature industry-leading cart conversion of nearly 80% across app and web.
Modern platform that is designed for interoperability and data portability; the data we collect is owned by our merchants and we make it easy for them to access with industry-leading innovations such as Snowflake Secure Data Sharing.
Finally, this is the hospitality industry; our service levels dominate our competition. We offer dedicated Implementation Managers, strategic Customer Success advisory, real-time in-dashboard chat, and even front-line user support.

What sets Thanx apart from other restaurant technology solution providers in this space in terms of technology and the client benefits you deliver?
Most loyalty programs don't evolve. At Thanx, we are continuously adapting and ideating on existing systems to improve them and give our customers the best loyalty there is. Loyalty programs are often ideated and launched years prior and stay stagnant as customer behaviors, cultural landscapes, and macroeconomic industry variables all change drastically.
Take our Loyalty 3.0 program, for example. Loyalty 3.0 enables restaurant brands to update significant aspects of their loyalty program in real-time. Changes like dollar-to-point conversion ratios, rewards values and availability, or the look and feel of customer-facing digital touchpoints used to take weeks if not months (and some cases years) of lead time, countless meetings with technology vendors, and tens of thousands of dollars.
Loyalty 3.0 delivers marketing agility previously unavailable in the loyalty category. Now, teams can ensure the conversion value of points is more viable as margin pressures surface, remove rewards that are experiencing a major increase in COGS, and offer non-discount rewards to incentivize desired customer behaviors without expensive discounts.
What strategies or tools does Thanx offer for creating personalized customer experiences, and how, exactly, do these tools contribute to increasing customer spending?
Thanx empowers brands to use data to deliver personalized customer experiences that win guests' attention amidst the noise of crowded inboxes and delivery marketplaces. But just because you have the data doesn't mean you are maximizing its utility. Thanx delivers differentiated digital touchpoints at scale, using specific tools to ensure each communication is personalized, on-brand, and drives measurable sales lift.

An example of a successful personalized guest experience can be found in Thanx's partnership with Eureka! Eureka! Restaurant Group announced their new loyalty program and mobile app to enhance the personalized connections with its guests, both in restaurants and the digital space. The Eureka! "Friends with Benefits" program offers loyalty members complimentary truffle cheese fries, $10 for every $200 spent, early access to new menu items, birthday perks, and surprise rewards. With the enhanced loyalty program and app, Eureka! gains actionable insights into guests' purchasing behaviors, allowing for more personal communication and sophisticated targeted marketing to encourage repeat visits and direct orders. This means it's easier for Eureka! to deliver their unique brand of hospitality.
Who are some of your customers? What categories or types of restaurants are likely to benefit most from your platform capabilities?
Our customers range from quick-service restaurants to casual dine, from regional powerhouses to national enterprise brands. To name a few: Hopdoddy, Bubbakoo's Burritos, MoBettah's, Union Square Hospitality Group, Velvet Taco, and more.
Can restaurant operators quantify the benefits in terms of cost savings, incremental sales lift, and/or other financial metrics? If so, can you share some recent success stories?
Yes, I've written extensively about how brands should measure the success of their loyalty program. In short, vanity metrics such as app downloads, total users, and reward redemption mask a loyalty program's true impact (or failings). We focus our customers on four metrics and provide easy tools to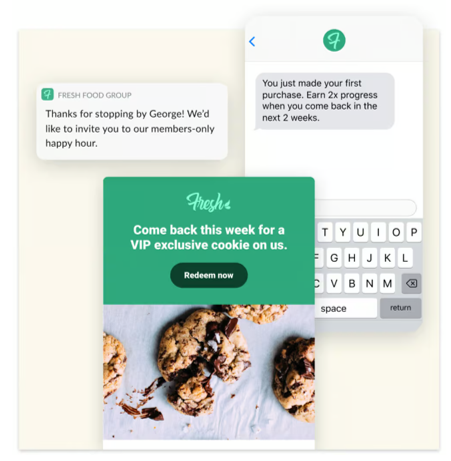 move the needle on each:
Capture Rate — the percentage of revenue each month attributable to known customers in your loyalty program / CRM. Industry benchmarks suggest 20% is strong; Thanx programs regularly achieve more than double that.
Activation Rate — the percentage of customers who make a third purchase. The lifetime value of 3+ purchasers is often 10x that of single-time visitors. Most brands do not have any tools to identify and activate these guests to create regularity.
Retention Rate — the percentage of already activated customers still purchasing six months later. When transitioning from legacy loyalty programs to Thanx, it's common to see a 2-3x increase in retention rate.
Effective Discount Rate — the average percent of revenue being given away to drive the above behaviors. Most brands have no clue about the cost of their loyalty program and have no tools to moderate it; Thanx customers can go from discounts to Hidden Menus (for instance) in minutes. This dynamism gives brands far greater control over margin than ever before.
Here's a great webinar on the topic with our VP Marketing Emily Rugaber.
Could you elaborate on the role of artificial intelligence in Thanx's customer engagement platform and how it enhances personalized communication with customers?
There's a big opportunity to surface personalized recommendations in the restaurant digital experience to increase conversion and upsell — it's an excellent use case for AI. World-class loyalty programs are more than rote rewards — they are about delivering personalized experiences based on the purchasing data of every customer. The best programs out there are running tens of unique customer segments; the opportunity with AI is to run hundreds or thousands with the same amount of effort.
Today, Thanx is using machine learning and other leading-edge AI tools to better identify and group customers into segments; this allows marketers to set up automations that send the right message to the right customer at the right time thud increasing conversion, whether on digital ordering channels (such as suggestive upsell) or email marketing. In the future, we look forward to adding content creation tools to allow mass-scale personalization with one click.
What role do consumer demographics play in Thanx's approach to customer engagement, and how does the platform utilize this data effectively?
Demographic data is actually a very poor approximation of behavior. Gender, race, ethnicity, and even age are poor predictors of what a customer will buy next. What is, however, an excellent predictor of what a customer will buy next…what they have bought before. This is why CRM and loyalty are so critical; once you understand a customer beyond demographic data — when they dine with you, what they eat, which stores they frequent or which digital channels they prefer, what scale of promotion encourages them to change behavior and which they tune out — you have a far better chance to impact those behaviors in the future.
Can you provide more insight into the proprietary credit card integrations at the core of Thanx's technology and how they contribute to accurate customer spending data?
Thanx is unique in our category with direct integrations to all the credit card companies (e.g., Visa), allowing us to seamlessly reward consumers just for using their payment card. In fact, we can associate multiple cards to one consumer so that as they use them interchangeably, they still get recognized. This ease makes loyalty far more engaging (especially for high-value customers), captures more data, and actually reduces discounting because it eliminates what we call the "Swiss cheese effect," where brands give a discount to what they think is a lapsed customer when in reality the customer just didn't self-identify via loyalty. Thanx captures 100% of transactions.
What are some common challenges that restaurants approach Thanx with, and how does your platform address these challenges effectively? Can Thanx help address the current challenges that restaurants are facing with respect to labor shortages?
Every restaurant wants loyalty these days. Most are also trying to improve margins and view that rote buy-x-get-y discounts are problematic. Thanx has been an industry leader in advancing new loyalty models that prize status over discounts — Hidden Menus (similar to Chipotle's app exclusive quesadilla) are an excellent example.
How long does it take for a new restaurant to get up and running with Thanx? What is the pricing model? Is there a setup fee?
Most brands can be live in a couple of months, and we provide a dedicated Implementation Manager to support every new customer.
In your role as the CEO, what are your primary responsibilities?
Hire and retain great talent. Set strategic direction for the business and ensure collective alignment. Listen to customers.
What advice would you give to restaurants looking to transition from traditional methods to data-driven customer engagement strategies like those offered by Thanx?
Stop fearing change. Yes, it's scary to transition your POS, and lots of brands have struggled with hardware migrations. But your marketing and loyalty program? Your app? These are pieces of software that can be easily swapped with minimal disruption. If you don't have the right partner or solution in place… change it. It's hard running a restaurant; everything good you are doing is a waste if you do not have the right tools to re-engage guests after they dine with you. Generic emails and rote discounts won't cut it.
Sometimes, brands tell us they are going with another competitor because it's $10 cheaper. Then, instead of using our non-discount rewards tools and best-in-class ordering UX, they use a default ordering experience and a basic discount-based rewards program. Focusing on cost is short-sighted; invest in technology to drive revenue.
What do you see as the biggest challenges and opportunities in the customer engagement space for restaurants? To what extent can Thanx address these challenges?
Reduce friction: Make the program a hassle for customers. It will always be limited in scale and never attract your biggest spending guests. Eliminate hassle. Most customers, but women particularly, hate providing their phone number at the register.
Discount dependency: If you reduce the hassle of your program, it turns out you can offer fewer discounts. Focus on access and exclusivity over discounts — it drives better change in behavior at lower cost.
Ignore vanity metrics and focus on what matters: Capture Rate, Activation Rate, Retention Rate, and Effective Discount Rate.
How do you envision Thanx evolving in the next few years? Are there any new features or technologies you're excited about implementing? Where do you see the company a few years from now?
The last few years saw some massive restaurant technology businesses emerge riding the wave of digital disruption — Olo, Toast, and Doordash all saw IPOs because restaurant consumption moved off-premises and they were well-positioned to accelerate this evolution. We saw this happen with retail/ecommerce. The next wave will see major innovation in the capture and usage of customer data to drive lifetime value and repeat purchasing. Digital ordering is table stakes — customer lifetime value is the real battleground. At Thanx, we believe we can be the category leader in this next major wave of restaurant tech innovation.