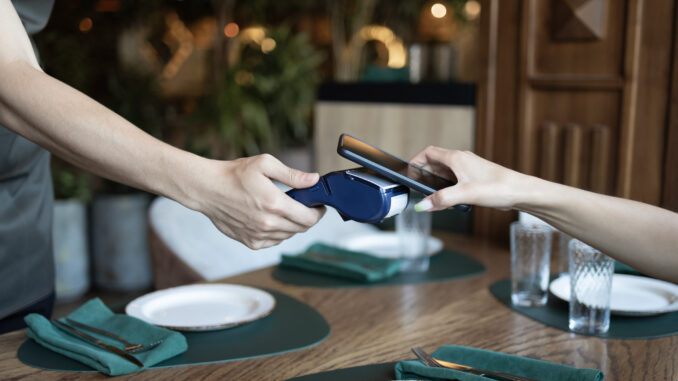 Before the arrival of the credit card, restaurants operated on a cash basis and kept no records whatsoever – servers didn't even use written customer cheques. Then, in the 1950s, came the credit card, which the restaurant business was instrumental in popularising. The success of card payments meant payment tech stagnated, until very recently.
Strict restrictions on social distancing accelerated new ways to accept orders and serve diners. With these processes, new payment options have emerged offering greater convenience for customers, while restaurants benefit from greater operational efficiency.
The likes of Prezzo, Itsu and Côte Brasserie are on a growing list of restaurants that have gone card-only for good, citing reduced costs, quicker customer service and improved hygiene. These small milestones each brings us a step closer to a cash-free society. So, what's the next step?
Leverage consumer devices
In a survey carried out by Pizza Express, 69% of diners said waiting for the bill was the most frustrating part of eating out. Fast-food joints and fine dining alike recognise this and are leveraging innovative payment methods to increase efficiency and enhance customer satisfaction. This has led to a surge in mobile payment options in the hospitality industry, with many restaurants taking advantage of the smart devices most of us now carry. Around 950 million mobile users perform online mobile payments, and to capitalise on this, restaurants can now print QR codes for payment on receipts or generate a QR code on a mobile POS device.
Diners can then scan the code with smartphone cameras, which takes them to a payments page, similar to making an e-commerce payment. Another option is to text a link to pay via SMS so that customers can complete transactions on their own devices. Restaurateurs can also choose to include payment features in their loyalty apps, which customers may prefer because it gives them more control over the payment experience.
More than 80% of restaurant operators have already incorporated some form of mobile payment into their operations, recognizing the benefits it brings to both the business and the consumer. However, others are reluctant to make the move to mobile, often citing the additional training and outlay required as a barrier to entry, along with concerns for those customers uncomfortable using the technology.
It's important to remember though that payment options are as important as ambience and food quality for many patrons, especially the younger cohort who value convenience and technology in equal measure. Embracing mobile payments is therefore essential to staying competitive.
Beyond mobile payments
Advances in artificial intelligence (AI), data capture, robotics and the metaverse will change the restaurant space even further in the coming years. They will mean restaurants can offer customers a more personalised experience and unprecedented convenience.
We may even see a robot workforce and android waiters. Bella Italia has already trialled The BellaBot, which can carry up to 40kg on four trays to deliver and retrieve plates from tables. Such tech could certainly be adapted to take payments, but gaining the trust of diners may prove an obstacle.
One thing is certain, we have yet to reach the pinnacle of convenient contactless payments. Just recently Amazon unveiled its 'pay by palm' technology, which offers consumers an effortless option for payment and identity verification by simply holding their hand over a scanner.
Despite concerns about the security of storing biometric information, I believe this could be the next evolution in quick payment, and one that will eventually be commonplace in the restaurant industry.
Once such biometric payments become the norm, voice payments can't be far behind. Setting up a voice payment system is very similar to paying through any other kind of online wallet, linking a credit/debit card to their device. The difference is that the user then doesn't need to go into the app and press any buttons to initiate a payment; they simply prompt the device using a voice command.
New tech has been instrumental in helping restaurant businesses survive the pandemic. Now, it's helping them thrive by building on the safe, quick, contactless payments diners have come to expect.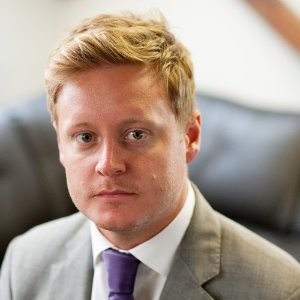 Christopher Gilderson is Head of Retail & Hospitality at PXP Financial, which offers a single unified payments platform to accept payments online, on mobile and at the point of sale. He is responsible for ensuring professional and efficient customer service to clients across the globe, incorporating Service Desk, Customer Operations, Technical Operations and Infrastructure & Security functions. Powered by inhouse acquiring, a variety of payment methods and financial services, PXP processes more than EUR 22.7 billion annually through its unified gateway. Previously, he worked at Servebase, holding a variety of positions before being promoted to Head of Customer Services.
Are you an industry thought leader with a point of view on restaurant technology that you would like to share with our readers? If so, we invite you to review our editorial guidelines and submit your article for publishing consideration.