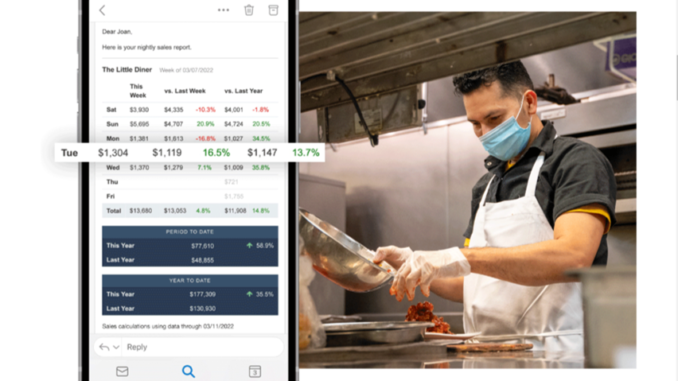 MarginEdge, the leading restaurant management and bill payment platform, has been chosen by TouchBistro to power TouchBistro's Profit Management, a robust back office management system built just for restaurants. Powered by automation and driven by data, the centralized solution provides restaurants with the tools required to track food costs in real time, adjust recipes for maximum profitability, process invoices digitally, streamline accounting processes, standardize inventory management across multiple locations, and more. This addition completes a comprehensive suite of back-of-house solutions for improved profitability.
"Our company mission is to help restaurant operators streamline their back-office operations and there is no better way to accomplish this than by partnering with a world-class point of sale system. We are excited to have been chosen by TouchBistro to complete their restaurant management solution offering," said Bo Davis, CEO of MarginEdge.
Key features of TouchBistro Profit Management Powered by MarginEdge include:
Inventory & Food Usage Automations: Track food costs and pinpoint waste more accurately with a digital inventory management system that updates prices daily.
Invoice Processing: Scan, email, or take a photo of invoices and handwritten adjustments, and all the details will be captured and digitized in less than 48 hours for up to date food costs.
Recipes and Menu Analysis: Maximize profitability in real time with a centralized solution that calculates plate costs, automatically updates ingredient prices, and pinpoints profitable and high-volume items.
Back Office Efficiencies: Order products from any vendor, pay an unlimited number of bills (U.S. only), and transfer products and recipes between locations, all directly within the platform.
Accounting Integration: Sales and labor data is pulled nightly from TouchBistro POS and instantly exported to accounting software.
Multi-Location Management: One centralized, privacy-protected platform to standardize inventory management across locations and access consolidated sales reports.
TouchBistro now offers everything needed for restaurateurs to maximize profits and offer an unparalleled guest experience – all in one place. "TouchBistro's new back-of-house capabilities will help restaurateurs run more profitable operations. These tools give them the real-time visibility they require to control costs and streamline workflows. MarginEdge and TouchBistro share the same passion for helping restaurants succeed. We are excited about our partnership and what we can achieve together," said TouchBistro's Chairman and CEO Samir Zabaneh.
Does your company have news it would like to share with our readers? If so, we invite you to review our editorial guidelines and submit your press release for publishing consideration.