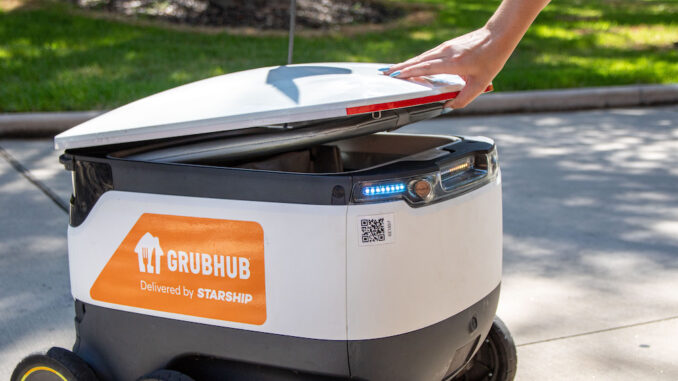 Nearly half of Americans are open to ordering food from a restaurant that delivers using drones or autonomous vehicles, according to a recent Deloitte survey, a 3% increase from a similar survey conducted in 2021. This trend is largely attributed to the changes brought about by the COVID-19 pandemic, which accelerated the adoption of technology in the food delivery industry.
Restaurants and transportation companies in North America and Europe are experimenting with automated delivery techniques to reduce costs and enhance customer satisfaction. Drones and sidewalk delivery vehicles are the most commonly utilized robots in the food delivery industry. Drones, regulated by the Federal Aviation Administration (FAA), have been authorized for delivery operations by companies like UPS, Wing Aviation, Amazon, and Walmart.
Autonomous delivery vehicles, about the size of a large cooler, have already become a reality. These self-driving machines navigate sidewalks and crosswalks to deliver packages. Policymakers raise concerns about how these vehicles will interact with people and other vehicles in crowded urban environments. While promising less congestion and greener shipments, safety and infrastructure usage are also important considerations.
Companies like Bolt and Starship Technologies have been trialing sidewalk deliveries in multiple countries and plan to launch robot deliveries in as many as 500 cities across 45 countries. Uber has partnered with autonomous vehicle startup Nuro to test driverless food deliveries. With the continuous advancement of robot technology and improvements in navigation, efficiency, and safety through machine learning, the widespread adoption of drones and sidewalk delivery vehicles in the food industry seems imminent.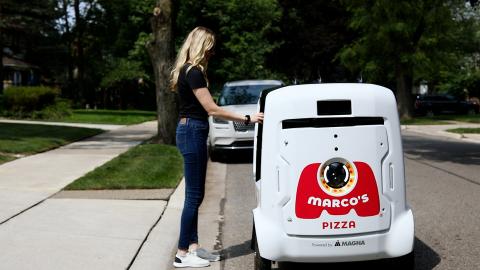 Last week, Marco's Pizza, a pizza chain with close to 1,200 locations, announced that it is working with global automotive supplier Magna to try out a range of last-mile solutions, including autonomous vehicles.
Urban areas are the best markets for online ordering, with 75% of urban consumers engaging with restaurants digitally. However, robotic delivery technology is still relatively new, and consumer acceptance remains a concern. A survey revealed that 71% of consumers are uninterested in robotics or automated systems delivering food, with concerns about reliability and order accuracy being the main reasons for hesitation.
Despite these challenges, some companies are pushing forward with robotic delivery. Grubhub has partnered with Starship Technologies to launch a robot food delivery service at the Sam Houston State University campus in Texas. The fleet of autonomous robots will deliver orders from eight campus eateries, providing a fun and innovative solution for students.
While there are still challenges to overcome, such as consumer acceptance and cost-effectiveness, the future of drone and sidewalk deliveries looks promising.