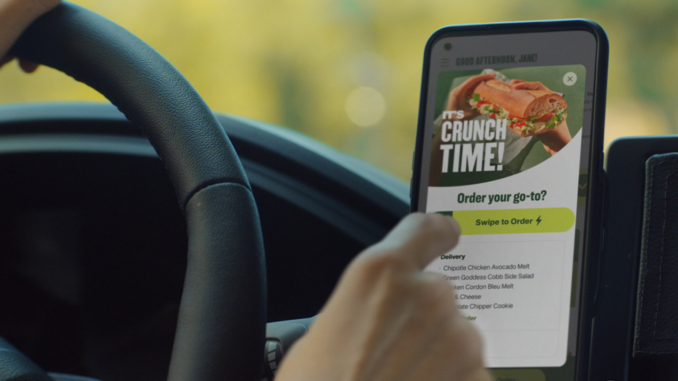 Panera Bread has launched a new feature on its app, Crunch Time Ordering, designed to streamline the ordering process for its customers. The feature allows users to pre-program their meals to be ordered at a set date and time with a single swipe. This feature is one of the first in the industry to offer such convenience and is available exclusively for MyPanera members on the Panera iOS app.
The Crunch Time Ordering feature is designed to simplify the ordering process during busy periods. By swiping once on the Panera app, customers can quickly place their favorite stored Crunch Time order for pickup or delivery. The feature is designed to cater to customers who are in a rush during lunch breaks or trying to fit in a family meal amidst a busy schedule.
The Panera app is also designed to offer personalized recommendations based on customers' preferences and time constraints. The integration of Crunch Time Ordering into the Panera app allows customers to choose the Crunch Time that suits their individual schedule, ensuring that their orders are prepared and ready when they need them.
The process of using the feature involves favoriting go-to meals, scheduling and selecting a "Crunch Time", and then swiping to place the order when notified. This feature is designed to solve Crunch Time with one swipe in the app and have the Panera meal prepared for pickup or delivery when needed.
Panera Bread's Chief Digital Officer, Meenakshi Nagarajan, expressed excitement about the introduction of Crunch Time Ordering as the ultimate one-swipe ordering option on the Panera app. She highlighted the convenience the feature offers to customers leading busy lives.
In addition to the new feature, Panera has also launched an extension to their popular Toasted Baguette sandwich platform – Stacked Toasted Baguettes. These new offerings come with added protein from smoked, pulled chicken and are available in three varieties.
Panera Bread, which opened in 1987, has grown to operate 2,131 bakery-cafes in 48 states and in Ontario, Canada. The company is part of Panera Brands, one of the largest fast-casual restaurant companies in the U.S., comprised of Panera Bread, Caribou Coffee and Einstein Bros. Bagels.
The launch of Crunch Time Ordering comes as restaurants compete to offer increasingly frictionless digital experiences. Panera Bread has been at the forefront of this trend, implementing technologies such as in-car ordering through the vehicle's dashboard and voice-assistant ordering through smart home devices.
The company has also been focusing on improving the overall digital experience to drive further engagement. Earlier this year, George Hanson, the restaurant's then senior vice president and chief digital officer, spoke about the brand's effort to integrate digital technologies wherever they could improve the customer journey.
Panera Bread has also launched Drive-Thru Pick-Up, combining the ease of the digital ordering experience with the convenience of the drive-thru window. Digital sales at Panera represent more than 50 percent of total system sales, and the company has continually invested in the digital guest experience, creating new ways to order and receive food.
In March of this year, Panera began testing Amazon's palm-scanning technology in St. Louis as a faster way for customers to connect to their loyalty program and pay. The company expanded the test to more restaurants over the next few months, including some operated by franchisees.
Panera is often among the first restaurant chains to test new technology solutions, especially ones aimed at maximizing efficiency and increasing the speed of orders. Last September, it began testing AI technology in drive-thru lanes with the aim of improving and enhancing the guest experience.
Last June, Panera opened its first Panera To Go, a new restaurant format offering digitally-enabled convenience for pick-up and delivery orders. The company plans to open two additional Panera To Go locations in California and Washington D.C. this year and will also evaluate adding in kiosk and catering orders to the new format in the future.
In 2020, the company launched "Panera Curbside," a geofence-enabled service that allows guests to have their order delivered directly to their car. The new restaurant model rolling out nationwide features a dual drive-thru with a dedicated pick-up lane among other digitally-powered elements.
Recently, the brand has been actively testing ghost kitchens, with five currently operational nationwide and more planned to open this year. The "Panera To Go" concept differs from ghost kitchens in that the new format offers a branded front-of-house experience where guests can quickly pick up digital orders on their own.
Panera Brands, which oversees chains with more than 3,800 locations, generated $4.8 billion in revenue in 2022. Panera Bread has 53 million members of its loyalty club, which account for 51% of sales at the chain. In May, the company announced the establishment of its next generation of CEO leadership and Board governance in preparation for its eventual IPO.