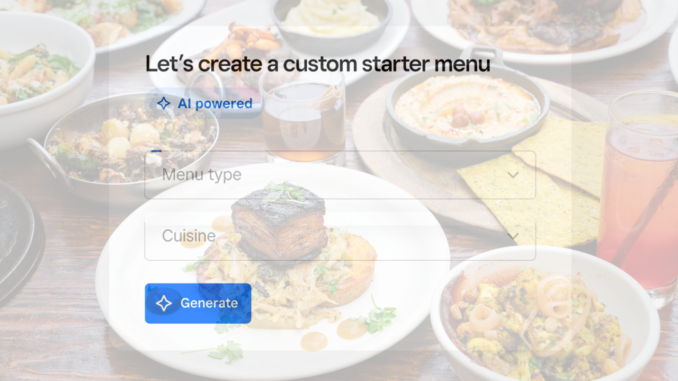 Financial services platform Square is integrating generative AI into its technology platform capabilities. After announcing plans to incorporate AI features to boost retail sales earlier this year, Square this week unveiled ten new generative AI capabilities focused on customer content creation, onboarding, and setup, including a feature the solution provider has dubbed Menu Generator.
This move is seen as an effort by Square and its parent company, Block, to rejuvenate the Square platform following a challenging period of declining performance. The new generative AI tools cover various aspects of business operations, with the AI Menu Generator and Photo Studio backgrounds being highlighted as standout features.
The Menu Generator allows restaurant owners to create comprehensive menus quickly, including details such as ingredients, descriptions, and pricing. Owners input details like cuisine type, number of sections, dish names, and ingredients, and the AI generates professionally formatted menus ready for printing or display. The menu is also integrated within Square's point-of-sale software, ready for transactions once approved by the restaurant owner.
While Square's approach is comprehensive, it is not the first to use generative AI for enhancing menus. Food services tech startup Lunchbox began testing its AI Food Generator platform for creating synthetic images of dishes using OpenAI's DALL-E 2 text-to-image model earlier this year.
One of the new AI-powered features, Menu Generator, promises to enable restaurants to create a "full menu" on Square in "just minutes," according to a press release. This tool is particularly valuable for new restaurant sellers who may not have a menu ready for upload during onboarding. With Menu Generator, restaurants can create a full menu on Square and have the flexibility to update or change the menu later.
Despite the potential of generative AI, there are concerns about its reliability, especially considering the potential for inaccuracies that could result in lawsuits over false advertising. However, Square assures that the process, which uses a variety of third-party generative AI models, including OpenAI's GPT-3, GPT-3.5, and GPT-4, is not fully automated. Customers are given the opportunity to make edits before a menu is published online.
Square's Point of Sale app for restaurants is designed to streamline operations for various types of food and beverage establishments, including full-service restaurants, quick-service restaurants, fast-casual restaurants, bars, and breweries. The app offers a robust point of sale system that facilitates service at home, in the office, curbside, or in the dining room. It enables order management, menu setup, table layout management, payment acceptance, coursing enablement, and provides real-time sales reports, among other features.
A new feature of the app is tableside orders and payments, designed to increase server efficiency and improve customer service by eliminating the need for servers to move back and forth from the table to the countertop POS. The app also offers online ordering capabilities, allowing restaurants to manage all orders from the POS, regardless of the delivery service used by customers. It also enables the creation of a customizable online ordering site and integrates with Google, Instagram, and Facebook for broader reach. For floor management, the app allows for customized floor plans, staff tip-outs, cash drawer closeouts, comp and void management, and close-of-day reports. It also enables real-time monitoring of table status and coursing management.
Earlier this year, Square announced the addition of recurring payments tools, including a new Square Subscriptions feature, currently in beta. This feature allows businesses to set up periodic billing models, offering a range of billing models, plan duration options, and the option to offer a free trial.