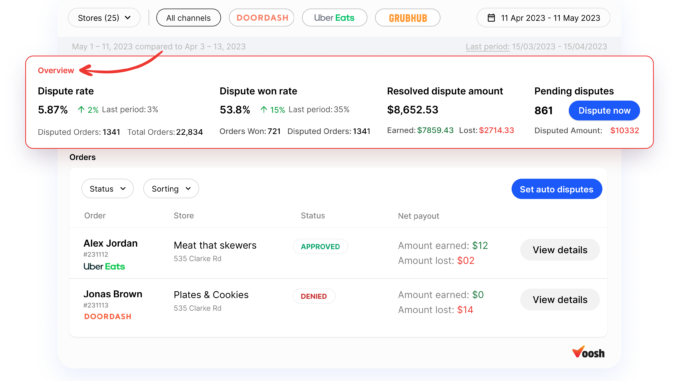 Voosh.ai, a data-driven restaurant analytics platform that reduces order issues, increases sales and boosts delivery margins, is offering a free 30-day trial for all its features. Its one-stop AI-powered solution enables restaurant operators to manage and grow their businesses on third-party delivery platforms. The trial gives operators real-time access to their data across all third-party marketplaces to immediately experience improved efficiencies and savings. 
The rich restaurant data and analytics are gaining popularity in the industry. Voosh proudly serves ten customers, representing over 300 restaurants that rely on the platform to make data-driven decisions and enhance operational efficiencies. Its fast-casual customers have reported an average return of $4,500 within the first 30 days, showcasing the platform's immediate impact on revenue and profitability.
Voosh does not follow the industry-expected percentage-based subscription fee; it charges a flat fee for subscribers based on their feature needs. Key features of Voosh are as follows: 
Dispute Management
Disputes can account for up to 5% of a restaurant's revenue. Voosh empowers restaurant operators to identify, track and dispute unwarranted chargebacks across all marketplaces, safeguarding revenue and ensuring payment for every order.
Reviews and Response Management
The platform allows restaurant operators to efficiently monitor and respond to reviews instantaneously across all marketplaces in one centralized place, saving hours of time each week. Automated replies enhance customer engagement, helping maintain a positive brand image and fostering stronger customer connections.
Real-time Analytics for Informed Decisions:
Voosh provides real-time analytics to help restaurant operators understand sales trends, identify top-performing items and discover growth opportunities. The actionable insights empower businesses to make data-driven decisions that boost profitability and efficiency.
Unified Financial View with Reconciliation Tool:
Voosh's reconciliation tool provides a unified view of financial data, simplifying the tracking of sales, fees, and payouts. The platform enables accuracy and allows restaurant operators to focus on what matters most – running their establishments.
"At Voosh, we're striving to enhance relationships between restaurants and third-party marketplaces," said Voosh Co-founder and CEO Priyam Saraswat. "Our commitment to our customers is reflected in our flat-fee subscription model, disruptive features and our customers' success stories. We are not just providing a service; we are pioneering a new standard for restaurant data and analysis." 
Does your company have news it would like to share with our readers? If so, we invite you to review our editorial guidelines and submit your press release for publishing consideration.