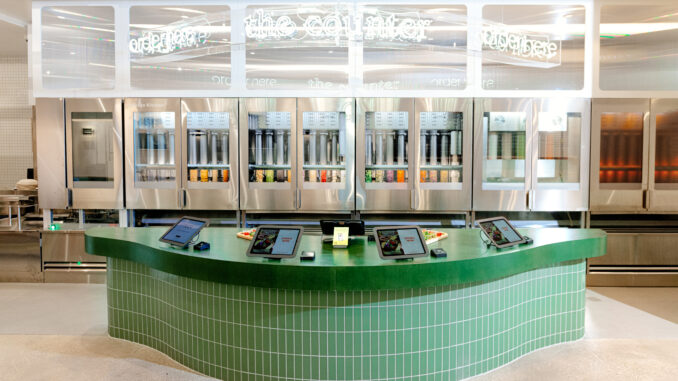 Sweetgreen, the fast-casual salad chain with more than 175 locations, is expanding its use of the Infinite Kitchen, an assembly line robot that can produce up to 500 bowls, plates, and sides per hour. This is a 50% increase in production compared to a typical restaurant's front and digital make line. The Infinite Kitchen was first launched in Naperville, Illinois, and has reportedly improved throughput, portioning consistency, and order accuracy.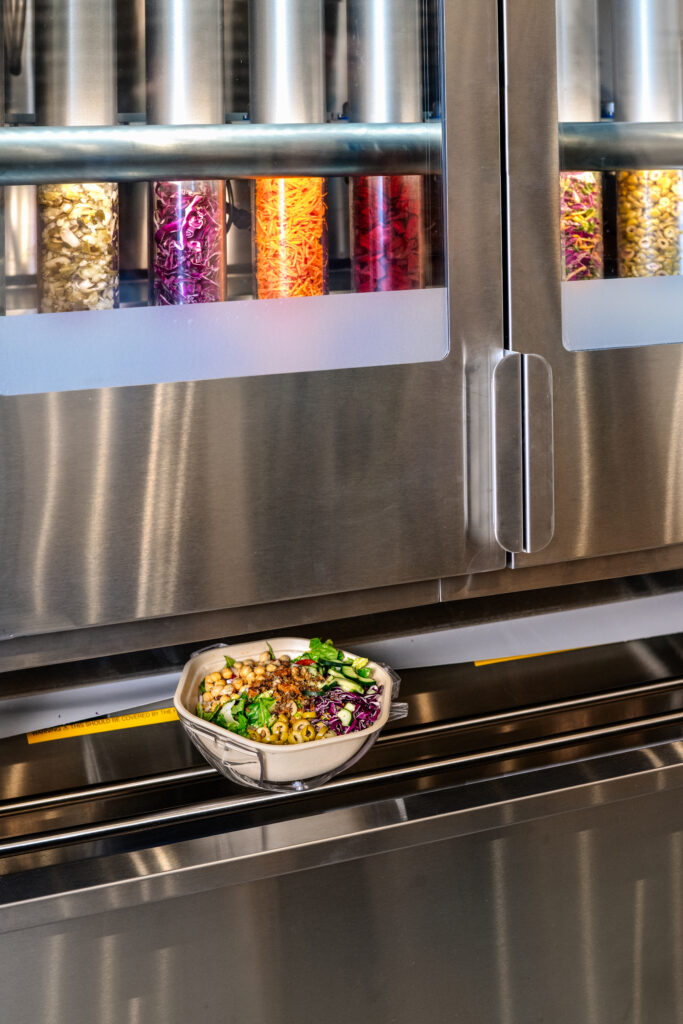 On an investor call this month, CEO Jonathan Neman stated that the technology has allowed staff to focus more on customer experiences. He also noted that the Infinite Kitchen has improved the work environment, resulting in lower staff turnover. The Naperville store reported a 26% margin in June, which is higher than the usual margin for new stores.
Sweetgreen plans to open a second automated restaurant in Huntington Beach, California, in December. The company is also moving into an initial production phase with an equipment manufacturer and aims to deploy seven to nine Infinite Kitchens in new units next year. These automated units will be part of the 23 to 28 new restaurants planned for 2024. The company is slowing down its development to better integrate the Infinite Kitchen technology into its pipeline. It also plans to retrofit two to four existing units with automated make lines next year. These retrofits will occur in high-volume urban stores, where the company is interested in understanding how faster throughput can lead to higher revenue and a higher return on capital.
Sweetgreen's focus on the Infinite Kitchen will slow down its development next year. The company expects to open between 23 and 28 new stores in 2024, compared to 38 new restaurants expected this year. During the third quarter, Sweetgreen opened 15 restaurants, ending the quarter with 220 total units.
Neman has previously stated that Sweetgreen plans to add Infinite Kitchens to all of its new restaurants within the next five years. He also expressed high confidence in the technology as the future assembly line engine. The Infinite Kitchen technology does not do prep work or add finishing touches, tasks which will still be performed by employees. Customers have reportedly reacted positively to the automated make line, appreciating its speed and cleanliness. Neman did not comment on the target average unit volumes for these stores, but stated that the deployment of the Infinite Kitchen will be accretive to the company's return on capital. For a typical Sweetgreen, the chain targets $2.8 million to $3 million in AUVs by the unit's second year.
It was in 2021 that sweetgreen announced plans to acquire Spyce, a Boston-based restaurant chain powered in large part by automation technology. Launched in 2018 and revamped with new technology two years later, Spyce employes automated cooking system, a dynamic, customizable menu and in-house delivery. At the time, the food robots were able to prepare more than 50 recipes, including both both salads and warm bowl food. The terms of the deal were not disclosed, although some industry observers surmised that Spyce's valuation ran between $50 to $100 million, based on its last funding round. Only now are the proprietary robotics finding their way into sweetgreen's kitchens.
Sweetgreen has continued to be an early adopter of next-generation technologies. Last year, the California-based "plant-forward, seasonal, and earth-friendly" opened its first pickup kitchen in the Mount Vernon area of Washington, D.C. exclusively servicing digital orders placed ahead via the company's app, website or third-party platforms. The chain stated that total digital sales represented 66% of the company's total revenue. It's no wonder, then that the company is investing heavily on enhancing its digital experience with a "focus on digital relationships," allowing the company to add new customer channels, drive frequency and additional restaurant volumes.
Earlier this year, as reported here, the company announced that it is partnering with Zipline, a San Francisco-based technology company that specializes in autonomous delivery systems. This move puts Zipline in the same league as other drone delivery companies such as Flytrex and Wing, which have already started delivering meals to customers. Wing partnered with Chipotle in its early days, while Flytrex has partnered with various food chains, such as Jersey Mike's and Burger King.