Are you a technology solution provider with news to share about your latest product launch, funding round, strategic partnership, customer deal and/or other notable achievement? Publish your press releases in Restaurant Technology News and reach a global audience of restaurant IT decision makers.
Your SEO- and mobile-optimized news items will be permanently hosted on RTN and readily found by your target prospects via keyword searches (RTN consistently ranks as the #1 Google search result for restaurant technology).
Paid press releases and other content items, which may include bylined Viewpoints articles that reference your own solutions, are also syndicated through Google News, our partner publications (including Restaurant News, Restaurant News Resource, and Restaurant Magazine) and other channels for added visibility.
All content items are also distributed via our Weekly Dispatch email newsletter to 8,500+ opt-in subscribers, plus 10,000+ opt-in subscribers to Restaurant Activity Report.
Here's a sample newsletter:
PR agencies that represent multiple clients may redeem credits on behalf of any number of different solution providers. Credits may also be applied to Hotel Technology News.
Packages of 30 credits include a large rectangular (336 x 280) side banner or (728 x 90) bottom banner, displayed for one or three months, on every RTN article landing page.
Packages of 36 credits include a top (728 x 90) leaderboard banner, displayed for one or three months, on every RTN page, including the home page, as well as a free (600 x 90) banner ad (2- or 3-time send) in the Weekly Dispatch email newsletter.
Packages of 36 credits also include a 1-month subscription to Restaurant Activity Report via Preopening Restaurants Resource (a Starfleet Media company). The benefits include pre-opening restaurant leads sent twice per week and access to the entire Restaurant Activity Report searchable database of both pre-opening and existing restaurants (a $1,095 value).
A sponsored Viewpoints article may be purchased for three (3) credits. Publication and distribution of press releases and custom success stories require only one (1) credit each.
Credits and ads are automatically tracked. You will receive a notification email when you have used up all of your available credits.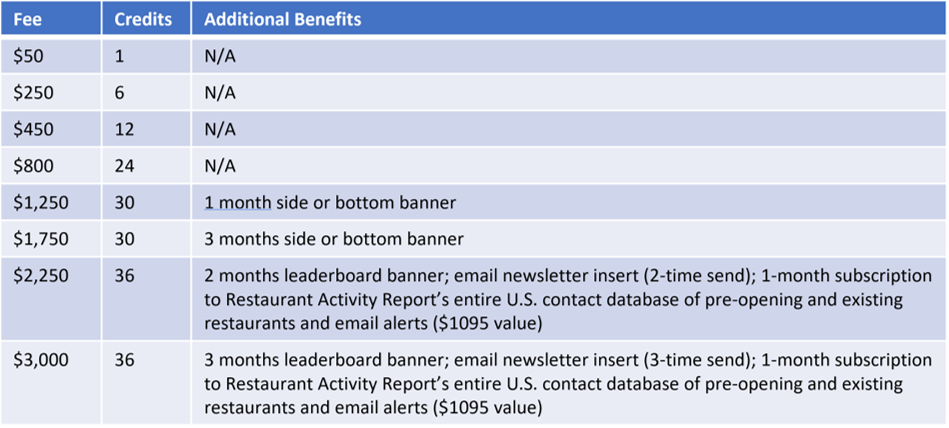 Once your purchase is completed, you may submit your content item(s) to our editorial team via either email ([email protected]) or our online content submission form. Press releases typically publish within 2 to 3 hours of submission during normal business hours (8am to 6pm CST). You will receive a confirmation email once your press release has gone live. Credits may be used as needed and do not expire.
Please make your selection below to get started.