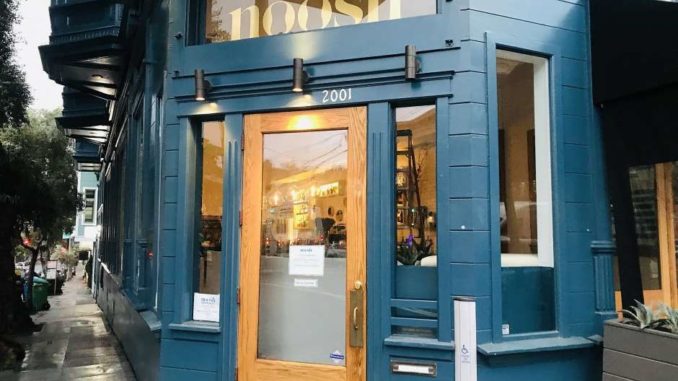 By Debbie Carson, Associate Editor
Noosh, a San Francisco restaurant that just recently opened its doors for business, has already generated a lot of buzz, as much for its Mediterranean-style food and attractive décor as for its next-generation technologies. In a city where many restaurants are experimenting with cutting-edge technologies, including tableside paying solutions, food preparation systems, serving automation kiosks, and robotics of various types, Noosh is blazing some new trails of its own.
For starters, Noosh is equipped with four high-powered wireless access points. These access points are designed to handle even the most extreme internet demands. In fact, each access point can handle the bandwidth capacity of upwards of 500 mobile devices at the same time, all but ensuring there will never be any impedance on service quality.
Noosh is also equipped with 18 security cameras. According to the grand vision for the restaurant, at least some of the cameras will eventually be upgraded with software that enables biometric facial recognition. The facial recognition software will be used to help support customer ordering, service and food delivery, reducing friction and wait times.
Noosh has already deployed a cashless payment system. These systems help reduce liabilities and operating costs and can also improve the guest experience. Payment is scanned at the door at the time the order is placed. Cameras then follow the guests to their tables, tracking where they sit in the restaurant to make sure their orders are delivered to the right person as quickly as possible.
Guests can also place orders via Noosh's smartphone app. The app is integrated with beacon technology, which sends opt-in text messages to people located within a certain proximity of the restaurant. The messages promote special deals and events at the restaurant.
No augmented reality technologies have been deployed as of yet, but that, too, may be just a matter of time.
Much of the credit for bringing these latest high-tech capabilities to Noosh goes to John Litz. He is one of the three partners in the new restaurant venture. Litz is also a member of a Silicon Valley venture capital group called the Band of Angels. In that capacity, he receives funding pitches from dozens of startups every month, many of them in the food tech space.
It seems there is no shortage of emerging solutions that over time may find their way into Noosh and no shortage of ideas that may inspire further innovation at this buzzworthy dining establishment.