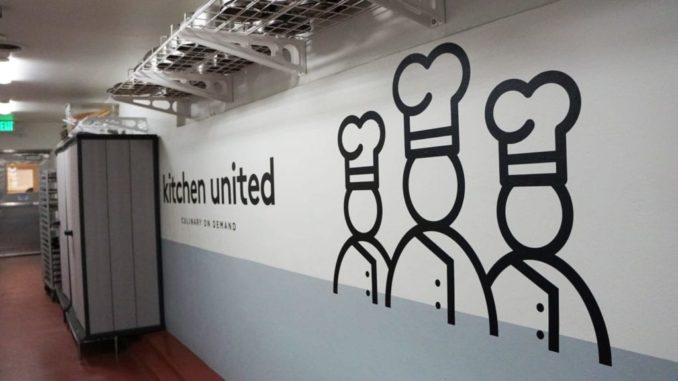 The virtual kitchen concept, which combines next-generation restaurant technology and business models with good old-fashioned food preparation and delivery, is all the rage, backed by many tens of millions of dollars in venture capital. According to William Blair, off-premise restaurant sales last year were $279 billion (with a "b") in the United States alone, with an expectation for that number to grow to $402 billion in 2022.
While there is little doubt that consumers will continue to order up food for delivery, and that virtual kitchens will play an increasingly prominent role in the process, it's less certain which virtual kitchen models will be successful in the long run. One company that is particularly well-positioned for continued growth is California-based Kitchen United, which this week secured a $40 million Series B funding round.
Launched in 2017, Kitchen United offers innovative restaurant chains the opportunity to grow their business without the high cost of building out a standalone restaurant. Kitchen United's commercial kitchen centers each house 10 to 15 restaurant brands, allowing the restaurant to focus on the food, while Kitchen United takes care of the rest.
The company rents space to restaurants with the express purpose of preparing and delivering online food orders, offering them "a turnkey, capital-light way to expand their reach to the off-premise diner." With locations open in Pasadena and Chicago, Kitchen United will soon open in Scottsdale and Austin, with additional sites under construction in Chicago, San Francisco, Los Angeles and other major markets. Over the next 4 years, Kitchen United plans to build 400 kitchen centers and install 5,000 virtual kitchens in high-demand locations across the United States, including New York City.
The new funding round was co-led by RXR Realty – one of New York City's largest real estate owners, investors, operators and developers – and GV, with participation by certain funds managed by Fidelity Investments Canada ULC, DivcoWest and G Squared. Existing investors and founders John Miller, Harry Tsao and others also participated in the round.
Kitchen United is hardly alone in the fast-growing world of virtual kitchens. Among the major competitors is Keatz, which is actually comprised of nearly a dozen virtual kitchens, is the latest player in this fast-growing category to secure big funding, raising approximately $13.5 million. This latest round brings the total amount raised for the Berlin, Germany-based company to approximately $22 million.
Launched in 2016, the company, which bills itself as the "largest community of virtual restaurants," operates a network of virtual kitchens designed specifically for delivery order fulfillment, with customers placing orders online or via an app on their mobile device. Offering eight different "brands" out of its shared kitchens, Keatz's menu items are available for delivery through multiple services, including Deliveroo, Uber Eats, Glovo, Just Eat, Delivery Hero, Takeaway and Foodora. Keatz offers food items that it deems to be well-suited for delivery by car or bicycle.
The culinary options range from vegan cuisine to Thai curry to Hawaiian poke and Mexican burritos.  The company has its own soup brand and also offers a variety of salads and wraps, which apparently travel well. Currently, all of Keatz's virtual kitchens are located in Germany, the Netherlands, and Spain. But that may be not be the case for much longer as the company looks to expand its operations overseas.
The Keatz model differs from some other variations on the theme. Rather than partner with existing restaurants, the company maintains its own portfolio of restaurants designed for deliver-only. The company is also unique in that it has adopted a hub-and-spoke approach to meal preparation. All meals are prepared, and even cooked, in a centralized kitchen. the meals are then shipped frozen to distribution kitchens in various strategic locations.
Other startups have also jumped on the virtual restaurant bandwagon over the past couple of years, with varying degrees of success. ClusterTruck, with locations in Indiana, Ohio, Kansas City and Denver, operates a virtual kitchen with an extensive menu of meals that it prepares and delivers through its own delivery fleet. The Indianapolis-based company has raised $10 million in funding. Taster (formerly known as Mission Food), headquartered in France, is another good example of a virtual kitchen. The company has raised more than $5 million to date for its takeaway and delivery-only food brand. Startups that include Green Summit Group, which has "commissary kitchens" in New York City and Chicago, and CloudKitchens have launched collectives of virtual kitchens in the United States over the past couple of years.
As reported here, Chicago-based 2ndKitchen, a technology solution that enables businesses without a kitchen to serve food seamlessly using a custom menu from nearby restaurants, secured funding to expand its operations. Even delivery companies are starting to get into the game, particular in Europe. Uber Eats recently announced that it would be piloting a virtual kitchen concept in Paris. Deliveroo has operated its own virtual kitchens in Europe for more than a year. It may be only a matter of time before drone delivery companies join the fray.
In the end, the marketplace for virtual kitchens is still in its infancy. It's unclear which companies and which business models will eventually come to dominate. But one thing is clear: Virtual kitchens are real and here to stay.