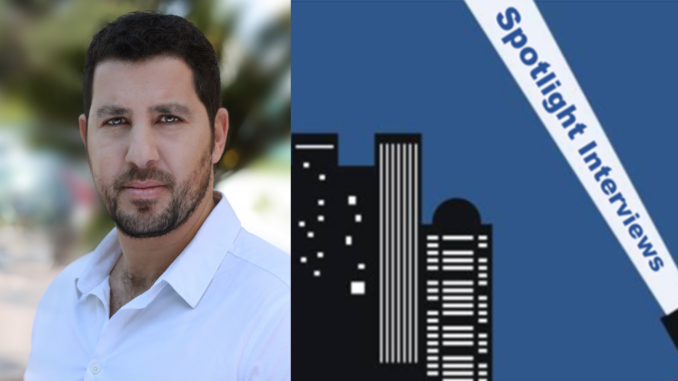 It wasn't so long ago that Nadav Solomon, president and cofounder of Tabit, identified the potential in leveraging mobile technologies to streamline operations and transform the restaurant industry. Together with Barry Shaked, who was previously the founder, CEO and Chairman of Retalix, a worldwide leader in retail software for grocery, convenience and petroleum segments later acquired by NCR, and who now serves as Tabit's CEO, Solomon assembled a team of restaurant and technology industry experts, who have brought the Tabit solution to market. Based in Tel Aviv, Miami and Dallas, Tabit is now deployed in hundreds of locations, ranging from high volume full service restaurants to small neighborhood cafés. In April, Tabit raised $35 million in funding.
First off, congratulations on the big funding round. How will the investment be used?
The primary allocation of funds is targeted at nationwide expansion, supporting our Partner Program and MDF (Marketing Development Funds) program, as well as supporting restaurants through the challenges of the COVID-19 pandemic.
Can you talk more specifically about that? As we reported, you're offering your online ordering capability to restaurants free for six months.
By offering our online solution at no cost or obligation, we're providing restaurants with a survival mechanism and positioning them to adopt future innovations and operate successfully.
We've upgraded about 80% of our accounts to online ordering products. We believe that building long-term relationships with our reseller and restaurant partners starts by supporting them when they need us most.
The Tabit platform allows restaurants to capture online orders without paying the high fees to aggregators. How does that work and what sort of savings can restaurants expect to achieve? 
Because of the many challenges of the COVID-19 pandemic, we focused our thoughts and consideration on our local communities.  We've all witnessed great initiatives supporting local business.
Tabit offers restaurants the ability to adopt our Technology Shield and strengthen their brands and build loyal customer engagement instead of handing that responsibility over to various 3rd party aggregators.
Many customers implemented Tabit links on their websites and social media, allowing them to capture online orders and table reservations, and engage with customer feedback at up to 90% lower cost than online aggregator solutions
We are also working with our reseller partners and with cities, chambers of commerce and regional public-private partnerships to enable order-aggregator sites that help restaurants capture on-line orders without the 25-30% fees that the commercial aggregators charge. Communities want to support their local businesses, including restaurants.
What was the original vision for Tabit? How has that vision changed — or not changed — over the past 6 years as the company has grown? 
For years we've witnessed various technology companies grabbing a piece of the action from their restaurant customers.
There isn't a single company that provides a Technology Shield to help operators to build their businesses in a profitable but fair and decent way, while increasing customer satisfaction and engagement.
The COVID-19 pandemic made clear to everyone that margins are low, it's hard to survive, and there is no room for sharing a lion share of your profits with your aggregator.
Let's be mindful of the business fundamentals for restaurants: restaurant patrons are the restaurant operator's customers; they own them, not the technology vendor. They own the experience and need to protect their brand.
What new Tabit capabilities, including software features and functionality, are you most excited about and should restaurant owners and operators also be most excited about once the industry returns to some semblance of normalcy?
As our restaurant customers adapt to the "new normal" we've enabled technology features that allow their consumers to interact and transact based upon their individual preferences and comfort level.
We introduced Contactless Menu viewing and ordering, where consumers can avoid handling printed menus, or limit engagement with staff by opting to view and place orders directly from their mobile phones.
Contactless payments allow consumers to utilizing various NFC capabilities like ApplePay, GooglePay, and more.

Tell us a bit about your career trajectory. What is your professional background and what led you to launching Tabit? How did you identify this market need?
I ran a restaurant before joining the Israeli Navy, becoming a lieutenant commander in charge of all command-and-control operations from 2000-06.
I have a strong passion to food so decided to earn a degree in food engineering from the Israel Institute of Technology before spending 2.5 years as an Ernst & Young innovation consultant.
Then I had the luck to meet my co-founder Barry Shaked, a veteran entrepreneur, who founded Retalix Ltd. In 1982, which developed software applications for the grocery and food industries; it had 1,700 employees. It was sold for $800 million to NCR Corp. in February 2013.
Eighteen of the top 30 grocery retailers in the world were Shaked's customers including Tesco, Publix, Whole Foods, BP, Carrefour, Winn-Dixie, Albertsons, Piggly Wiggly, Save-A-Lot, Food Lion, Sainsburys and Stop & Shop.
We deeply understand this industry and what is needed to be done to make the operators successful. That's important and fun. 
What do you like most about your work as President and founder at Tabit? What are the biggest challenges, aside from the current situation?
I work with and serve the hospitality industry. Always surrounded by good food, amazing vibes and happy people who want to elevate their experience. Combine all that with creating cutting edge technology and working aside professional people. Honestly, I'm blessed to be surrounded by fantastic personnel: customers, employees, partners and vendors.
What, in your view, are the biggest obstacles restaurant operators are likely to face over the next few years as they look to rebuild their businesses? Can technology help address those challenges?
I think operators will have to understand how to manage their business based on numbers and not based on gut feeling. Margins are low and they must rely on solid reports and numbers.
Are you optimistic about the future of the restaurant industry?
Definitely. Patrons like to hang out and experience good and new food. It will always be there; it is hard to change habits.
Any other major achievements over the past year we neglected to mention? Anything new and noteworthy in terms of strategic partnerships, customer wins, etc., you would like to share?
First, our new accounts: We went live with Serafina Miami and Gianni's at the former Versace mansion. Big accomplishments for us.
Second, our partner program: The only way to grow quickly across the United States is by leveraging the history, relationships, skills, experience and knowledge of local reseller partners in every state of the union.  These companies, some of them handed down 2 generations by grandfathers who sold cash registers, are part of the restaurant communities in which they work.  However nice the technology, you can't carpetbag these communities – only people that live and work together can really provide the level of support Tabit expects for restaurants.
When big POS companies try to sell directly to restaurants, they have to build massive sales and support infrastructures across the country and hope they have adequate coverage to provide the high level of support that  a network of local and regional partners already provide. As a result, they invest a ton of money doing that: cost that gets passed down to the restaurants.
TabitSimple, our partner program, is defined by a few key principles. First, we will not sell direct: we sell and support our partners who provide the solution to the restaurants, their long-time customers. We work with very large partners (national and global) to engage with the largest chains; and we work with local and regional partners to address small and medium sized operations.
Second, we are payment processor agnostic. Almost all of our competitors have tie-ins and kickbacks from payment processors, all of which comes out of restaurant owners pockets. Third, we don't tell our partners how to do business, where to do business, with whom to do business. We only require that they can provide high quality, 24/7 support to their restaurants.