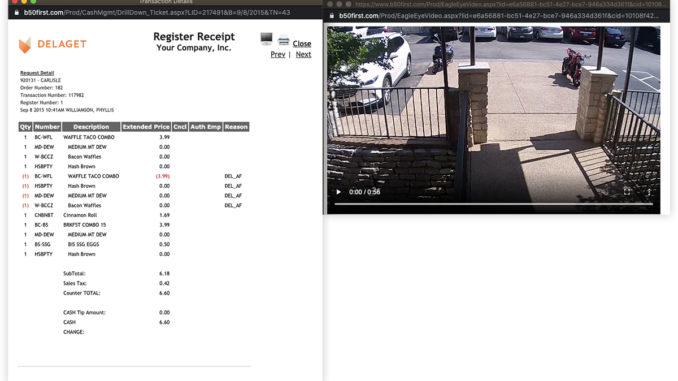 Eagle Eye Networks, the global leader of cloud video security, has joined forces with Delaget, a software-as-a-service provider specializing in business intelligence for restaurants, to integrate the Eagle Eye Video API Platform into Delaget's loss prevention and analytical tools. The combined solution will enable restaurant operators to view suspicious transactional data alongside corresponding video footage within one, easy-to-use tool.
Traditional loss prevention techniques are time-consuming and not productive. Most restaurant operators toggle between multiple applications to hunt for suspicious activity, often without the ability to drill down to the ticket level and watch corresponding video footage. With the data and video solution from Eagle Eye and Delaget, restaurant operators can securely view remote video across multiple locations in one easy-to-use interface.
The integrated solution eliminates the need to export transactional data and scroll through hours of video to identify specific transactions that require investigation. And while other video solutions require a technician to troubleshoot issues when they arise, Delaget and Eagle Eye Networks are true cloud solutions, able to offer remote support 24/7.
"The Eagle Eye Cloud VMS, being compatible with over 3,000 cameras, ensures  Delaget customers will be able to leverage their existing technology investments, saving thousands of dollars over proprietary camera systems," said Jason Tober, CEO, Delaget. "Using Eagle Eye together with Delaget's exception-based analytics solution, customers can now find, authenticate, and act on employee theft and error in minutes instead of hours."
Dean Drako, CEO and Founder of Eagle Eye Networks added, "Employee theft is one of the leading causes of profit loss for restaurants and efficiently mitigating that loss requires a tight integration between point of sale data and video. With Eagle Eye and Delaget, restaurant operators can now identify and authenticate suspicious transactions all in one place, through an intuitive interface that's easy to use for all skills levels."
Does your company have news it would like to share with our readers? If so, we invite you to review our editorial guidelines and submit your press release for publishing consideration.