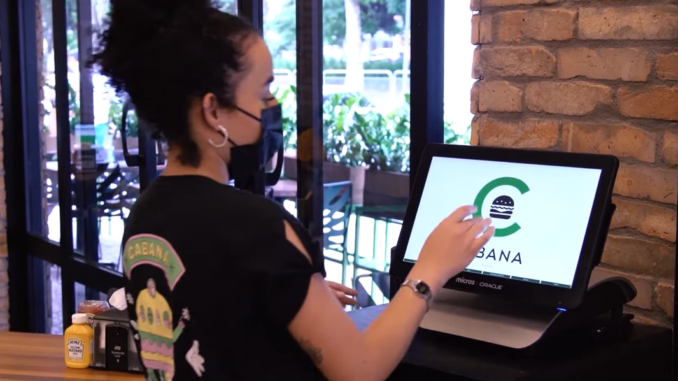 Fast growing Brazilian restaurant chain, Cabana Burger is using Oracle MICROS Simphony Point-of-Sale (POS) to better serve customers and support its rapid growth. Founded by three friends in 2016, the chain quickly grew to 13 stores with ambitions to grow to over 100 locations in the next four years. Using MICROS Simphony with built-in kitchen display systems (KDS), Cabana Burger has improved its speed of service, reduced waste, and increased overall business efficiencies through real-time restaurant data and analytics.
During the pandemic, Cabana Burger was initially forced to pivot to an all-delivery model. With Oracle's help, the chain streamlined its online ordering process and kitchen operations to reduce delivery time to customers by 10 minutes. This helped increase delivery orders by 400% over the year prior.
"We needed to quickly become a digital-ready restaurant to meet our expansion goals even before the pandemic arose," said Paulo Bonifácio, founder of Cabana Burger. "We wanted a solution that was reliable and robust enough to withstand day-to-day operations, which would allow us to understand our customers better, and most importantly allow us to open new sales channels. When COVID-19 hit, we had to accelerate those plans to quickly integrate with delivery providers and to third-party apps. Oracle MICROS Simphony made that possible and helped keep our business going in a very challenging year."
With 16 new restaurants to be completed in 2021 alone, Cabana Burger needed the flexibility to deploy the restaurant POS system themselves. After working with Oracle to roll out two restaurants, Cabana Burger is now able to manage installations without assistance in any new restaurants they open moving forward.
"We were impressed at how easy it was to deploy the Oracle MICROS Simphony POS in our restaurants," said Bonifácio. "Partnerships are the foundation of our business and the Oracle team has become an extension of our team. Together, we are working better than ever."
With the integration of Oracle MICROS Inventory Management, Cabana Burger is also utilizing real-time insights into their inventory and sales data to better manage inventory to ensure popular menu items are available without superfluous and costly waste.
"Over the past year, digital channels have gone from what was already a priority to the heart of the restaurant business," said Simon de Montfort Walker, senior vice president and general manager, Oracle Food and Beverage. "The Cabana Burger team recognized early that they needed to quickly adapt, and with the infrastructure in place for expansion it's no surprise to see their success despite the challenges we all face as an industry."