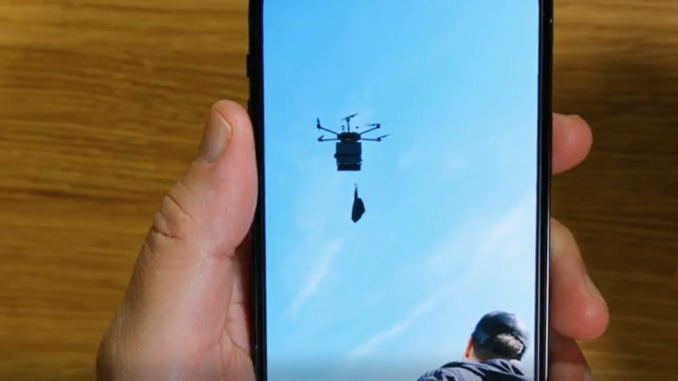 Restaurant drone delivery company Flytrex has raised a $40 million Series C funding round, bringing its total funding to date to $60 million. The round was led by BRM Group with participation from OurCrowd, Lukasz Gadowski, Founder and Chairman at Delivery Hero, and includes existing investors Benhamou Global Ventures (BGV), btov, and BackBone Ventures.
The Tel Aviv-based drone startup will reportedly use the funds to ramp up expansion throughout the U.S. and advance partnerships with quick-service restaurants, as well as retailers, helping to pave the way for a future where drone delivery is commonplace.

Flytrex's funding round comes in the wake of several key launches and expansions. Most recently, Flytrex launched its third drone delivery station in North Carolina, delivering food orders from restaurants and chains at the Holly Springs Towne Center to residents' backyards – including from It's Just Wings, Brinker International's virtual brand available from Chili's Grill & Bar and Maggiano's Little Italy.
Flytrex has been operating in North Carolina since September 2020, beginning in Fayetteville, NC – delivering groceries and household items as well as restaurant orders to select customers – and has since expanded its service to the town of Raeford, NC. Since February 2021, the volume of Flytrex orders across its North Carolina operations has increased more than tenfold, with thousands of deliveries to date.
This summer, as reported here, El Pollo Loco, become the first restaurant company in the United States to test the door-to-backyard drone delivery. The test flights took place with ten restaurant locations in Southern California.
The drones, which fly at an altitude of 230 feet, can reportedly carry up to 6.6 pounds for a distance of 3.5 miles and back. The current drones do not fly in the rain and at wind gusts stronger than 18 miles per hour, thus limiting the airborne delivery option in certain weather conditions. Earlier this year, Flytex received FAA approval for drone delivery and flight over people but not beyond visual line of sight.
"On-demand drone delivery has skyrocketed since the pandemic began and is becoming much more mainstream, much faster than expected," said Yariv Bash, CEO and Co-Founder of Flytrex. "We're excited to continue working with the FAA, the North Carolina Department of Transportation and others to bring swift, affordable and sustainable on-demand drone delivery to more partners, communities and consumers across the country."

Since successfully launching the world's first fully autonomous urban drone delivery system in Reykjavik, Iceland in 2017, Flytrex has been helping drive regulatory advances aimed at getting drone delivery off the ground. Flytrex participated in the Federal Aviation Administration's UAS Integration Pilot Program (IPP) which concluded in October 2020, and continued in the FAA's subsequent initiative, BEYOND, to work with the North Carolina Department of Transportation to help tackle the remaining challenges of UAS integration.
Similar drone delivery initiatives are underway elsewhere. One example is Swiggy, which ranks as India's largest online food ordering and delivery platform, and its partner Anra Technologies, a provider of end-to-end drone operations and traffic management solutions. Overall, the drone delivery space is bound to grow rapidly, given the cost benefits to both restaurants (delivery providers charge up to 30 percent for their services) and consumers (who generally receive their orders faster than would be possible with ground-based delivery options), particularly those living in suburban or more rural locations.