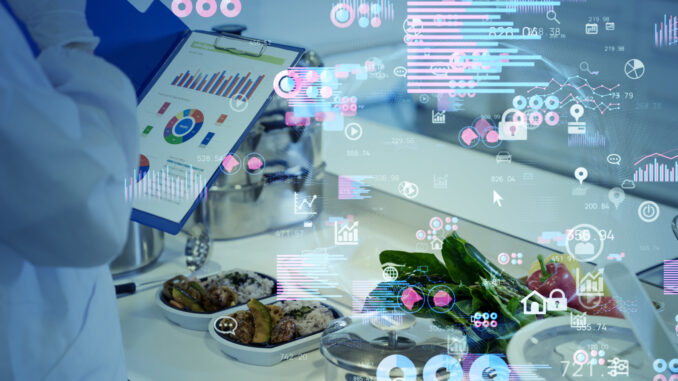 These days, big data powers many of our industries and business functions. The same is increasingly true even when it comes to addressing health code violations in the restaurant industry. With data prevalent and applicable, using predictive analytics for health code enforcement is an innovation sure to become the standard soon.
For those within the restaurant industry, this means more technology to adopt and understand. In the wake of online food delivery integration and all the challenges that came with it, making accommodations for technology might seem daunting. However, predictive analytics can be beneficial for everyone when it comes to preventing health code violations.
From public health applications in Chicago to the future of restaurant health, here's how we can benefit from predictive analytics in health code enforcement.
The application of predictive analytics in monitoring health codes was famously demonstrated by Chicago's Department of Innovation and Technology. The department dove into the massive datasets it already had available on health code violations across the city's some 16,000 eating places to form data-driven predictions about where a food poisoning might occur next.
This predictive analytics system worked. The algorithm identified violations 7.5 days earlier on average than human inspectors did. And the best part about it? The data tools were readily presented in a form that other cities could easily apply in their own efforts to monitor health code violations. From here, it seemed the predictive analytics revolution had come to keep an eye on food-related industries. Except, predictive analytics remain relatively uncommon in health code enforcement.
With the potential at hand to monitor, predict, and prevent foodborne illness within a city, it is a wonder that these data-driven tools have not been more widely implemented. But several challenges remain.
First, there's the COVID economy, which has created massive losses in the restaurant industry and forced businesses to pivot to digital and delivery models. While trying to remain open, many business owners aren't looking for ways to revise health code enforcement and restaurant safety. Then, there are the challenges of adopting new technology while dealing with labor struggles and supply chain issues.
Every restaurant faces a huge list of concerns at any given time, but predictive analytics is here to offer unprecedented insights into your processes and food safety. That's why restauranteurs themselves are applying predictive analytics among other modern tech innovations as the global economy changes.
The range of benefits that come from predictive analytics can all but secure your restaurant against foodborne illness and safety hazards. That's because data analysis, with the help of artificial intelligence and machine learning processes, is capable of monitoring huge data sets and producing real-time insights.
Chicago and other, smaller locales that have implemented data-driven models of their own processes have found these insights to be highly accurate and revealing. Internet of Things (IoT) devices bridge software and create data models, then AI algorithms model potential problems. These models are especially beneficial in monitoring:
Customer data
Inventory conditions
Supply chains
All these data points bring us to the first game-changing benefit of predictive analytics in health code enforcement.
Transparency
Predictive analytics tools make health and safety transparent in a way no other system can. With comprehensive dashboards, AI-generated graphics, and real-time updates, a platform for visualizing restaurant health code compliance is a must-have for any foodservice business.
These tools are also the basis of epidemiology work, a common topic of the COVID-era. That's because predictive analytics platforms offer surveillance and analysis features necessary to track linkages and chart the spread of a pandemic. In restaurants, these tools can even be used to help understand and curb the spread of contagious illness within the property.
Efficiency
Next, predictive analytics simply means a more efficient restaurant. Issues in product safety or quality can disrupt your entire supply chain and impact your overall bottom line. IoT sensors and monitors throughout supply chains, vehicles, and restaurants can instead keep all your vital data connected so that you can be alerted to any predicted problem.
With faster alert times, your business can adjust to any health and safety problems you may have, including optimizing scheduling to avoid exposing patrons to a sick worker.
Success
Finally, predictive analytics can help restauranteurs streamline the entirety of their workflow to avoid common health code violations. These include problems like:
Poor personal hygiene
Poor kitchen sanitization
Improper time and temperature control
This is possible through predictive analytics by feeding these algorithms data regarding hygiene, sanitation, and food safety. With a host of metrics at its disposal, a smart system can learn from other modeled instances to produce insights into your own risk factors. From here, you can make adjustments as needed to encourage healthier behaviors in the workplace.
Whether predictive analytics lead you to increase hand-washing signage or create a flawless system for tracking food temperature, there is potential in every aspect of food service for predictive improvements.
The future revolves around data accumulation and application. Even restaurant health and safety will be shaped by the predictive, data-driven tools that are already being used by health inspectors in cities like Chicago. Predictive analytics is changing the future of health code enforcement by offering governments and businesses transparency, efficiency, and improvement potential in monitoring health code challenges.
Explore predictive analytics technology in your restaurant and learn how you can apply it towards a safe business. Let these benefits motivate you to get started.
Jori Hamilton is an experienced writer residing in the Northwestern U.S. She has over 8 years of experience in the restaurant and fine dining industry and has worked at a number of well-known establishments over the years. Jori covers a wide range of subjects but because of her past industry experience, she takes a particular interest in covering topics related to restaurant productivity, FOH and BOH management, and restaurant technology. To learn more, you can follow her on Twitter and LinkedIn.
Are you an industry thought leader with a point of view on restaurant technology that you would like to share with our readers? If so, we invite you to review our editorial guidelines and submit your article for publishing consideration.