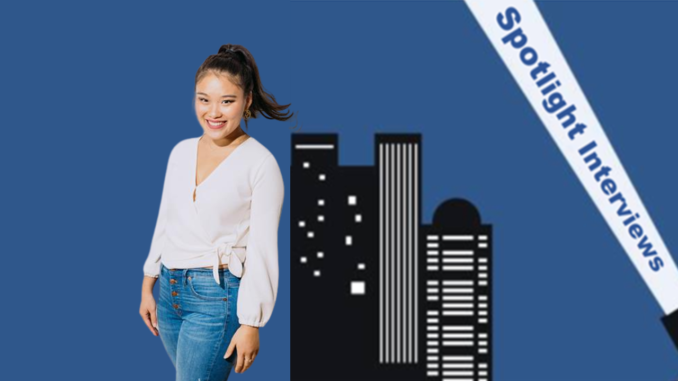 Vivian Wang is the Founder & CEO of LANDED, which offers a turnkey technology solution to help hourly workers land restaurant jobs while helping restaurants find top-notch players for their teams. After graduating from Princeton University's School of Public and International Affairs, Vivian worked in roles ranging from advising European central banks on financial markets strategy at BlackRock and launching the Asia & EMEA markets at real estate tech company, Matterport (NASDAQ: MTTR), to leading special projects for the C-suite at Gap, Inc., owner of Gap, Old Navy, Banana Republic, Athleta, and Intermix. In the following interview, Vivian shares her story, which includes launching the company just days before restaurant shutdowns occurred due to the global pandemic, and also her perspective on how technology can help alleviate the worker shortage challenges that so many restaurants face today.
First off, congrats on last month's closing of a $7 million seed funding round. What are your growth objectives for Landed, both in the short term and further out, and how will the funds enable you to achieve these objectives?
The funding will help fuel aggressive expansion of LANDED's user base and new product offerings to deliver end-to-end support for hiring at large restaurant and hospitality chains. We will also be adding new services for blue collar workers on its platform to promote financial wellness, including fair and transparent financial products such as earned wage access and crypto-enabled bank accounts.
Landed is billed as the "first end-to-end recruiting platform helping restaurants and hospitality employers hire top-notch candidates quickly." How is landed different from other recruitment solutions? What makes it unique and also especially well-suited to the restaurant industry?
Retail and food are different from other markets – there is high turnover, and blue collar workers are an underserved market.
LANDED isn't just about creating another hiring platform. We are building LANDED with two customers in mind – both the candidate and employer. We created it from scratch thinking of the biggest challenges both are facing. Frankly, existing platforms don't get to the crux of what matters, which is finding the best candidate. Other platforms are about getting you a body, we want to get you the right candidate to reduce that turnover over the long term. 
Restaurant and retail managers can spend up to half of their time on recruiting. LANDED is focused on making those managers successful and reducing the amount of time they spend on recruiting so they can do other things.
Can you provide a quick overview of how Landed actually works?
Job seekers using the LANDED app or online portal are guided through setting up their Landed candidate profile, which includes details on their work experience, location, and shift availability. Candidates can then browse jobs available near them. LANDED's AI-based intelligent matching technology matches candidates with employers for whom they might be a fit.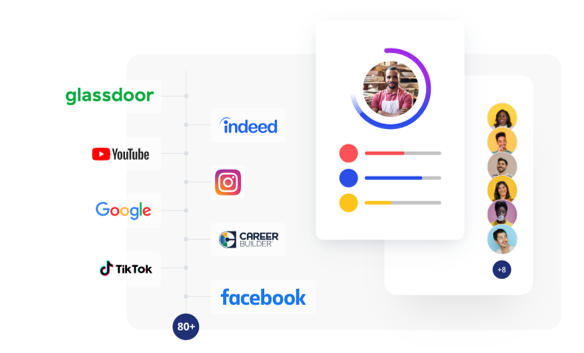 Hiring managers download the LANDED Employer mobile app, and input hiring goals such as role titles, headcount, pay rate and locations. LANDED then presents the employer with candidates who are the best matches for their open positions based on its intelligent matching algorithm, driven by AI tech. Hiring managers can see matched candidates, organize their candidate pipeline into different folders, and communicate with candidates all from within the app. LANDED automates much of the early communication and interview scheduling.
Your customers already include an impressive number of major restaurant brands, including Cava, Blaze Pizza, Panera, Chick-fil-A, Taco Bell. Are these restaurants able to quantify the benefits financially in terms of time and cost savings? Any success stories you can share?
Our customer Grocery Outlet went from hiring 1 in 10 candidates interviewed to 1 in 3 while saving 5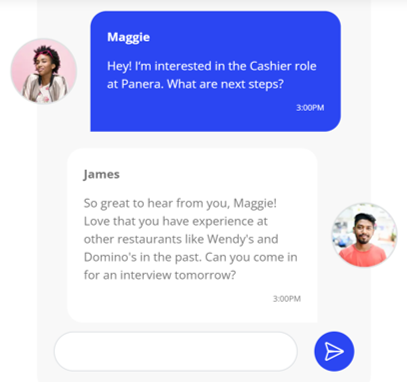 hours a week on hiring.  Our customers are seeing results on metrics like number of hires, time to hire, hours saved on recruiting, and reduced turnover rate.
Our customer Cava doubled its hiring rate since working with LANDED. Cava opened 59 units in 2021 fully staffed all of those with the help of LANDED. 
We also worked with Apple American Group (the largest Applebee's Neighborhood Grill & Bar franchisee) and helped them hire 3X more qualified candidates, reach a 4X faster candidate response rate, and hire 2-3 candidates a week on average at each location, saving 10+ hours weekly. We helped fill an Assistant Manager position that was open for 2+ months in <2 weeks.
Tell us a bit about your background and career trajectory. What led you to identify the unmet market need that eventually became Landed, in the first place?
LANDED was launched in March 2020 just as the pandemic began. My parents immigrated from China and when they came to the US worked as dishwashers at a restaurant. Twenty years later, they were both software engineers with two kids at Princeton. Through my parents' experience, I learned that blue-collar workers often want to have a career and move up the ladder in life.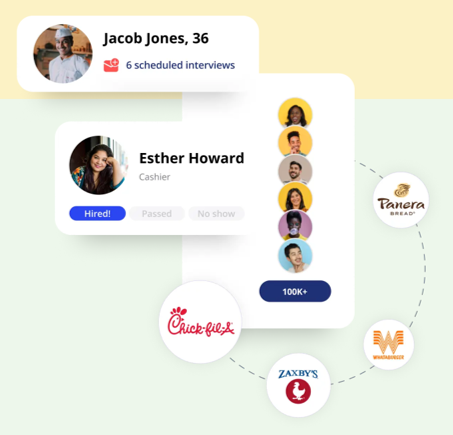 After graduation from Princeton and Oxford, where I majored in the School of Public and International Affairs with a focus on economics, I watched the gig economy (characterized at the time by companies like Uber and Instacart) commoditize labor, which I felt could be short-sighted when it came to giving blue-collar workers the opportunity to upskill. 
Right before LANDED, I was at Gap, Inc., advising the executive team on corporate strategy. One of the most impactful projects I worked on Gap, Inc. was on hourly workforce management. There was a big challenge with labor turnover, and we built an entire tech platform to address this issue. 
Turnover is 130% in the retail and food industries; stores are constantly hiring. I wanted to build a mobile-optimized hiring solution that would address this issue for employers and for blue collar workers. This solution would give way to the livelihood economy, an economic model that gives workers control over their jobs, finances, and education.
2020 was probably not the best time to launch a restaurant-related technology solution, let alone one focused on candidate recruiting. What was the impact of the pandemic on your business planning?  
We launched March 14, 2020 within the retail sector – March 16, 2020 is when COVID shutdowns occurred. That was 2 days after we launched.
As retail completely shutdown, we had to pivot to grocery and fast food and other QSRs which stayed open due to being essential services. We found a great niche here and even higher turnover.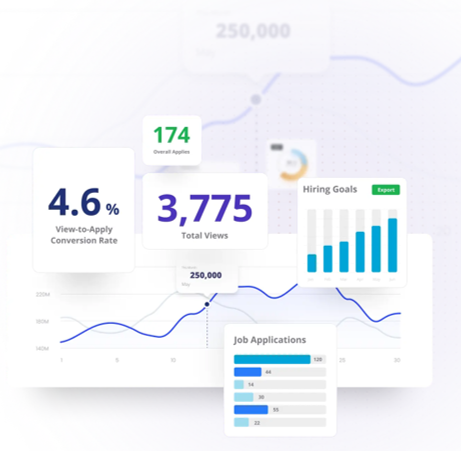 Overnight, people started to pour into the platform, especially essential workers. This made our work all the more urgent and we directed all of our energy into building the fastest way for furloughed or laid off hourly workers to land on their feet with a new job.
Now as the U.S. reopening is facing a 9 million person staffing deficit across food, retail, and hospitality, LANDED has helped companies ranging from small-medium-business owner / operators to large multi-unit franchise hold groups adapt quickly to a new hiring landscape. 
With LANDED, restaurants and hospitality groups are able to make the key hires they need and solve their staffing challenges to remain open. This has helped businesses hit hard by the pandemic open to full capacity as quickly as possible despite the tight hourly job market.
How is Landed helping restaurants address the worker shortage issue that so many of them currently face?
General Managers are stretched thin and always need to be hiring new team members due to turnover. LANDED delivers sourcing and hiring automation that engages the best-fit talent, eliminates manual time-intensive tasks, and weaves DE&I throughout the employee lifecycle. 
At LANDED, we are really proud to have helped tens of thousands of people find jobs in the past two years during such a difficult economy and hiring market. Blue collar workers are in a very underserved market and LANDED wants to be the go-to-platform for job searches, financial stability, and educational upskilling for the 90 million blue-collar hourly workers in the United States.

What do you do on a day-to-day basis as CEO and what do you like most about your work at Landed?
I love helping people land jobs and helping businesses keep their doors open. Staffing challenges are one of the biggest reasons for restaurant closures, so creating a solution to keep their doors open is incredibly fulfilling. I also love seeing the LANDED team achieve seemingly impossible goals together, representative of one of our key values (embrace the impossible). 
Every day is different, but one thing in particular I love is talking with customers – people in the restaurant and hospitality industry are awesome!
Anything else new and noteworthy in terms of big customer wins, strategic partners, new platform capabilities, etc.?
We launched a dedicated product for independent restaurant operators, the Ma and Pa restaurants that need to make those key hires for their businesses. 
We also launched a wage calculator that anyone can use to see their earning potential and find a job that matches their estimated hourly pay.
We've partnered with celebrity chef José Andrés ThinkFoodGroup to help them with their hiring needs for their four new dining destinations at The Ritz-Carlton, Nomad.
What's next for Landed? What will be the company's primary focus areas for the next year or so?
With our end-to-end recruitment engine built on intelligent AI, we are tackling the major staffing challenges faced by restaurants and hospitality groups head on. On one side, we're helping
employers find the best-fit candidates while saving GM's valuable time and money spent on hiring. On the other side, we're helping candidates find job opportunities, get matched, and get hired to our awesome partner employers. 
We'll also be developing products to secure financial wellness for blue collar workers. 78% of blue collar workers live paycheck-to-paycheck and 25% are unbanked or underbanked. We have a very strong and active user base of blue collar workers that have used LANDED to get a job. We'll be adding new services like earned wage access and crypto-enabled bank accounts. Our products will also help blue collar workers gain a sense of financial security through savings account set up and contribution, building credit, and access to other investment vehicles.
Finally, we'll be focused on upskilling – for blue collar workers to learn how to budget, manage people, and attain new skills to get higher paying jobs. We'll be focused on creating a higher valued workforce.
We are also going to expand outside of restaurants and retail – in the future, any hourly role from cashier and cooks to customer support agents and warehouse team members will use LANDED.