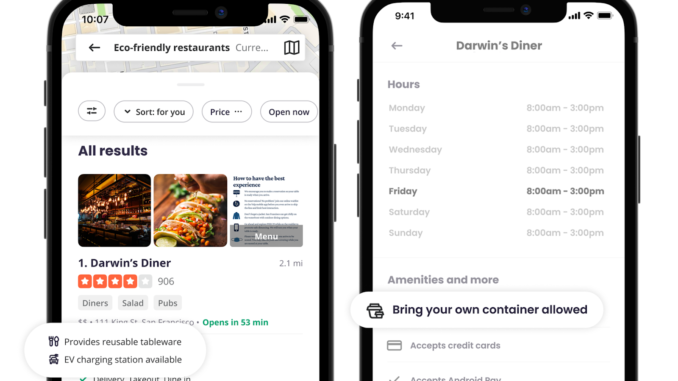 Yelp users are increasingly looking for more eco-friendly options on its platform. In fact, searches for "plant based" have increased an average of 56% each year from 2018 to 2021, and searches for "EV charging" have increased an average of 41% each year.
To make it easier for consumers to find more sustainable restaurants and other businesses and to recognize those that have committed to going green, Yelp has partnered with Plastic Pollution Coalition, a global alliance working to reduce plastic pollution, to bring new searchable attributes onto the Yelp platform, including "EV charging station available," "Plastic-free packaging," "Provides reusable tableware," "Bring your own container allowed," and "Compostable containers available." In addition to these new eco-friendly attributes, existing relevant attributes, such as "Bike parking" and "Vegan," will also be searchable and highlighted in Yelp search results and business pages.
"The new Yelp sustainability attributes will allow people to more easily find eateries, bars, and cafes that are plastic free and support our values of thriving communities and a healthy, livable planet," said Dianna Cohen, Co-Founder and CEO of Plastic Pollution Coalition. "We're grateful Yelp is using its platform in this way and we're excited the new attributes will help more sustainable businesses stand out for their green practices."
Yelp users can find the eco-friendly attributes on business pages listed under the "Amenities and more" section on Yelp.com or the "Info" section in our iOS or Android app, as well as highlighted on business listings in applicable search results.
Business owners can add these attributes to their Yelp Page for free by logging into their Yelp for Business account and editing their "Business Information" section. Yelp is also surveying consumers to inform these attributes through the "Update the community" questions on Yelp business pages.
Practices such as reducing plastic waste and eliminating single-use utensils can sometimes require a small investment upfront, but these concerted efforts can save businesses money long term from avoided procurement and reduced waste fees. Additionally, these efforts have a major impact on communities and the environment, meet consumer demand and encourage other businesses to reflect on their own sustainable practices.
On the other hand, figuring out how to transition to a more eco-friendly operation can be overwhelming, and businesses don't always know where to start. To help, Yelp created a new Sustainability Resource Hub for business owners that provides access to information and tools from environmental nonprofits, such as Plastic Pollution Coalition, Upstream, Reusable LA, Surfrider Foundation, ReThink Disposable and Food Rescue Hero, as well as features the stories of small businesses who have committed to going green.
This collection of resources provides tools to help businesses effectively communicate to consumers how they're giving back to the environment, learn how to adopt more sustainable business practices, and get inspired by the efforts of other local businesses like theirs. In addition, Yelp for Restaurants will highlight industry-focused content for restaurant owners interested in sustainability, as well as host a virtual Town Hall on Thursday, April 21 featuring the Sustainable Development Goal 2 Advocacy Hub.