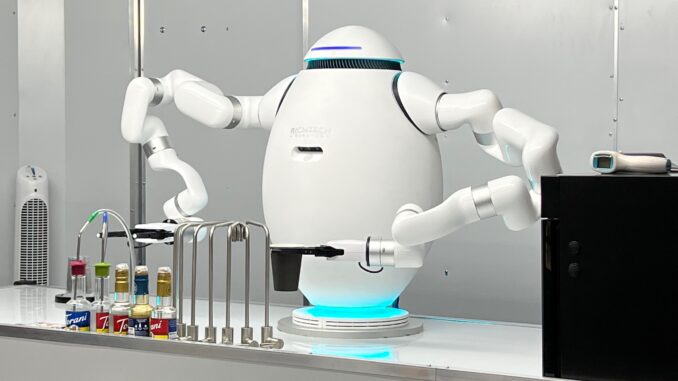 There was a vast array of next-generation technologies on display at this year's National Restaurant Association show, which took place May 21-24 at the McCormick Convention Center in Chicago. But no technologies made a bigger splash than the robots that were whirling and twirling around the exposition floor. While the robots came in a variety of different shapes, colors and sizes — and with some looking decidedly more people- and animal-like than others — and also differing markedly in terms of capabilities and functions they were designed to perform, one thing is clear: robots have come a long way in the past couple years and are now poised to revolutionize the restaurant industry. In fact, analysts are projecting the market for collaborative robotics and service robotics companies to be $114 billion by 2027.
One next-generation robot that caught the attention of virtually every passerby, and which actually made its global debut at the show, is SwiftBot, from Pudu Robotics. Built on the robust performance of its predecessors, SwiftBot is a versatile delivery robot with enhanced navigation skills and flexibility. The robot comes equipped with powerful perceptual abilities that enable right-of-way allocation between itself and diners by quickly adjusting its path in response to signals from the environment through the integration of multimodal interactions.
At the event, Pudu Robotics showcased seven robots. Alongside two other products released earlier this year, its first compound delivery robot PUDU A1 and its first delivery-quadruped robot PUDU D1, Pudu Robotics has formed a multi-link, full-chain intelligent solution for food service applications equipped with a line-up of needed features including customer meeting, greeting and guiding to the table, meal delivery, bussing and dish sterilization, as part of the process for a restaurant-wide intelligent upgrade.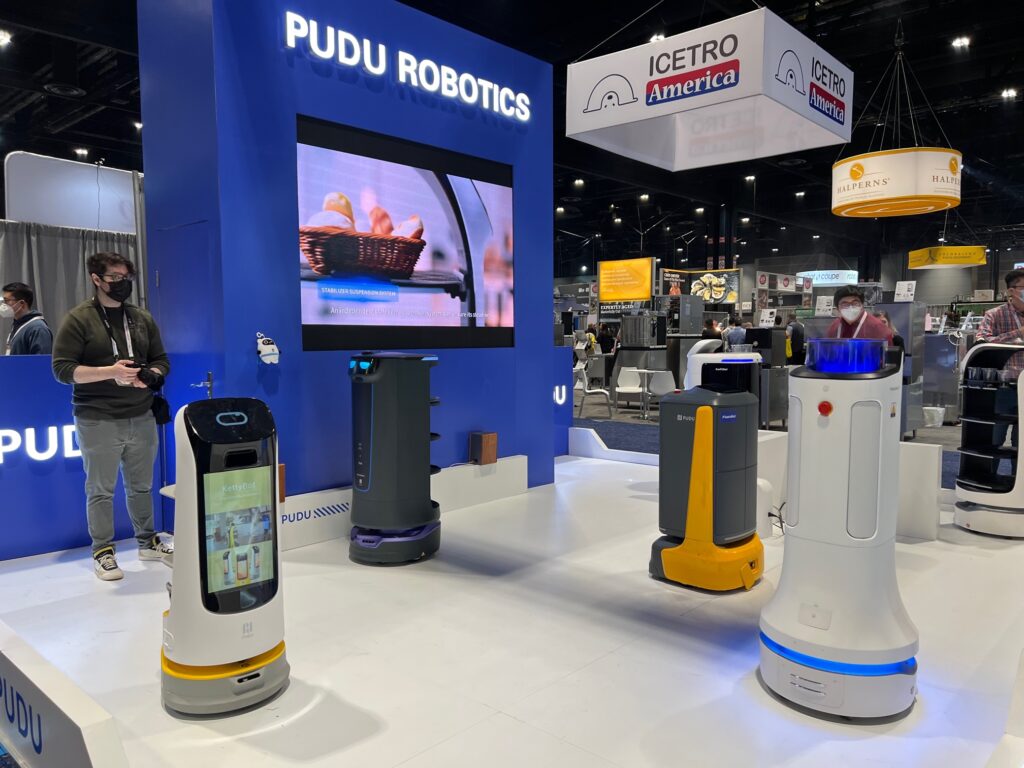 Also on display at the show were the latest wares from Nala Robotics, which ranks as another big player in this space. Nala's innovations include the world's first fully automated multi-cuisine chef, a customizable robot that uses machine learning to cook infinite recipes replicated with exact precision anytime, anywhere.  This week, the company unveiled Pizzaiola™, a fully automated, multi-cuisine, 7-axis robotic chef + kitchen that operates within a 12' x 12' space, providing a complete solution for restaurateurs to easily customize a pizzeria-style eatery with expanded menu items such as pasta, salads, burgers and wings, among other options.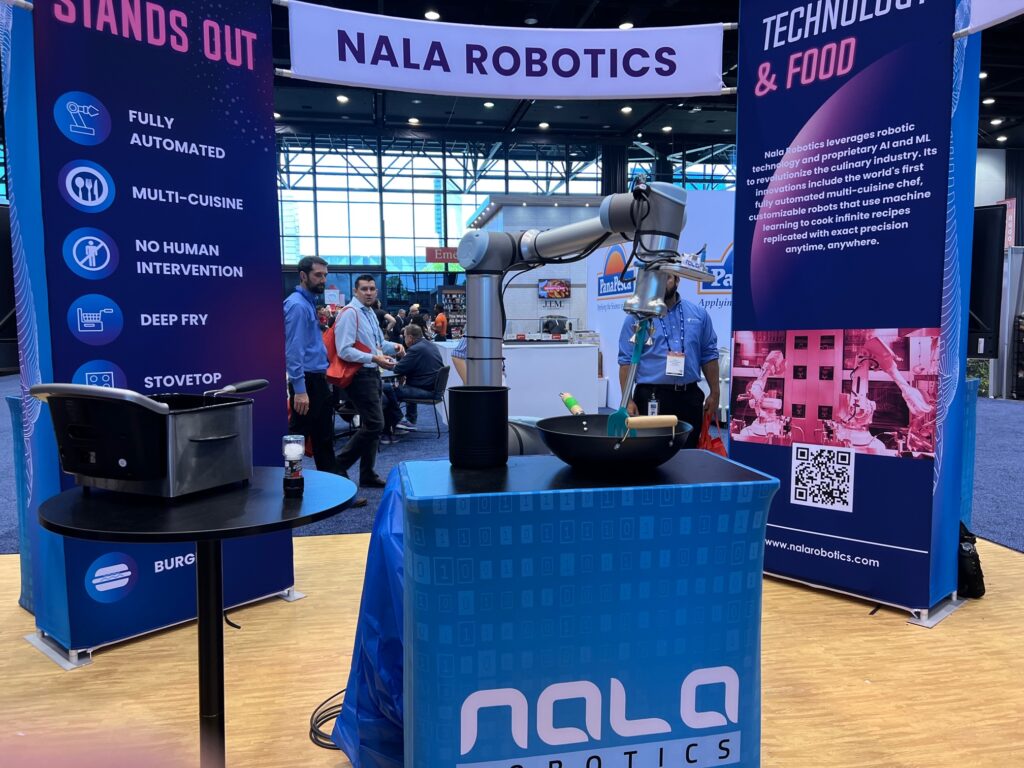 Equipped with natural language processing features, Pizzaiola is designed to respond to voice menu orders at the point-of-sale or operational commands in the kitchen, saving time for customers and vastly improving productivity. Additionally, more than 1,200 parameters are checked every microsecond, ranging from robot field of vision and food quality to point-of-sales, ensuring safety and enhanced productivity.
Nala Robotics' modular solution also gives kitchens the opportunity to choose from a variety of pizza ovens, including traditional, conveyor-style and brick. Other appliances such as friers, grills, pasta and salad stations can be easily added.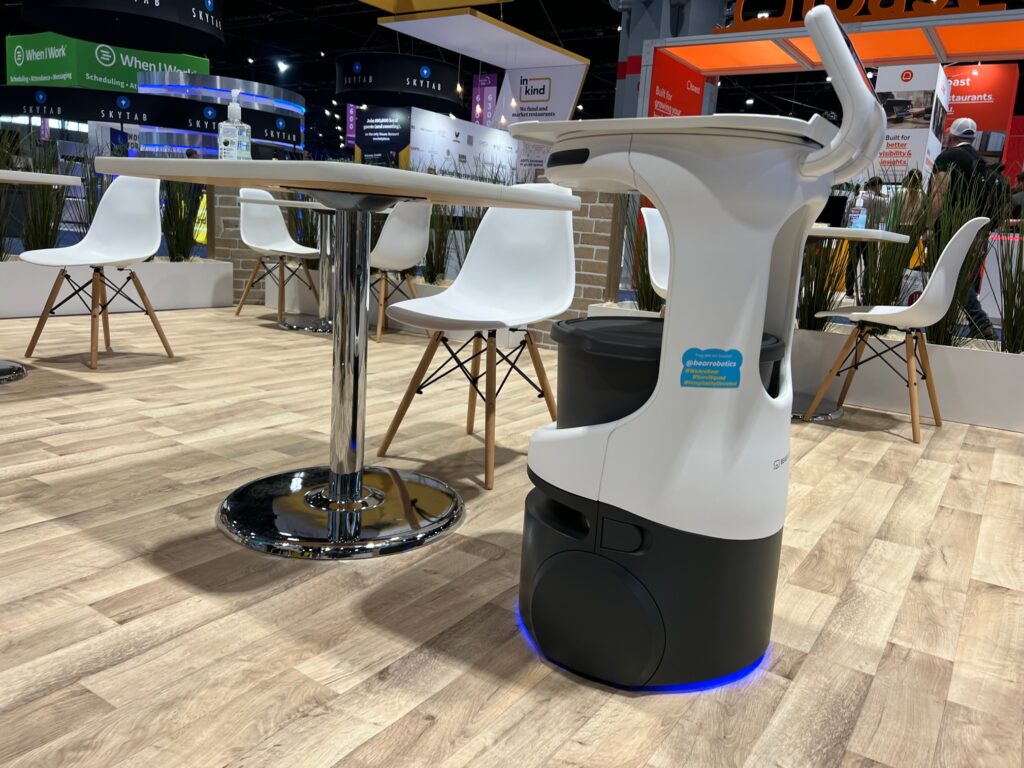 Yet another big player is KEENON Robotics, which offers its own line of robotic solutions for various scenarios including restaurants and hotels. KEENON Robotics is a strategic partner of Softbank Robotics and Hyundai Robotics. In September 2021, KEENON completed a $200 million Series D financing led by Softbank Vision Fund 2, marking the largest funding ever received by a service robot company.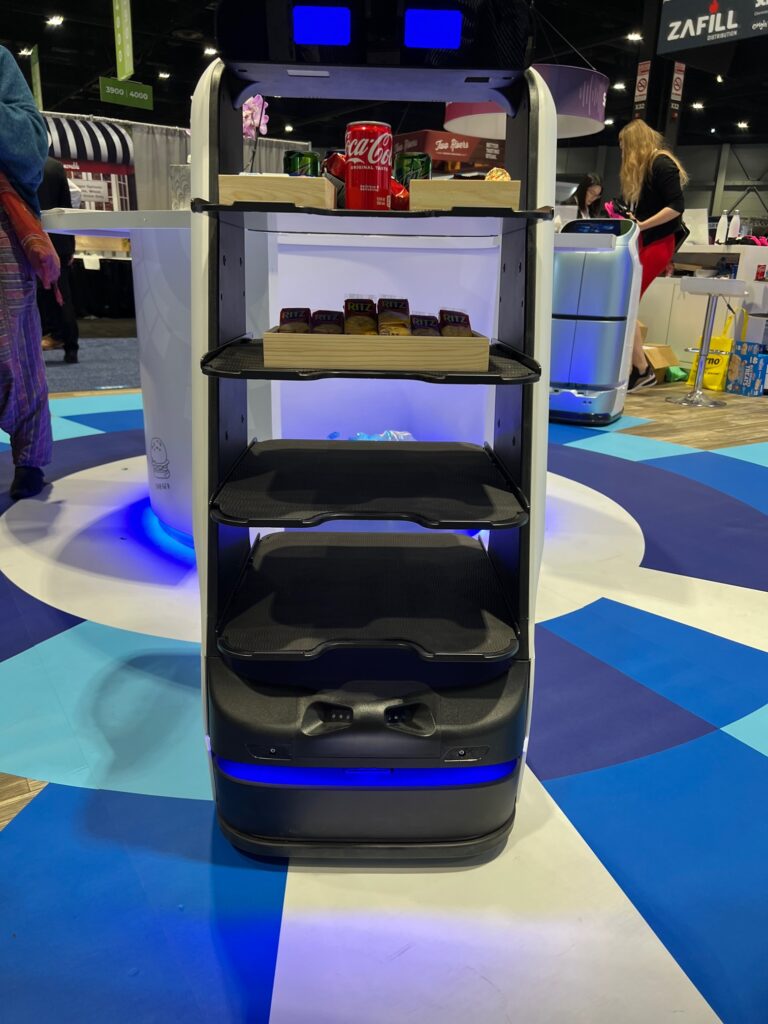 Among the robots from KEENON that were on display at the show was a robot waiter who assists human waiters in serving and returning used dishes efficiently as a food runner robot, allowing human waiters to save time and focus their energy on customer service, vastly improving the overall efficiency and service level of the restaurant. A hotel delivery robot was there, too. This robot is designed to be able to take the elevator to any floor and deliver room service any time of the day or night, providing the most reliable contactless and privacy-aware room delivery services.
Another hospitality robot from KEENON serves up advertisements on two high-definition digital displays to welcome customers or solicit passers-by and guide them to their seats, simultaneously heightening efficiency and delivering a fun experience. KEENON even had a disinfection robot. Equipped with professional disinfection lights and sprayers that efficiently kill both surface and airborne bacteria and viruses, providing efficient and expedient sanitation services in public spaces.
KEENON Robotics robots are equipped with a fully autonomous positioning and navigation system in tandem with highly sensitive perception and obstacle avoidance technologies to adapt to a variety of complex real-world application scenarios and enable safe, reliable, and efficient service robot solutions.
RichTech Robots, which also provides a line of robotic solutions designed to help restaurants resolve operation challenges and increase efficiency, also had its share of robots zooming around the exhibition floor. The robots are customizable and autonomous and programmed to avoid collisions by navigating around obstacles and work incredibly well in doing so. One robot, dubbed Matradee, is capable of opening kitchen doors, allowing deliveries to go from the kitchen to the table.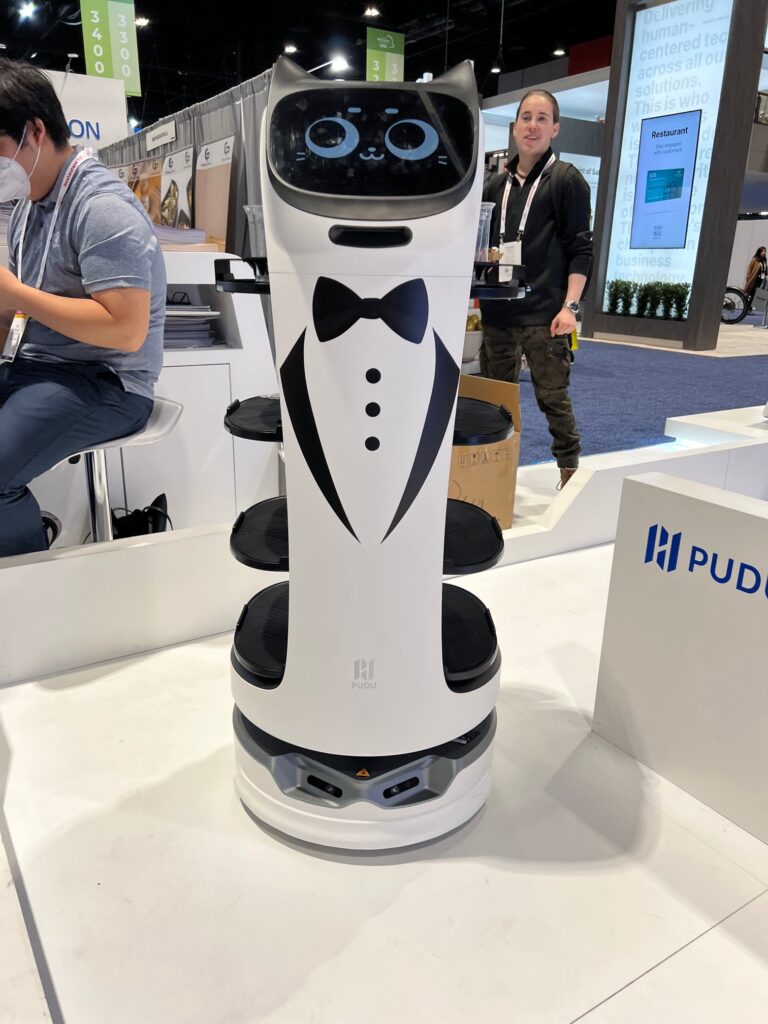 Bear Robotics, a leading innovator of hospitality robotics and artificial intelligence solutions, today announced the completion of a $81 million Series B funding round. New investor IMM led the round with participation from Cleveland Avenue, LLC and other existing investors. To date, Bear Robotics has raised $117 million in total funding, including a $32 million Series A funding round in January 2020 led by SoftBank.
With its headquarters in Silicon Valley and roots in the restaurant industry, Bear Robotics has engineered solutions such as the company's flagship product named Servi, an all-in-one, fully autonomous mobile robotics answer to daily repetitive work encountered by hospitality employees. The new Series B investment will be used to accelerate Bear Robotics' efforts in adding new products that complement the increasing need for automation in the hospitality space and expanding the company's reach into new markets around the world.
By utilizing AI and self-driving technology, Bear Robotics deploys robots to take care of everything from drink serving to food running and table bussing, allowing hosts and waitstaff to focus on delivering outstanding service. Headquartered in Redwood City, CA, Bear Robotics' multi-award-winning robots tackle tough jobs in fine-tuned fashion across a range of restaurants, corporate campuses, hotels, ghost kitchens, senior care facilities, and casinos across North America and Asia.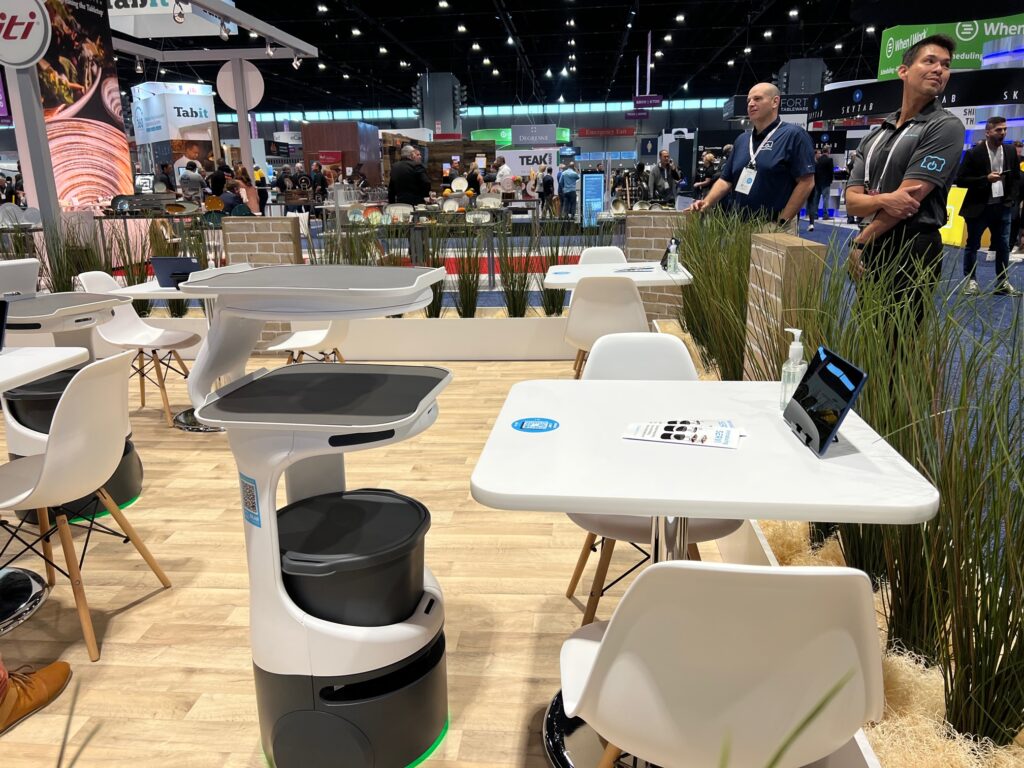 Last month, Ally Robotics, yet another player in the restaurant robotics space, launched a campaign to raise up to $8.5 million in seed capital via equity crowdfunding site WAX. Ally is already backed by restaurant automation solution provider Miso Robotics, which signed a statement of intent to become Ally's first partner and purchase its robotic arms for its Flippy 2 product line, representing a potential revenue of $30 million.
Ally Robotics is developing cost-effective and easy-to-use robotic arms to fill a massive market need in the restaurant and hospitality industry. The unique hardware and no-code software technology that Ally is developing will also enable sensing control, so the robotic arm understands the world around it.
This week, Miso Robotics, whose restaurant robotics and intelligent automation solutions have already made inroads into many restaurant brands (including, most recently, Chipotle and Panera Bread, announced this week that the company is working together with Amazon Web Services (AWS) to begin testing the software powering its Flippy 2 and Flippy Lite robots using AWS RoboMaker. The move to AWS RoboMaker is projected to allow Miso to run up to fifty simulations at once and will reportedly help the company turn future prototypes into functional products at a much quicker rate.
When deploying Flippy 2 and Flippy Lite through these configurations, testing will reportedly happen via simulation in the cloud. AWS simplifies the process by validating the simulations to build a stable baseline for any new architecture or software updates. Furthermore, comparing the performance of the units in a simulated role to the metrics of those in the field lets Miso track discrepancies and close the gap to ensure stability.
Miso Robotics is primarily funded by individual investors and is one of the most successful crowdfund stories in history. With nearly 20,000 shareholders, the company has raised more than $50 million to date and is currently in their Series E round, which kicked off with a market valuation of $500 million. Not bad for a crowdfunding campaign.