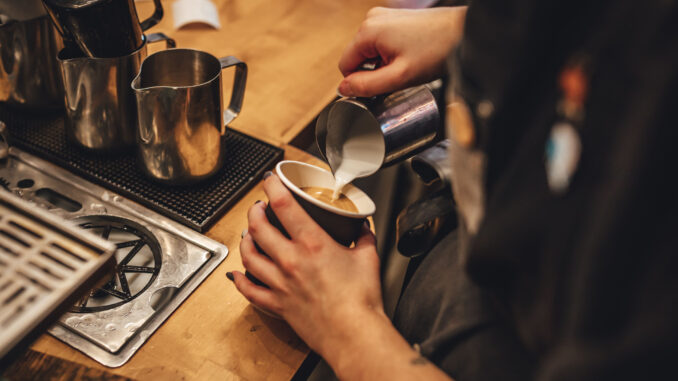 We've all read the news about pizza-making robots and self-service ordering kiosks. Many forecasting trends in the food and beverage service industry seem to revolve around automation and how technology can, essentially, remove employees from the overall workflow. However, the restaurant industry is and always has been people-powered at its core. Adding technology should be something that benefits employees rather than replaces them.
When employers provide technology solutions to make daily operations smoother for employees, teams can devote more time to tasks that require the key human element of the service industry. Plus, adding employee-centered technology increases worker satisfaction and productivity.
So how can employers use technology to better support their employees?
Industry challenge: Outdated scheduling processes
Spreadsheets, handwritten schedules, a patchwork of scheduling "solutions" that actually end up costing managers more time than they save — this scenario likely sounds familiar to many restaurant industry veterans.
David Porto, co-owner of Blue Plate Catering in Madison, Wisconsin, was tracking scheduling and time for 70 employees by hand. It took him between 10 and 15 hours per week to manage those schedules. After implementing scheduling technology from When I Work, he reduced his time spent scheduling and preparing timesheets for payroll to just 20 minutes per week. As an added bonus, Porto also reduced his labor costs, saving his business more than $10,000 each year in overtime.
Mobile app technology like When I Work allows employees to quickly know which shifts they're scheduled for — versus having to check a communal calendar that is manually updated — and easily clock in and out of shifts. There are even features that make communication between employees and managers effortless, so people can share updates, change shifts and more without hassle.
When technology like scheduling software is deployed, employees can focus more time on connecting with customers, instead of on HR-related tasks. And managers can spend more time planning for business growth.
Industry challenge: Unpredictable schedules can lead to uneven work/life balance
Hourly workers have spoken — they want more control over when they work. In fact, the state of Oregon and several major cities across the country, like Chicago and New York City, have created predictive scheduling laws, requiring businesses to give many restaurant employees significant advanced notice of work schedules.
Adding an employee scheduling app makes it easy for managers to provide more predictive scheduling versus just-in-time scheduling. Similarly, technology also allows businesses to implement a flexible, self-scheduling option, where employees choose their own shifts. Flexible scheduling decreases issues with no-shows because employees choose their own schedules. That, in turn, increases productivity— all while reducing the manual work for people making the schedule.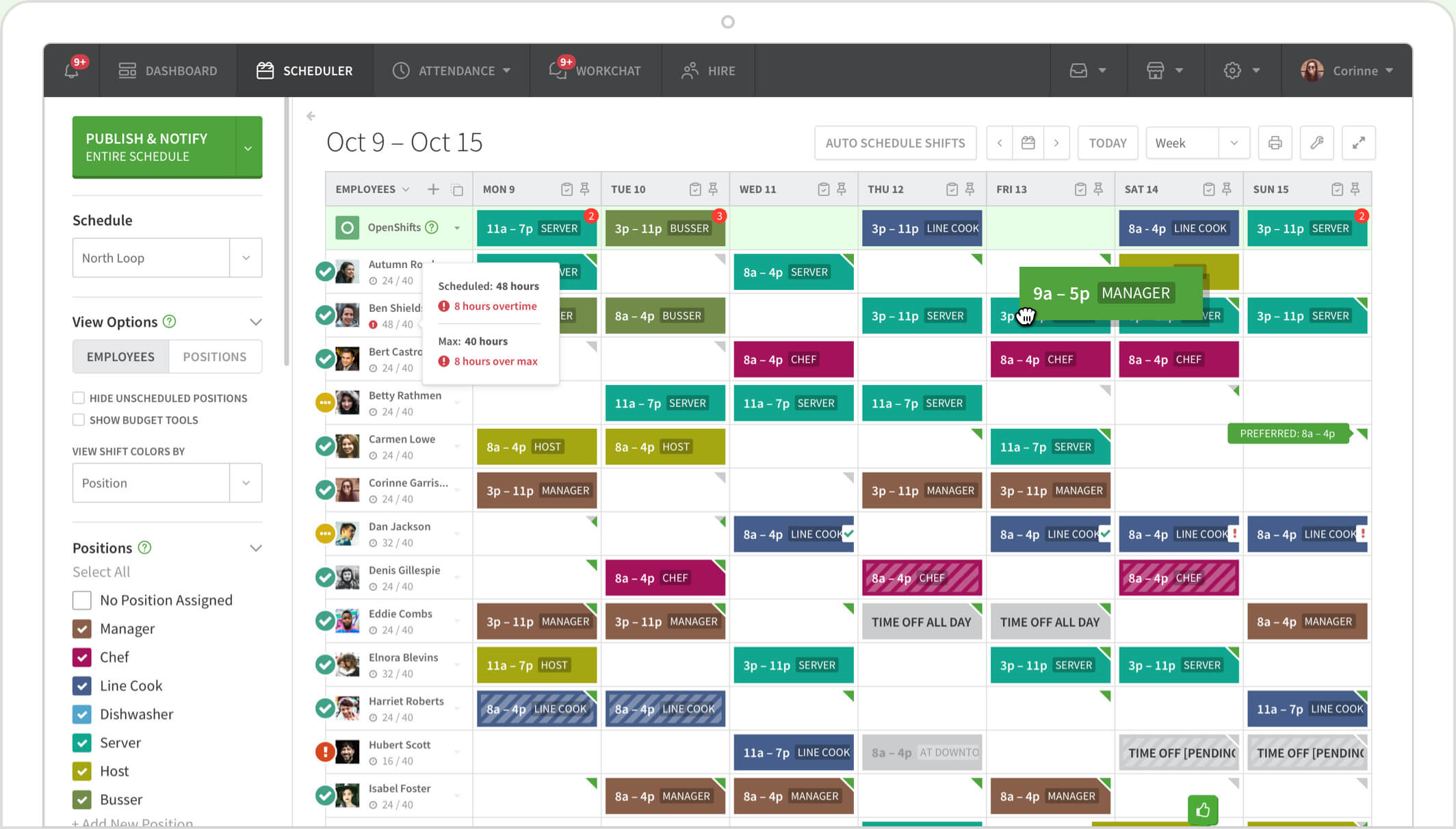 Organizations often initially recoil from the idea of predictive or flexible scheduling under the assumption that it's too costly and complicated. However, when the full business costs and benefits are considered, employers are frequently won over by the benefits. Consider this:
How much does it cost when an employee does not show up for their shift?
How much does it cost to hire and train new employees?
How much is employee turnover costing the business?
How much does it cost the business when employees are physically present, but otherwise "checked out?"
Thousands of hours and an unimaginable amount of money is lost to absenteeism every year. "No call, no shows" are not only bad for the bottom line, they take an immediate toll on employee morale as well.
Using technology to implement predictive, flexible scheduling provides ample advance notice of work schedules as well as the ability to easily pick shifts and swap with others, if necessary. When employees are secure in their work patterns, there is a decrease in turnover and an increase in engagement.
Industry challenge: Employee wellbeing
The food and beverage service industry is notoriously stressful and plagued by struggles with burnout. While there are many elements involved in improving the industry's handling of health and wellbeing, one of the easiest steps an employer can take is to give employees autonomy over their schedules.
Unpredictable hours lead to less healthy and more economically unstable employees. Implementing technology that allows employees to choose their schedules and know well in advance about potential schedule changes allows them to have more control and better plan for school, childcare, medical appointments, and more.
Similarly, as restaurant industry workers have more unpredictable hours, many also have pay rates that leave them with tight financial margins. In fact, nearly three-quarters of Americans are living paycheck-to-paycheck, according to the American Payroll Association.
Using technology to provide on-demand pay (also known as earned wage access), can provide access to wages earlier to help relieve stress and anxiety. Offering earlier access to wages is an attractive benefit for potential and current employees and can aid in hiring and reduce employee turnover. It's an easy way to prove to employees their employer cares about their financial health.
Instead of being a frightening annihilator of jobs in the restaurant industry, technology can be used in many ways to create an enticing environment for new employees and enhance the experience of current employees. Happier employees lead to more satisfied customers, which is good for the bottom line and creates a win-win lifecycle of technology at its best.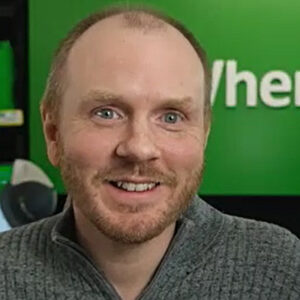 Chad Halvorson is the Founder, Chairman, and Chief Advisor of When I Work, a complete employee management platform used by over 200,000 workplaces that ensures shift-based workplaces have reliable shift coverage, engaged employees, and can make faster decisions through integrated scheduling, time tracking, and team messaging. Over his career, Halvorson has successfully built three successful multi-million-dollar companies. Halvorson has received numerous awards recognizing his hard work and dedication to his company and community, including being named to Inc. Magazine's 35 Under 35 list.
Are you an industry thought leader with a point of view on restaurant technology that you would like to share with our readers? If so, we invite you to review our editorial guidelines and submit your article for publishing consideration.