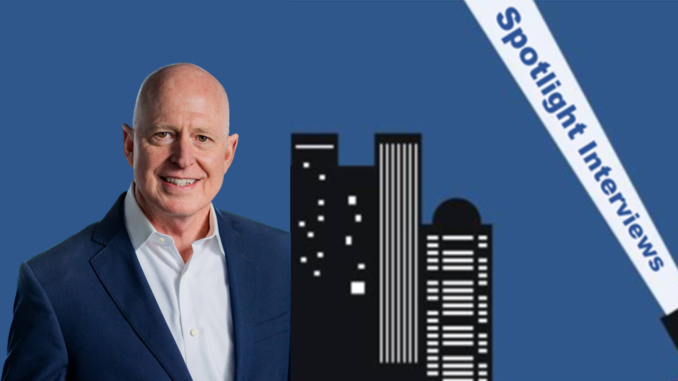 According to the latest Bureau of Labor Statistics report, hospitality industry employment remains below its pre-pandemic February 2020 level by 402,000 jobs, or 2.4%, with many restaurants continuing to struggle to find qualified staff. To help address this issue, restaurant owners and operators are offering a host of incentives to attract potential hires, including increasing wages and offering greater flexibility with hours. Increasingly, they are also turning to on-demand labor platforms like Hyer to help fill the gap, and they are finding a lot of unexpected benefits in the process.
Dave Dempsey, Hyer's founder and CEO, launched the company in 2019, just before the pandemic turned the world upside down, in an effort to change the way work gets done while empowering people along the way. Prior to starting Hyer, Dave spent 37 years at PepsiCo, building a strong reputation throughout many strategic and executive roles, most recently serving as the Vice President of Sales Transformation. In this interview, Dempsey explains how the Hyer app works and how it is helping restaurants across the country combat their current labor challenges and also plan for the future.

First off, congrats on your success. Hyer has come a long way in a short amount of time, with a market presence in more than half the country. Could you talk a bit about the company's genesis?
Hyer was a concept, born in between meetings and taking shape over lunch discussions as I was eyeing retirement after an amazing 37-year career at PepsiCo. Witnessing firsthand the challenges that came with staffing, turnover and retention, I was drawn to the gig economy. With the introduction of Uber, Lyft and Airbnb, I knew it was just a matter of time before gig would hit the commercial space and I wanted to be a part of it. 
While HR teams worked to increase benefits and reinvent retention programs, they weren't able to solve the shift taking place in the labor landscape. People were seeking more flexibility and control over their schedule – which the gig economy provided. So after retiring for a few days in 2018, I went back to work developing an on-demand labor platform that sought to reinvent how work was done. And here we are: 127 partners, 3.2 million labor hours, and 27 states later. 
What was the original vision for Hyer? Also, how did that vision change — or not — over the past few years, especially in light of the pandemic?
Our vision of reinventing how work gets done was the same on day one as it is today. By leveraging the gig economy, we are enabling hotels to tap into a growing pool of workers, when and where they need them–while at the same time providing individuals with a flexible way to work and earn on their terms. 
With the gig economy ballooning by 30% during the pandemic, it solidified our presence in this space. As the hotel industry looked for new ways to combat labor challenges, they began to embrace gig and use it as a way to manage turnover, absenteeism and sky-high quit rates. With half of the American workforce on track to take part in gig work by 2027, we know we're in the right place with the right solution.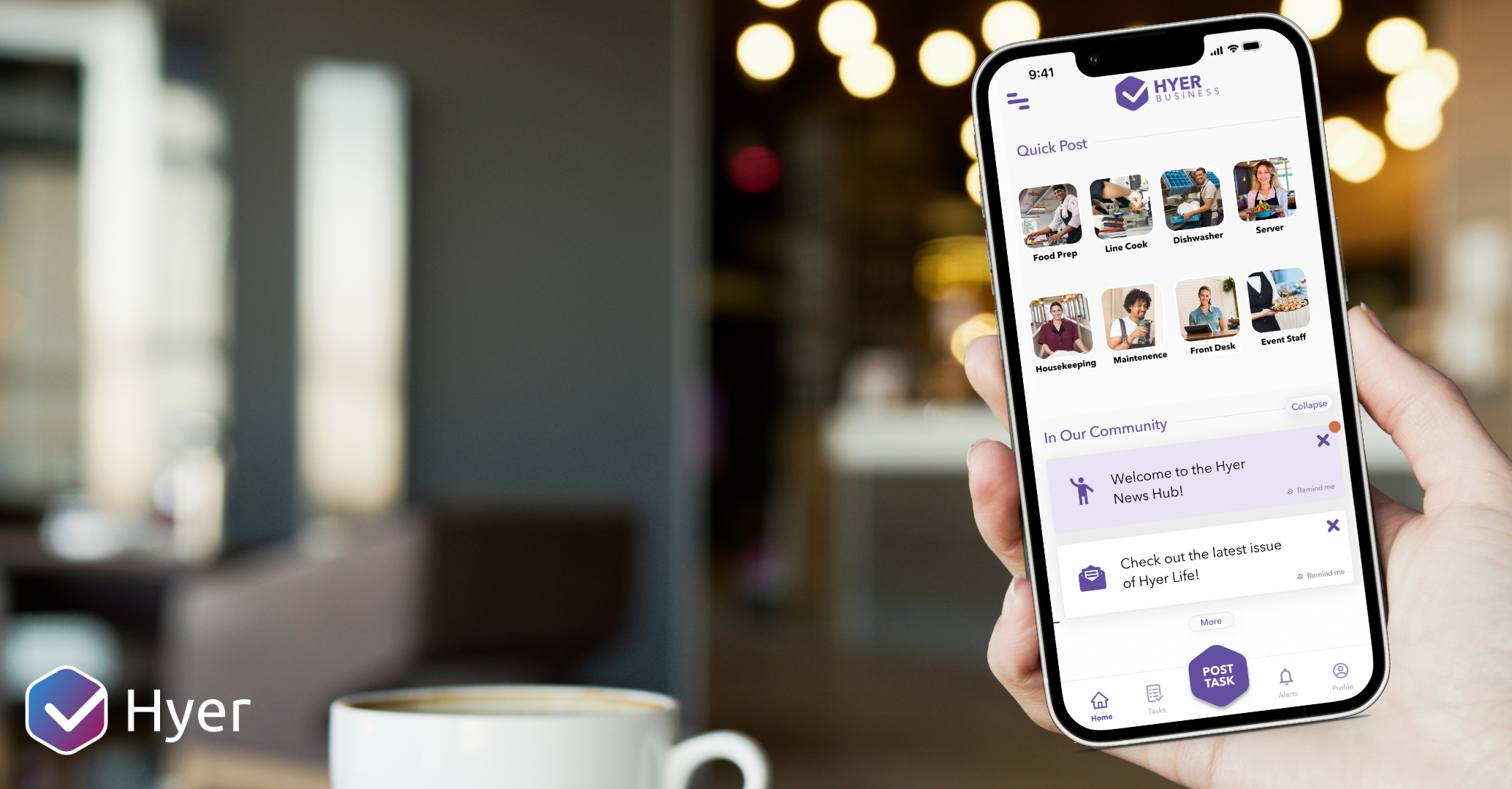 Can you provide a brief overview of how the app works from the perspective of both employers and gig workers? How long does it take companies to get up and running on the app and what are the costs?
The app was designed with simplicity in mind. For hotels, getting labor is as simple and fast as ordering an Uber. With no upfront costs or commitments, companies can use us as needed. Whether that means responding to seasonal demand, filling labor gaps or optimizing their workforce, we make posting tasks quick and easy for our partners. Giving hotels full control, they can post a task, set the desired hourly pay or fixed rate, and choose the Tasker they want. With an average of seven applicants per post – happening in just minutes – it's fascinating to watch. It's truly on-demand. 
On the Tasker side, getting started is just as simple. Once they sign up and complete a full background check, they can search for and apply to tasks that interest them. We also offer instant payout, so once their task is completed, funds are immediately released into their bank account. So many of our team members say the app would have been a game-changer for them in college. 
In 2021, Hyer received more than $10 million in a Series A funding round. What do you think gave your investors the confidence to place their bets on Hyer?
Raising capital was easy. As I talked to potential investors, the solution was simple, logical and just made sense. What we have here at Hyer is real–and it works. They saw that prior to the pandemic which I believe gives our solution much more credibility. 
There are obviously a number of other big players in the on-demand labor app space. What sets Hyer apart? What do you view as the company's competitive strengths?
Our strength is in our story and solution. When we started, we had no statistics to show. No customer success stories to promote. No studies to show proof of performance. What we did have, however, was a team of veterans at the helm working tirelessly to make the impossible, possible. We've brought together the best technical minds in the business along with operators that understand labor and the industries we serve. The knowledge, passion and drive to succeed on our team is undeniable. I'm proud of the work they have done to provide gig work to more than 7,500 locations across the US.
It's been reported that many employers in the hospitality industry spend upwards of 80 percent of their time on staffing and logistics due to high employee turnover. How does Hyer help solve that problem?
That statistic is not surprising given the fact that right now it's taking the industry 21 days to fill an hourly position, and upwards of nearly $7,000 to replace a hospitality worker that earns $15 per hour. What makes that number more staggering, however, is the 86% turnover rate attached to it. If you take a minute to do the math on those numbers–what you're looking at is lost revenue, productivity and a workforce that is overworked and burnt out. 
By using Hyer, restaurants are able to respond to both immediate and future labor needs in a way that's fast, simple and affordable.
According to the National Restaurant Association survey, 65% of food service operators said their restaurant still does not have enough employees to support existing customer demand. To what extent does Hyer help address the severe labor shortage that restaurants are facing today?
We've all witnessed the critical labor shortage the restaurant industry has been battling. From help wanted signs plaguing doors to closed dining rooms and drive thru's–Hyer is helping restaurants get back to business by providing them with both general and skilled workers.
For more skilled roles including line cooks, hostesses and servers, Hyer has built the capability to capture a Tasker's skills so that establishments can tap into a pool of workers that have the experience needed to support their labor needs. General labor – think food runners, dishwashers and bussers – are readily available and here to support labor needs as they arise.
Do you have any metrics, such as time and cost reduction, you can share in terms of the extent to which Hyer helps reduce some of the pain points that employers in the restaurant industry face?
From a cost reduction standpoint, by leveraging a pool of on-demand Taskers, restaurants can avoid the time, resources and high overhead that comes with traditional employment. Think recruitment, onboarding and benefits, not to mention turnover costs. Restaurants can build an internal talent marketplace by leveraging gig workers, helping take pressure off HR and the bottom line.
At the same time, Hyer's pool of Taskers helps unlock revenue expansion. With the shortage of workers, a restaurant may struggle to meet customer demand. Not being fully staffed then leads to reduced hotel operations and lower service levels that impact repeat business.
What new Hyer capabilities, including features and functionality, are you most excited about and should businesses, as well as gig workers, also be most excited about?
What excites me most about our platform is its scalability. We have no barriers or limitations to what we can do. With more than 60 million people taking part in gig work, the shift taking place in the gig economy is helping to develop and expand skill sets in new and exciting ways. From general labor to high-level freelancing, companies have a world of workers at their fingertips. 
Helping Taskers create their own career path, they have the opportunity to explore new industries and task types, all while acquiring skills along the way. It's a powerful way for them to build a resume while providing them with the flexibility they crave. 
You have a long track record of success at PepsiCo. Tell us a bit about your career trajectory. 
started my career with PepsiCo as a management trainee, which was really a deep dive into how the operation works. Right after starting, I was told I needed my class two driver's license so I could make semi-trailer deliveries to supermarkets when demand was high. Talk about jumping in with both feet.
Over the next 37 years, I had the opportunity to advance across multiple functions. From humble beginnings to a series of strategic and executive roles, I helped transform the way in which PepsiCo evaluated–then sold, delivered and merchandised a best-in-class CPG product. Today, I am beyond blessed for each step I took in my career as it gave me the experience I needed to bring Hyer to life.
What do you like most about the work you and your team have done at Hyer? How are you navigating challenges and what are you looking forward to the most? 
As a start-up, we have created something out of nothing. In the beginning, our team did it all. We raised capital and negotiated contracts while running tasks on the app. We were the gig workers on the platform. And in between, we set up our legal structure, financial operations and managed our books in an Excel spreadsheet. Along the way, we learned that creative thinking can go a long way and that possibilities are endless if you don't box yourself in. 
While challenges are part of the game, the way I see it they are also opportunities for us to learn and grow. To get better every day. 
Cody Johnson best captured the spirit of our startup when he wrote, "If you've got a chance take it, take it while you have the chance. If you've got a dream, chase it… cause a dream don't chase you back." With an unshakeable belief in our company, our product and our team, I look forward to working together to take the dream we're building to the next level. 
What will be the primary focus areas for Hyer this year? 
Expansion. There is still so much opportunity that exists for us to expand and grow from both a product and partner standpoint. Our competitive spirit coupled with the ability to efficiently plan and execute gives us the edge we need to move our business forward. Right now we're just warming up.