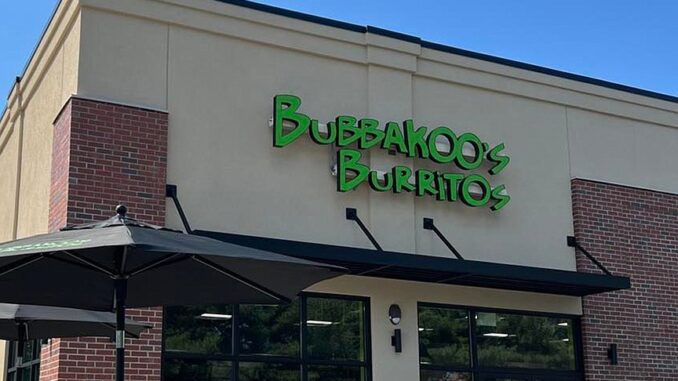 Bubbakoo's Burritos, the fusion-style restaurant that puts a unique spin on classic Mexican dishes, is launching various brand-enhancing efforts amid its 15th anniversary in 2023.
The modernized app and loyalty program are designed to engage guests in an elevated app experience and further cement Bubbakoo's Burritos' position as a leading Mexican-fusion restaurant. Guests will have the opportunity to earn exciting rewards which will be redeemable for discounts and free items. Plus, guests will experience Bubbakoo's Burritos like never before, with access to exclusive offers and promotions, three new levels of loyalty membership and a new hidden Backstage Menu.
The new app and loyalty program were developed alongside the leading provider of guest engagement technology, Thanx. The app will be available for download on June 6, with an official "Surfin for Burritos" promotion launching on June 12.
The app-driven loyalty program, Green Room Rewards, offers guests the new loyalty levels including Player, Boss and Legend. App users can ascend through the loyalty levels, unlocking exclusive perks such as free menu items, bonus points and more.
"Our fans are at the heart of everything we do," said Mimi Somerman, Chief Marketing Officer at Bubbakoo's Burritos. "We were thrilled to work with Thanx to develop the new app and loyalty program to create more ways for fans to engage with our brand in a creative, fun and rewarding way. Over the past 15 years, Bubbakoo's has entered into a league of its own within the fast-casual industry, and our new app, loyalty program and menu items are a reflection of our unwavering commitment to providing a fantastic experience to our fans."
Bubbakoo's Burritos is also hosting a special scavenger hunt via its new app, giving 15 participants the chance to win free burritos for a year. Titled "Surfin' for Burritos," the scavenger hunt invites fans to embark on a quest via the Bubbakoo's Burritos app to uncover specific facts and share their discoveries on the brand's social media channels. The brand will then select 15 winners to receive the grand prize. Clues for discovering information on the app will be shared with fans on the brand's social media channels as well.
"This year holds tremendous significance for Bubbakoo's," said Paul Altero, Co-Founder of Bubbakoo's Burritos. "This year marks not only our 15th anniversary but also a remarkable surge in new store growth. The overwhelming enthusiasm from our devoted fans and franchisees has propelled us forward, resulting in the successful opening of eight locations in just the first half of the year, with more to follow. These brand endeavors not only showcase our spirit of innovation but also serve as a testament to our gratitude for the incredible support we receive from our Bubbakoo's fans."
In addition to the new tech stack introductions, the brand has also innovated at the culinary level, with three new mouthwatering flavors that can be added to any entrée dish. These creative tastes include serrano ghost pepper carnitas, ghost pepper shredded chicken and barbacoa chipotle crema.
Bubbakoo's Burritos has become a fan-favorite over the past 15 years for its unique menu, superb customer service and welcoming dining environment. Every Bubbakoo's Burritos location offers the classic menu items the brand is known for such as hibachi steak and shrimp burritos, sriracha shredded pork nachos, Nashville hot chicken burritos, customizable entrees and more. Each menu item is made with fresh, tasty ingredients that will please any palette.
Following years of impressive growth, the brand has established a prominent U.S. presence across the country, creating a dedicated legion of Bubbakoo's Burritos fans. A testament to the brand's tremendous expansion efforts, Bubbakoo's Burritos recently ranked #238 on Entrepreneur's Franchise 500® list, rising nearly 100 places from last year. This marks the brand's highest-ever ranking for the award and its third consecutive year being named.
Bubbakoo's Burritos has been a Mexican-fusion staple in many communities since the brand's inception in 2008. Featuring a variety of unique, customizable and wow-worthy menu items made-to-order with fresh ingredients, the brand has grown from its Jersey Shore roots and expanded to more than 100 locations across the United States.
Does your company have news it would like to share with our readers? If so, we invite you to review our editorial guidelines and submit your press release for publishing consideration.