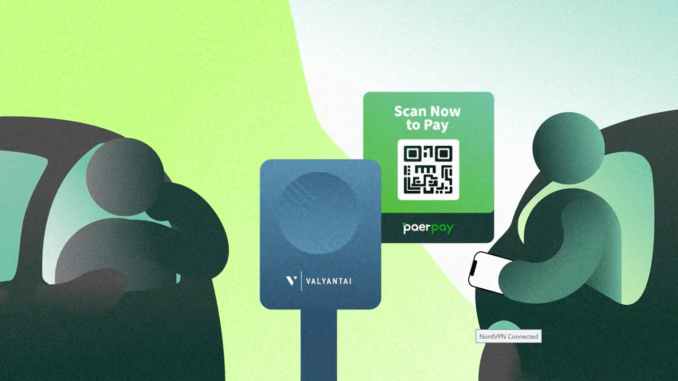 Leading provider of AI-powered solutions for the quick-service restaurant industry, Valyant AI, and innovative guest experience company Paerpay have announced a new strategic partnership aimed at transforming the drive-thru experience by leveraging the unique capabilities of both companies.
With this integration, Valyant AI and Paerpay automate order-taking and payment processes, enabling human staff to concentrate on tasks that require human involvement and expertise to enhance the overall dining experience, such as personalized customer service and higher accuracy in order fulfillment. Valyant AI streamlines the customer service experience via conversational artificial intelligence, while Paerpay empowers customers to choose from various payment options, including  Apple Pay and Google Pay, enhancing convenience to meet the evolving needs of digital-savvy customers.
"Our unique partnership with Paerpay will truly set the next-generation standard for the drive-thru of the future," said Rob Carpenter, CEO of Valyant AI. "By combining our advanced AI solutions with the magic of Paerpay, we are redefining the customer experience and enabling restaurants to streamline their operations while delivering exceptional service."
One of the key benefits of this collaboration is the simplicity the combined solution offers to customers and restaurants alike. Customers can conveniently make payments without downloading a separate application. Instead, they simply scan a QR code, which opens up a webpage on any smartphone. Plus, both the Paerpay and Valyant AI platforms seamlessly integrate with existing payment architectures at restaurants.
Paerpay and Valyant AI produced a video showcasing how the platforms seamlessly work together. The video illustrates the streamlined ordering and payment process, highlighting the convenience and efficiency it offers customers and restaurant staff.
Derek Canton, CEO of Paerpay, also expressed enthusiasm about the partnership, "We are thrilled to join forces with Valyant AI to revolutionize how customers interact at the drive-thru. Our seamless payment platform, coupled with Valyant AI's cutting-edge technology, will create a game-changing solution that enhances speed of service, operational efficiency and customer satisfaction. Along with operators reducing the cost of opening additional stores, brands now have a powerful way to grow their loyalty programs at the drive-thru."
The integration between Valyant AI and Paerpay also enables restaurants to collect valuable guest feedback on their payment and ordering experiences. This feedback loop facilitates continuous improvement and helps restaurants deliver exceptional service.
The companies are actively testing and deploying their integrated technology and have plans to launch a few hundred locations together in the next year. This widespread deployment will showcase the potential of this partnership to transform the drive-thru experience on a large scale.
Does your company have news it would like to share with our readers? If so, we invite you to review our editorial guidelines and submit your press release for publishing consideration.