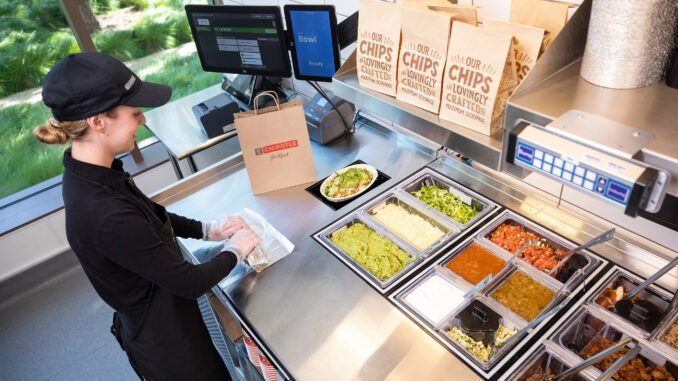 Chipotle Mexican Grill has announced that it is testing an automated digital makeline in collaboration with Hyphen, a foodservice platform that automates kitchen operations. The automated system is designed to create bowls and salads, while a Chipotle team member can use the top makeline to prepare burritos, tacos, quesadillas, and kid's meals for the same digital order.
The process begins with customers placing their digital orders through the Chipotle app, Chipotle.com, or third-party platforms. If the order includes a bowl or salad, it is routed to Hyphen's automated system. The bowl moves along the bottom makeline and positions itself under the specified ingredient container. Intelligent dispensers then portion each ingredient into the bowl. For orders that include burritos, tacos, quesadillas, or kid's meals, a Chipotle team member uses the top of the same makeline to create those items.
Once the bowl or salad is completed, it is raised from the bottom makeline and revealed at the end of the makeline through an opening in the countertop. A Chipotle team member adds a lid to the entrée and any final items, such as chips, side salsas, or guacamole. The completed orders are then placed in their designated pick-up area, which could be in-restaurant pickup shelves, walk-up windows, or Chipotlanes.
The introduction of the automated digital makeline has the potential to free up more time for Chipotle team members to focus on servicing the front makeline. Approximately 65% of all Chipotle digital orders are bowls or salads, so this automation could increase capacity for digital orders during peak periods and enhance order accuracy, improving the guest experience.
Chipotle's investment in Hyphen is part of its CULTIVATE NEXT venture fund, which aims to make early-stage investments in companies aligned with Chipotle's mission to Cultivate a Better World. The fund seeks opportunities to elevate the human experience for Chipotle's teams and increase access and convenience for its guests. Investments may include innovations in farming and supply chain, advanced robotics, alternative proteins, and more.
In July, Chipotle unveiled Autocado, an avocado processing cobotic prototype. Developed in collaboration with restaurant technology solution provider Vebu, Autocado is a collaborative robot that performs the tasks of cutting, coring, and peeling avocados, which are then hand mashed to create Chipotle's renowned guacamole. Currently undergoing testing at the Chipotle Cultivate Center in Irvine, California, Autocado has the potential to fully automate the guacamole preparation process, enhancing efficiency and reducing labor time.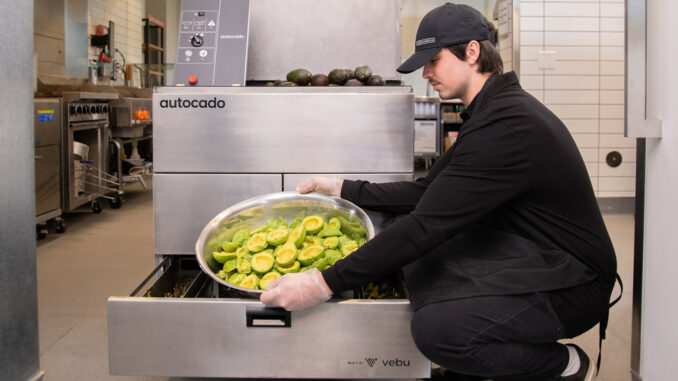 The Autocado prototype aims to streamline the avocado preparation process and significantly reduce guacamole prep time, potentially by 50 percent. By automating the cutting, coring, and peeling of avocados, Chipotle employees will have more time to focus on serving guests and providing exceptional hospitality. The device can hold up to 25 lbs. of avocados at once and operates by orienting the avocados vertically and transferring them to the processing device for slicing in half. The Autocado then automatically removes the cores and skins, collecting the fruit in a stainless-steel bowl, which is later used by employees to add ingredients and hand mash the avocados into Chipotle's signature guacamole.
The collaboration between Chipotle and Vebu for the development of Autocado originated from the need to enhance efficiency in Chipotle's avocado preparation process. By analyzing the company's existing methods and identifying time-consuming tasks, the teams worked together to create an innovative solution that streamlines operations while maintaining Chipotle's culinary standards. Currently, it takes approximately 50 minutes to make a batch of guacamole, including the labor-intensive tasks of cutting, coring, and scooping avocados.
The automated digital makeline and Autocado joins Chipotle's other technology-driven initiatives, including Chippy, an autonomous kitchen assistant for making tortilla chips, and the implementation of a kitchen management system that utilizes machine learning to optimize ingredient freshness and minimize food waste. The system analyzes real data as well as food operations simulation data to create algorithms designed to optimize performance and "accelerate deployment of intelligent devices." The technology also reduces overhead costs and food waste by allowing restaurants to more accurately predict demand at any given time.