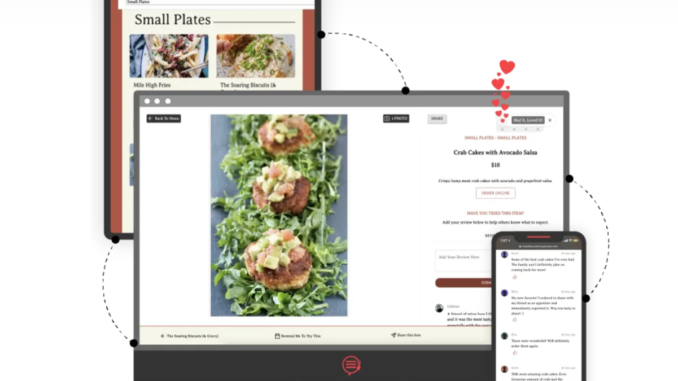 Popmenu and OpenTable have announced a new partnership that makes it easier than ever for restaurants to tackle one of their most time-consuming headaches: uploading, editing, and managing digital menus. Now live in the U.S. and Canada, the partnership will roll out in the UK in early 2024.
As a preferred menu management and publishing partner, Popmenu enables OpenTable customers to quickly import and build menus, and update them across multiple locations. Shared customers can edit menus via Popmenu or an integrated point of sale (POS) system and they will automatically update on OpenTable. The partnership saves operators time and resources, valuable commodities for restaurateurs: 55% of operators are adopting new technologies to meet market demands as they face an ongoing labor deficit and rising costs, according to Popmenu's July-August 2023 industry survey.
For restaurants, updated menus are critical for boosting placement in search engine results, and for diners, they play a key role in restaurant discovery. An August 2023 Popmenu study of 1,000 US consumers reveals the role online menus play in driving business: 55% said they are more likely to book a restaurant reservation on a third-party reservation site if they can see the restaurant's menu on the site. Additionally, 97% of consumers think it's important for restaurants to keep their menus updated on their websites and third-party sites.
"Solving restaurants' biggest challenges is our top priority, so it's important our partners have access to tools that streamline every aspect of their business including menu management. Popmenu is a best-in-class restaurant software provider, and we look forward to bringing new solutions to restaurants of all sizes," said Sagar Mehta, CTO of OpenTable.
"OpenTable is a trusted resource for restaurants and communities worldwide," said Brendan Sweeney, CEO and Co-founder of Popmenu. "We're excited to work with them to create greater efficiencies and revenue opportunities for operators—and better experiences for guests. Together, we're delivering technologies that address major pain points for the industry while helping restaurants to grow."
Popmenu is a leading innovator in restaurant technology, and in addition to menu management, its customers can take advantage of other growth opportunities through Popmenu's AI-driven digital marketing, AI phone answering, online ordering, and more.
Does your company have news it would like to share with our readers? If so, we invite you to review our editorial guidelines and submit your press release for publishing consideration.