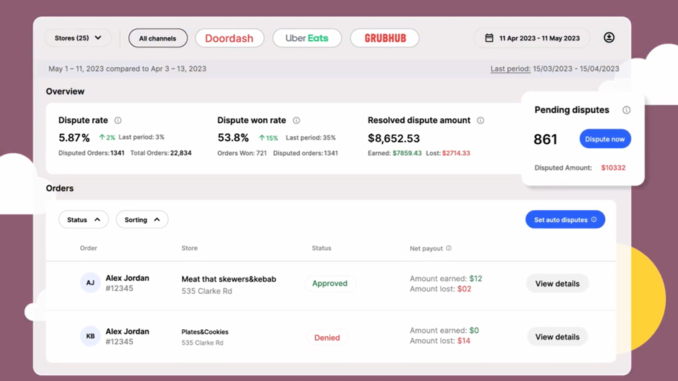 Voosh.ai, a pioneering Restaurant Marketplace Intelligence Platform, is set to expand its operations an market presence. The platform, which was born out of the need for a unified data solution, has been instrumental in enhancing operational efficiency, customer experience, and profitability in the restaurant industry. With the backing of prominent venture capital funds, including Y Combinator, Voosh has successfully boosted third-party sales by 20% across more than 200 restaurant locations.
In line with its mission to provide actionable insights for data-driven decisions, Voosh has appointed Chris Munz as the Vice President of Growth. Munz brings over two decades of technology leadership experience in the hospitality and e-commerce sectors. In his new role, he will spearhead strategic initiatives and expand Voosh's footprint in the rapidly evolving restaurant technology landscape.
Voosh.ai is renowned for its cutting-edge platform that equips restaurant owners with powerful tools for data-driven decision-making, thereby enhancing operational efficiency and boosting profitability.
Voosh Co-founder and CEO, Priyam Saraswat, expressed his enthusiasm about Munz's appointment, stating, "Chris brings a wealth of expertise and a passion for driving hospitality and restaurant brands into the digital age. As a growth-focused technologist, he has a proven track record of optimizing innovation to meet clients' unique needs."
Munz echoed this sentiment, saying, "It's an honor to join the Voosh team and contribute to its mission of helping restaurant operators maximize the potential from third-party marketplaces. Voosh is at the forefront of providing the data needed to understand market share, improve processes, and increase revenue and profit margins, while fostering relationships between restaurants and third parties."
Munz's career is marked by a steadfast commitment to leveraging technology to streamline operations, enhance customer experiences, and drive business growth. His extensive experience in leading technology businesses positions him as a visionary leader, ready to steer Voosh.ai to new heights in the dynamic restaurant technology sector.
Does your company have news it would like to share with our readers? If so, we invite you to review our editorial guidelines and submit your press release for publishing consideration.