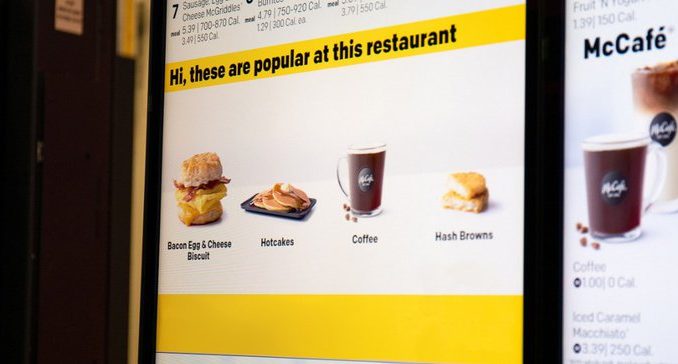 By Alisha Goldberg, Assistant Editor
Increasingly, fast food restaurants are using mobile apps, self-order kiosks, digital signage and various other digital technologies in their incessant quest to attract new customers, drive increased customer loyalty and increase overall customer profitability.
There is no shortage of high-profile campaigns that have been launched in recent months that have advanced the frontier on consumer-facing technologies while, in many cased, generating a lot of buzz.
For example, as reported
here
, Burger King recently launched a mobile app campaign that used geofencing to target customers who were within 600 feet of a McDonald's in a bid to get them to rethink their purchase decision. Earlier this month, Chipotle made a big splash with a campaign in which customers who signed up for its rewards program through Venmo were showered with free cash.
Not to be outdone, McDonald's has been especially ambitious with next-generation technology upgrades. The fast food giant has installed self-ordering kiosks in more 17,000 of its locations over the past year. Digital menu boards now adorn more than 21,000 locations.
Now McDonald's is making its boldest — and perhaps its most expensive — move yet, by acquiring a technology solution provider, called Dynamic Yield, that uses artificial intelligence to drive customer personalization.
Initially, McDonald's will use the platform capabilities to present customized menu items on its digital signage at drive-through locations. The menu items that it serves up will be based on an individual customer's initial food order and also according to such factors as the weather, the time of day, and how busy the restaurant is at the moment. The menu can also be used to serve up "popular" items that also happen to have particularly high profit margins.
According to a company spokesperson, Dynamic Yield, which is based in Tel Aviv and New York, will enhance McDonald's ability to create more personalized experiences for its customers and also boost the company's in-store ordering and online marketing capabilities. To that point, McDonald's reportedly plans to integrate the technology into all of its other customer touch points, as well, including the self-order kiosks and its popular Global Mobile app.
According to the The Wall Street Journal, the acquisition is valued at more than $300 million and ranks as the company's largest acquisition in decades.
McDonald's ran proof-of-concept trials of the AI technology last year in a handful of restaurants with positive results. Now it plans to roll out the new technology across all United States restaurants before expanding the platform capabilities to major international markets.
McDonald's has reportedly invested more than $6 billion in recent years to renovate its existing locations with the latest technology-enabled capabilities. The acquisition of Dynamic Yield, which will be run as a separate company, may allow the fast food giant to take its game to a whole new level.