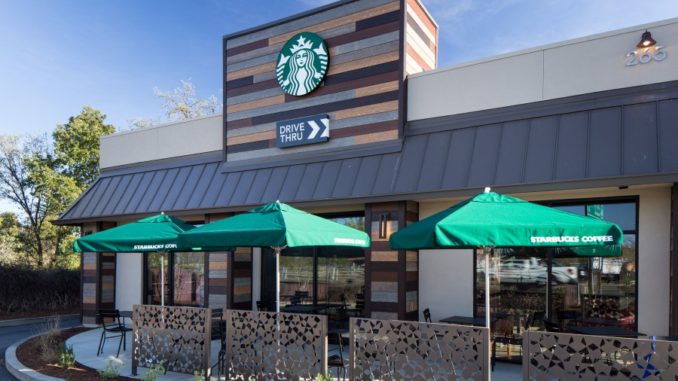 Technology innovation is nothing new at Starbucks. The ubiquitous coffee house has a long history of tackling big ideas and forward-thinking solutions across both the digital and non-digital landscape. It has been said that the chain, which now operates over 30,000 locations worldwide, keeping more than 100 million customers sufficiently well-caffeinated on a weekly basis, is as much a tech company as a coffee company.
Over the past decade, Starbucks has taken the lead on pioneering a host of technology-enabled initiatives. To name just a few: As early as 2008, the company was experimenting with a crowdsourcing community website to collect customer ideas and feedback. In 2010, it was named the most popular social media brand.
In 2011, following a successful two-year pilot, Starbucks launched a nationwide mobile payment app and the nation's largest mobile payment program. Later that year, it launched the Starbucks Card eGift feature, which was the first program of its kind.
Starbucks was also among the first national chains to offer free, unlimited Wi-Fi in all its locations. In 2014, it announced a plan to install 100,000 wireless chargers in more than 7,500 of its stores. In 2015, it launched Mobile Order & Pay nationally in the U.S., building customer loyalty through order-ahead functionality. And the list goes on.
Now the list is about to grow with a new series of first-of-its-kind restaurant innovations. Some of the technology-enabled business initiatives currently underway are as cutting edge as anything that came before, with implementations that range from cloud computing to machine learning to blockchain services — in part, to create more personalized guest experiences.
These latest efforts are being developed in partnership with Microsoft. Last week, at the Microsoft Build 2019 conference, Starbucks gave those in attendance a look at how it plans to put these next-generation technologies to work.
Personalized Recommendations
For starters, it has embraced what is known as reinforcement learning technology. As Microsoft explains it, this is a type of machine learning technology in which a system learns to make decisions in complex, unpredictable environments based upon external feedback.
The goal is to provide a more personalized experience for the 16 million active Starbucks Rewards members who use the mobile app, which is built and hosted in Microsoft Azure. The app serves up personalized order recommendations for food and drinks based on dozens of factors, including local store inventory, popular selections, weather, time of day, community preferences, and previous purchase orders.
By infusing personalized recommendations into its digital platforms, the app begins to replicate the one-to-one interactions that take place with a barista who knows them by name and is familiar with their preferences. The app is able to infer, for example, that a guest who consistently orders dairy-free beverages has a non-dairy preference. Going forward, it would  recommend items containing dairy and instead suggest vegan food and drinks options via the mobile app.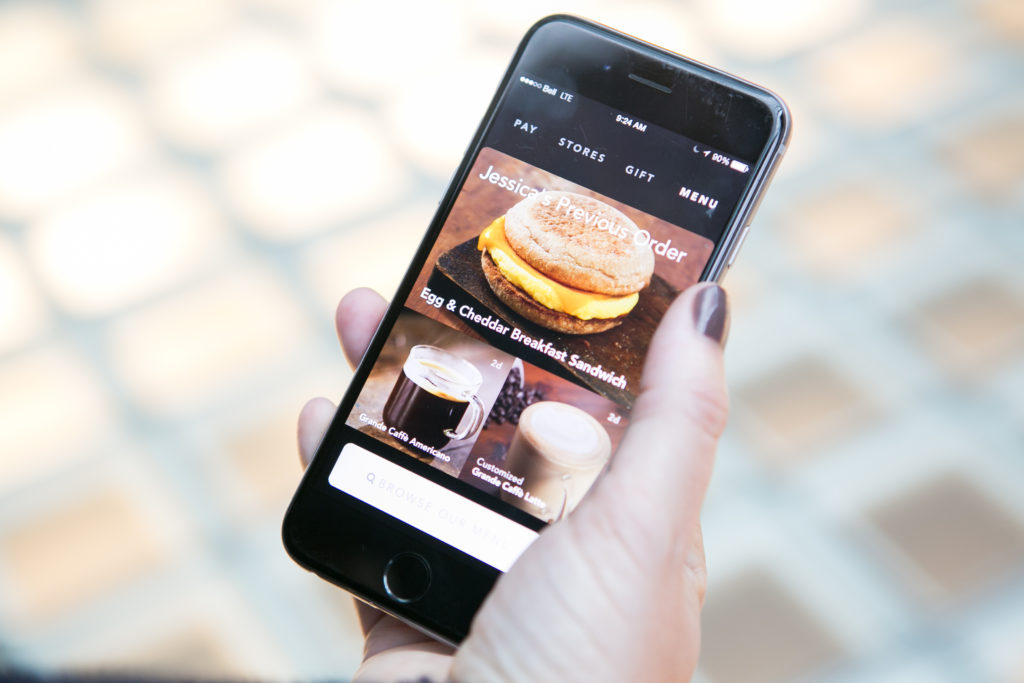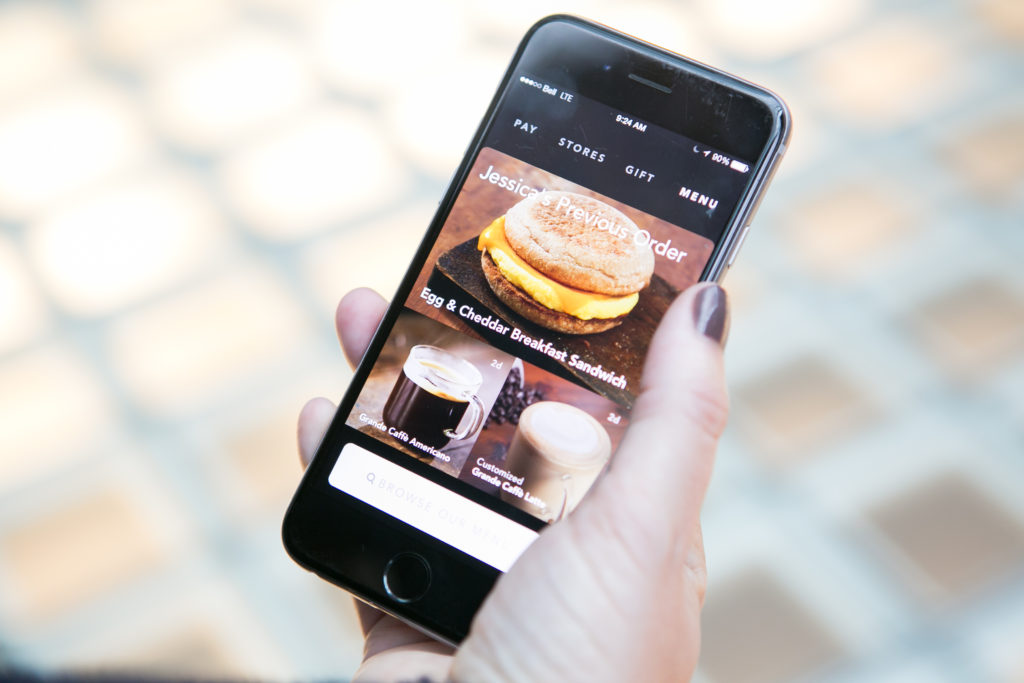 Starbucks reportedly plans to expand this recommendation technology to the drive-thru experience. While the drive-thru technology lacks access to individual order histories and other data accessible for via the mobile app, it should nonetheless be able to generate sufficiently relevant recommendations. The recommendations, which will appear on the outside digital menu display, will be based on store transaction histories and hundreds of other other store-level factors.
Connected coffee machines
Another technology-enabled initiative relates to internet of things (IoT) devices. Each Starbucks location has a dozen or more pieces of equipment. These include coffee machines, grinders and blenders. All of these machines must be in operational condition up to 16 hours each day. Equipment malfunctions can slow lines and impair the quality of the guest experience.
To avoid disruptions and reduce the amount of time spent on machine maintenance, Starbucks is securely connecting its devices in the cloud by deploying Microsoft's Azure Sphere. According to Microsoft, the IoT-enabled machines collect more than a dozen data points for every shot of espresso pulled, from the type of beans used to the coffee's temperature and water quality, generating more than 5 megabytes of data in an eight-hour shift.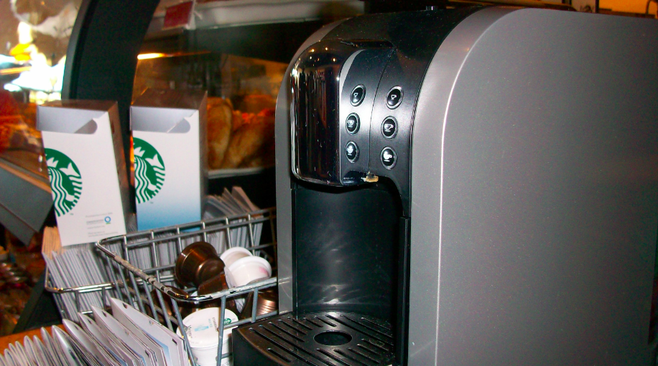 Microsoft also worked with Starbucks to develop an external device called a guardian module. Here the idea is to connect the company's various pieces of equipment to Azure Sphere in order to aggregate data and identify any performance problems with the machines.
With this new solution, it also becomes possible to send new coffee recipes directly to machines at the click of a button. This was previously a manually process. New recipes were delivered to stores once a quarter or so on a thumb drive. Over time, Starbucks plans to use Azure Sphere to also manage inventory and order supplies.
Follow the coffee, etc.
Another technology innovation coming out of the the Seattle-headquartered coffee giant's think tank has to do with tracing the journey that its coffee makes through the supply chain. It was announced that the mobile app will soon have a feature that allows customers to uncover all kinds of information about the source of their packaged coffee, including where it was grown, and what the company is doing to support those local farmers, to where and when it was roasted.
This new feature, powered by Microsoft's Azure Blockchain Service, allows supply chain participants to trace both the movement of their coffee and its transformation from bean to final bag. Starbucks has long been committed to ethical sourcing and transparency. Giving customers a feature that provides them with real-time traceability is a logical next step.
Finally, speaking of blockchain technology, there are rumors that the coffee giant may start accepting bitcoin payments in its U.S. locations later this year. Starbucks founder and chairman Howard Schultz noted last year that cryptocurrencies would have to be legitimized by a brick-and-mortar environment in order to finally gain mainstream adoption? Last August, Starbucks revealed that it is one of the key partners, alongside Microsoft, of Bakkt, a digital assets platform that is expected to launch later this year.
Given the company's long track record of technology innovation, it only stands to reason that Starbucks would be the first major chain to accept to crypto payments.