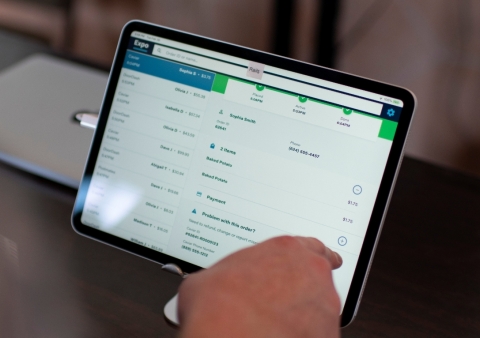 Food ordering platform provider Olo today announced that Expo, its tablet-based order manager, is available for all customers to use. Expo allows restaurant brands and their Front-of-House (FOH) staff to actively manage and expedite digital orders on the fly. Orders from direct and indirect channels appear in a single, consolidated stream regardless of how orders are placed and how they are handed off.
Expo provides a two-way interface from dozens of POS systems to direct and indirect ordering channels. Expo users have a real-time connection to providers such as Caviar, DoorDash, Postmates, Uber Eats, etc.
Expo works as a standalone system or in conjunction with dozens of popular Point of Sale (POS) systems already integrated with Olo's digital ordering platform. Expo is fully device and operating system agnostic, allowing restaurants to choose the device that best suits their needs.
Expo's public release follows two years of R&D and testing with beta partners. It allows for effortless order and store management of the day's orders to drive sales and guest satisfaction. Whether orders are picked up in-store, curbside, drive-thru, or sent out for delivery with an in-house or third-party courier, Expo is a window to all orders originating outside the restaurant, offering proper two-way integration to popular marketplaces and DSPs that together enable delivery access to the majority of the U.S. population.
While most of Olo's technology offerings are designed to integrate directly into existing systems, the company built Expo to add new layers of visibility and order management for in-store teams. Brands can use Expo to:
Manage the entire flow of orders from direct (brand apps and website) and indirect (third-party marketplace) channels
Early fire an order if a customer arrives ahead of schedule
Interface to delivery couriers via approved integrations with Delivery Service Providers (DSPs) such as Caviar, DoorDash, Postmates, Uber Eats, etc.
Preview upcoming orders and be alerted of large orders
Answer inquiries about recently fulfilled orders
Earlier this month, Olo announced new functionality for customers with an overhaul to its Coupon Manager, which allows restaurant brands to deploy offers to digital ordering customers through the Olo Dashboard.
Does your company have news it would like to share with our readers? If so, we invite you to review our editorial guidelines and submit your press release for publishing consideration.