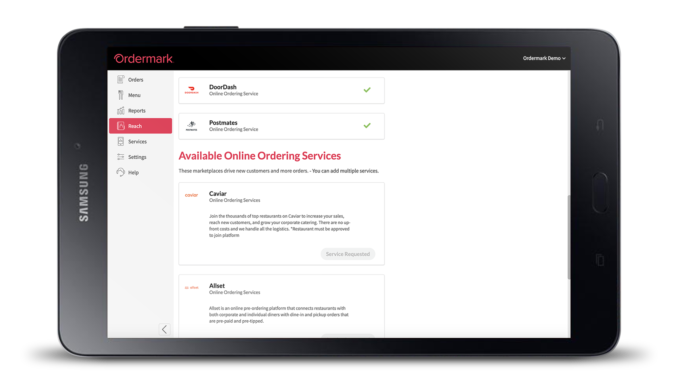 Ordermark, the industry-leading technology service provider helping restaurants generate new revenue and profits by adding all available delivery services into a single dashboard and kitchen printer, has entered into a new partnership agreement with DoorDash, the nation's largest on-demand destination for door-to-door delivery  in the United States.
Through the expanded agreement and innovative partnership between the companies, Ordermark's restaurant customers of all sizes will benefit from DoorDash Drive with an array of optimized on-demand delivery solutions into Ordermark's integrated services. Ordermark is at the forefront of providing restaurateurs with operational efficiencies and the DoorDash integration  will further simplify restaurant operations and assist restaurants in enabling delivery without increasing staff during peak, high-volume rushes and downtimes.
DoorDash Drive provides Ordermark restaurant partners with the ability to automate the process of assigning  a "Dasher" (a DoorDash driver) to a customer's order without requiring restaurant employees to manually re-enter the delivery order and address into a separate tablet. DoorDash Drive currently powers on-demand delivery fulfillment for hundreds of merchants nationwide including Chipotle, Denny's, Wingstop, and Portillo's.
"DoorDash shares Ordermark's commitment to helping restaurants of all sizes to increase
off-premise sales," said Andrew Lambert, Head of Partnerships for Ordermark. "As the industry grows and matures, Ordermark is excited to collaborate with the industry's leading companies, including DoorDash, to help restaurateurs leverage best-in-class technology solutions to drive sales, market share, and profitability."
"We're excited to strengthen our partnership with Ordermark and integrate our on-demand platform with Ordermark's leading technology solutions to help restaurants perfect their delivery operations while maintaining a meaningful connection to their customer base," said Casey North, DoorDash's Vice President of Drive.
Does your company have news it would like to share with our readers? If so, we invite you to review our editorial guidelines and submit your press release for publishing consideration.