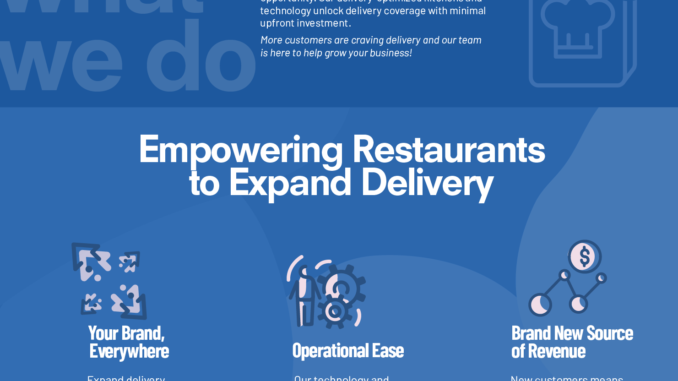 The aptly named Virtual Kitchen Co. has been operating under the radar since early last year. But that's no longer the case.
The San Francisco startup, which is focused on building delivery-optimized kitchens, formally launched last week. The company also announced that it has secured a $15 million series A financing round led by Andreessen Horowitz and Base10 Partners along with several other high-profile investors. The funding will reportedly be used to build new facilities while investing in R&D and employee hiring.
Virtual Kitchen Co., which bills itself as a food technology and logistics company, is the latest player to jump on the delivery-only food business bandwagon. The company's core capabilities lie in leveraging data, on-demand transport infrastructure, and strategically placed kitchens to help restaurants expand their delivery coverage area with minimal upfront investment. The stated mission: to provide a turnkey solution to restaurants, combining space, operations, and technology that allows restaurants to increase their delivery presence with minimal costs.
With multiple delivery-optimized kitchens already in San Francisco, the company will reportedly open another dozen Bay Area facilities in the next six months. Early restaurant partners include local favorites such as DOSA, Big Chef Tom's Belly Burgers and Poki Time.
Virtual Kitchen Co was founded by Ken Chong, Matt Sawchuk, and Andro Radonich. Chong formerly led Marketplace product teams at Uber, developing it's next-gen network pricing, marketplace health, and real-time pricing systems. Sawchuk spent six years at Uber developing a number of large business lines including UberX and UberEATS in San Francisco. Andro Radonich built one of the largest high-end corporate catering businesses in the Bay Area over the past decade.
While its name may suggest otherwise, Virtual Kitchen Co is hardly a pioneer of the virtual kitchen concept. Also known as cloud kitchens, ghost kitchens and dark kitchens, the concept combines next-generation restaurant technology and business models, underutilized, shared, or simply more cost-efficient properties, and good old-fashioned food preparation, all for the sole purpose of restaurant food delivery.
A Fast-Growing Category
While there is little doubt that consumers will continue to order up food for delivery, and that virtual kitchens will play an increasingly prominent role in the process, it's less certain which virtual kitchen models will be successful in the long run. The category is growing at lightning speed, with several other startups having secured hundreds of millions of dollars in venture capital and established a rapidly growing market presence.
One company that appears to be well-positioned for continued growth is California-based Kitchen United, which has now raised approximately $56 million. Launched in 2017, the company offers innovative restaurant chains the opportunity to grow their business without the high cost of building out a standalone restaurant. Kitchen United's commercial kitchen centers each house 10 to 15 restaurant brands, allowing the restaurant to focus on the food, while Kitchen United takes care of the rest.
Kitchen United rents space to restaurants with the express purpose of preparing and delivering online food orders, offering them "a turnkey, capital-light way to expand their reach to the off-premise diner." With locations open in Pasadena and Chicago, Kitchen United will soon open in Scottsdale and Austin, with additional sites under construction in Chicago, San Francisco, Los Angeles and other major markets. Over the next few years, Kitchen United plans to build 400 kitchen centers and install 5,000 virtual kitchens in high-demand locations across the United States, including New York City.
For most of the past year, former Uber CEO Travis Kalanick has been rapidly building a similar company, called CloudKitchens. It helps that there's a lot of fuel in the tank: more than $400 million, much of it reportedly coming from the sovereign wealth fund of Saudi Arabia, speaking of fuel in the tank.
Among the many other competitors is Berlin, Germany-based Keatz, which is actually comprised of nearly a dozen virtual kitchens, earlier this year raised approximately $13.5 million. Launched in 2016, the company, which bills itself as the "largest community of virtual restaurants," operates a network of virtual kitchens designed specifically for delivery order fulfillment, with customers placing orders online or via an app on their mobile device. Offering eight different "brands" out of its shared kitchens, Keatz's menu items are available for delivery through multiple services.
The Keatz model differs from some other variations on the theme. Rather than partner with existing restaurants, the company maintains its own portfolio of restaurants designed for deliver-only. The company is also unique in that it has adopted a hub-and-spoke approach to meal preparation. All meals are prepared, and even cooked, in a centralized kitchen. the meals are then shipped frozen to distribution kitchens in various strategic locations.
ClusterTruck, with locations in Indiana, Ohio, Kansas City and Denver, operates a virtual kitchen with an extensive menu of meals that it prepares and delivers through its own delivery fleet. The Indianapolis-based company raised $10 million in funding. Taster (formerly known as Mission Food), headquartered in France, is another good example of a virtual kitchen. The company has raised more than $5 million to date for its takeaway and delivery-only food brand.
As reported here, Chicago-based 2ndKitchen, a technology solution that enables businesses without a kitchen to serve food seamlessly using a custom menu from nearby restaurants, secured funding to expand its operations. Even delivery companies are starting to get into the game, particular in Europe. Uber Eats announced a few months back that it would be piloting a virtual kitchen concept in Paris. Deliveroo, which has operated its own virtual kitchens called "editions" in Europe for more than a year, has emerged as one of the world's biggest food-delivery platforms, having recently raised a whopping $575 million in a round of funding led by Amazon. It may be only a matter of time before drone delivery companies join the fray.