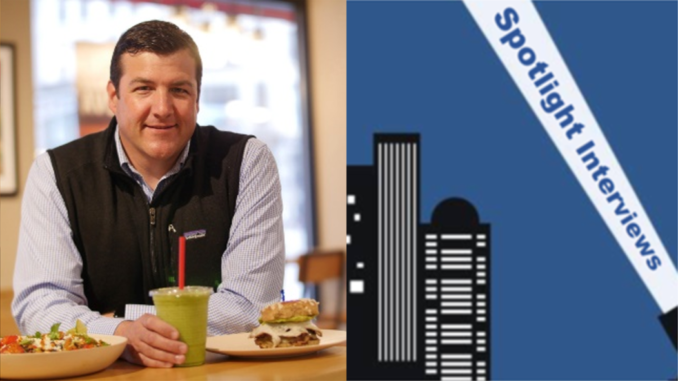 Chris Fuqua is Chief Executive Officer of B.GOOD, a 77-unit, farm-to-table, fast casual restaurant chain that serves all-natural burgers, chicken sandwiches, green and grain bowls, salads, and smoothies.  A seasoned industry veteran, Chris brings a strong strategic vision and operational background to the company. He has been on the Board at B.GOOD since 2017 and previously held roles in Marketing, Operations, Finance, Strategy, and Supply Chain as a senior executive at Dunkin' Brands, a consultant at McKinsey and Company, and an officer in the United States Navy.
Tell us a bit about your career. What led you to your current position as CEO of B.GOOD? Did you start out in the restaurant industry knowing you would one day lead a major chain?
I did not start out knowing one day I would lead a major restaurant chain – in fact, my career started as an officer in the United States Navy. Flying planes and seeing countries around the world, I learned that I liked being part of a unifying organization going after a single mission, which has since been a trend throughout my career.
After the Navy, I went to business school and moved into consulting, where I learned about a number of different industries and functions. I had the opportunity to work at McKinsey, which was undoubtedly the best training ground for becoming a CEO.
I went on to work at Dunkin' Brands, which was an unbelievable growth experience. Working in a variety of different function with great leaders, I learned a lot about managing people and understanding how important brands are to consumers. It's ultimately what made me start thinking about becoming a CEO.
The opportunity with B.GOOD came about, and it was too good to pass up – here was a company that had the foundation of something really special in the restaurant industry, with the mission of building better communities and introducing a better way to eat.

B.GOOD has 77 locations and is growing fast, with new stores opening in Albany, Logan Airport and elsewhere. The company is obviously doing a lot of things right. What sets the restaurant apart? The tagline is "Food with Roots." What does that mean?
When I came onboard as CEO last June, one of the things I was most excited about was scaling B.GOOD's amazing, authentic culture, and we've certainly made headway on that. Not only have we opened ten locations in the last year, but we entered the Midwest for the first time and opened our first non-traditional airport location within our hometown Logan Airport.
One of the reasons we've seen such great success is because of our menu diversity. We have something for the person who wants a salad and doesn't want to use dressing, but we also have options for the person who wants a burger and fries in a heathier way. It's something that differentiates us from the competition – we're democratizing healthy eating by providing a wide-range of great tasting options that people can feel good about eating.
"Food with Roots" means that our food is responsibly grown and sourced, wholesome and prepared fresh in-house. It's the reason why our guests feel good eating at B.GOOD.

Plant-based meat options took center stage at last month's National Restaurant Association show. Clearly, there are a lot of advances in food science around vegan alternatives to animal products, we're seeing a cultural shift toward plant-based living, and major restaurant chains are taking note. What is your take on this shift and is it reflected in B.GOOD's menu?
The shift towards plant-based proteins and diets is something we've been committed to for some time now. We introduced our Eggplant Meatballs in 2017, and were very ahead of the curve with them at the time. Today, they continue to be innovative and well-received among guests, especially as a growing number of mainstream consumers adopt vegetarian or flexitarian diets.
Our annual customer survey certainly validated the need for plant-based options, revealing that more than 60 percent of respondents consider themselves to be "flexitarians," which encourages mostly plant-based foods while allowing meat and other animal products in moderation.
At this time, we're focusing on drawing inspiration from the land and our roots – with options like our Eggplant Meatballs and our newly revamped veggie patty – as opposed to lab grown alternatives. However, we're constantly exploring how we can best deliver on evolving customer needs.
How has the restaurant industry changed and evolved, especially in terms of technology capabilities, since you began your career?
The need to deliver a great experience that gives consumers what they want remains a priority for restaurants, but what consumers want has evolved, as too has the way that consumers interact with brands.
Today's consumers are accustomed to using technology in all facets of their daily life to get what they want, where and when they want it – and food is no exception. As a result, we're seeing the increase of technology in the restaurant industry – with things like loyalty programs, sophisticated apps, meal kit delivery and ghost kitchens becoming increasingly more prevalent.
While not specific to technology, but also worth noting, we're seeing an undeniable shift towards people caring about what they're putting in their bodies and wanting to eat something they can feel good about. It's one of the many reasons I love B.GOOD so much.


Mobile-ordering and delivery has forced a lot of restaurants to rethink their traditional brick and mortar spaces and explore alternative points of distribution. B.GOOD is taking an innovative approach in response to this trend, partnering with Kitchen United to open a so-called "ghost kitchen" here in Chicago. What does that mean, exactly, and what are the key objectives?
At a high-level, our primary focus is always thinking about how we can best meet the needs of today's consumers. We think about that in two ways – not only in terms of the products we're offering consumers, but also where and how we're reaching them.
While consumers are still coming into traditional brick and mortar restaurants, a growing number of Americans are also interested in more convenient experiences when they eat, which is largely because they're strapped for time. There's a need to reach consumers in ways the complement, not complicate, their busy lives, and ghost kitchens, like Kitchen United, are one way we're doing just that.
The Kitchen United space provides us with a rented, booth-style kitchen – the format completely eliminates the in-person dining experience, and instead, allows us to exclusively focus on take-out, delivery and catering, all of which is on the rise.
What, in your view, are the biggest challenges that you and other restaurant operators are likely to face over the next few years, especially in terms of technology? Also, what are the biggest opportunities? 
The biggest challenge is the integration of technology and how it impacts the labor force. On the one hand, the restaurant industry is a people business, and we want to make sure that we're providing the best possible environment for restaurant employees, who are irreplaceable brand ambassadors. On the other, there's a need – and want – to integrate technology to make that environment more efficient and easier. The brands who can figure out how to reconcile those two things are the ones who will succeed.
Another challenge is figuring out how to develop a brand in a world where there are fewer points of distribution because of the advent of developments like ghost kitchens. It's forcing brands to be smarter about how they're marketing to and engaging with consumers.
Both of these challenges are things that we're thinking about day in and day out, and we see as opportunities for B.GOOD to be a leader.