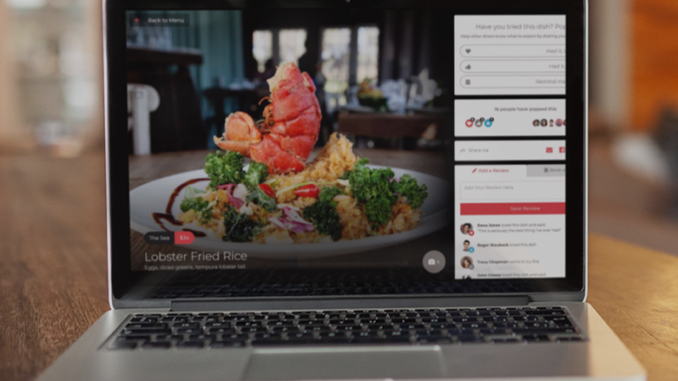 Restaurant technology startup Popmenu is set to grow its market presence with a $4.5 million Series A funding round to accelerate the development of its guest engagement software for restaurants. The  platform is designed to improve restaurants' ability to attract new guests and keep repeat guests engaged and coming back for more.
Popmenu's technology enhances online restaurant menus, providing a dynamic consumer experience that places photos, reviews, ratings, and social validation directly on the restaurant's website and under their control. Guests and potential guests can interact with and share specific dishes, and become followers of the restaurant to receive personalized offers and recommendations.
Restaurants benefit from powerful real-time menu management, automated omnichannel communication tools, and analytic insights that help uncover opportunities to promote and measure performance down to the dish-level that were never before available.
Based in Atlanta, Georgia, Popmenu co-founders Sweeney, Mike Gullo and Justis Blasco previously played key roles in scaling Commissions Inc- a SaaS provider that similarly helped equalize local real estate teams against third-party platforms such as Zillow- until its successful acquisition by Fidelity National Financial in 2016. "We have been building software to help level the playing field for local businesses against heavyweight third-party technology platforms for years, and we're proud to support restaurants in this fight," said Sweeney.
"We strongly believe, and restaurant owner/operators emphatically agree, that third-party platforms have taken too much control over how consumers discover their next favorite restaurant," said Sweeney. "They've built that dominance by providing the experience people want when making a dining decision, while restaurant websites struggle to even provide an up-to-date text-based PDF menu. I was building restaurant sites as a web developer nearly two decades ago, and it's astonishing how little the average restaurant website experience has changed since then. There is so much opportunity for innovation, and through Popmenu's mission of building a modern experience directly into the restaurant's website and under their control, we're giving them an ability to express their story and present their dishes in a way that's never been possible before."
The funding round was led by Base10 Partners, with participation from Felicis Ventures. Popmenu, bootstrapped for its first 18 months, has raised $6 million in total capital to date.