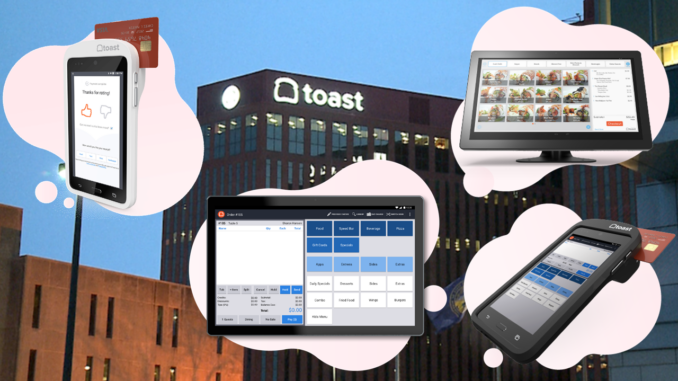 A number of investors are toasting the success of restaurant management solution provider Toast, which today announced a $400 million Series F funding round to further fuel its quest to "empower restaurants of all sizes to compete on a level playing field with global brands." The funding round takes the company's valuation to $4.9 billion.
The latest investment, which brings the total amount that the Boston-based company has raised to over $900 million over seven rounds, was led by Bessemer Venture Partners, TPG, Greenoaks Capital, and Tiger Global Management with participation from Durable Capital Partners LP, TCV, funds and accounts advised by T. Rowe Price Associates, G Squared, Light Street Capital, Alta Park Capital, and others.
Last April, Toast raised $250 million in Series E funding at a $2.7 billion valuation. That investment helped Toast extend its platform capabilities and value-add services beyond point-of-sale and guest-facing technology.
Launched in 2013, Toast has grown both organically and through company acquisitions at a breakneck speed and has also rapidly expanded its partner network. The company's dozens of technology integration partners provides restaurants of all sizes with new ways to improve the guest experience and streamline operations.
Like many solution providers operating in this competitive arena, Toast has been focused on helping restaurants of all sizes solve some of the industry's most pressing challenges. First and foremost, these challenges include attracting, engaging, and retaining guests. New guest marketing capabilities have enabled restaurateurs deliver highly personalized offers and campaigns triggered by guest behavior. New features and functionality are also helping restaurateurs simplify back-office operations and arm them with tools to recruit, hire, and retain talent in a competitive labor market.
Toast's investment strategy, including its ever-growing platform capabilities, appears to be paying off. According to the company, revenue increased 109 percent last year while adding tens of thousands of new restaurant customers to its client roster. The company's total U.S. workforce is now larger than 1,000, including, as of last year, several hundred sales, customer support and operations staff who occupy three floors of the Central Park Plaza building in Omaha, Nebraska.
In September, the company expanded into the HR realm with the acquisition of StratEx, a Chicago-based provider of HR and payroll software for restaurants. StratEx's HR software and consulting services help restaurants automate applicant tracking, scheduling, payroll, benefits, and labor law compliance. The former StratEx solution became part of Toast Payroll & Team Management, which was launched in May. Designed to seamlessly work with Toast Point of Sale, the solution automates employee onboarding, accurately tracks hours across locations, streamlines payroll, and simplifies compliance for restaurants of all sizes.
The company also moved into the world of financial services with the launch of Toast Capital, a solution designed to provide restaurants of all sizes with access to fast, simple, flexible funding to cover working capital needs and invest in their growth.
Nearly 52 percent of restaurant professionals rank high food and operating costs as a top challenge in running a restaurant, according to the Toast Restaurant Success in 2019 Industry Report. Access to capital from brick and mortar financial institutions has historically been a challenge for restaurants due to perceived risks common within the restaurant industry, such as seasonality and thin profit margins.
Toast Capital provides restaurants with quick and reliable access to funding to help grow their business. Toast Capital Loans provide easy access to the financing restaurants need, when they need it. Members of the Toast Restaurant Community can apply in just a few minutes and, once approved, receive funds as soon as one business day. Funding is available between $5,000 and $250,000, based on eligibility.
Toast will reportedly invest the new proceeds into hardware and software development to further increase speed of service, streamline the guest experience, and reduce operational costs. It will also continue to focus on capabilities to improve the restaurant employee experience, reduce employee turnover, and address the industry's pressing labor challenges; and financial products that provide quick and reliable access to funding to help restaurateurs grow their businesses. The funding, which will also be used to accelerate hiring in the areas of customer success, sales, and marketing activities, should certainly help catapult the company's market presence to the next level.