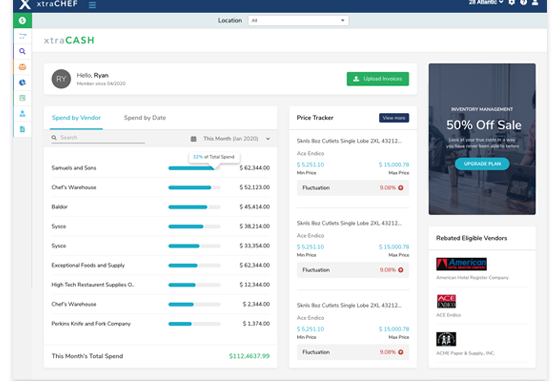 Financial and operational restaurant management platform xtraCHEF has unveiled a new product, called xtraCASH. The company has combined their industry-leading invoice processing technology with a limited set of cost management features free of charge to put restaurants in the best position possible to make a speedy recovery in the wake of a global pandemic that has disproportionately impacted restaurants.
xtraCHEF customers who sign up for xtraCASH can digitize their invoices and automatically match line-item purchase details to eligible cost savings programs. The company's partnership with the Buyers Edge Platform, one of the largest Group Purchasing Organizations (GPOs) in the foodservice industry, gives their customers access to rebates on over 165,000 eligible products from over 350 manufacturers.
"As our industry ramps back up and reopens its doors, we are doubling down on our mission to empower restaurants to improve profitability," says Andy Schwartz, Co-founder and CEO of xtraCHEF. "Now more than ever, operators need tools to better run their businesses. By making our invoice digitization and recognition software available free of charge, we're giving any restaurant the capability to better monitor their spend, make more informed purchasing decisions, and ultimately, improve margins."
xtraCASH users will benefit from some of xtraCHEF's other core financial and operational management features free of charge.
Features include:
Ingredient Price Tracker — Monitor item price fluctuations to audit and avoid vendor discrepancies
Document Management & Search — Easily store, search, and access invoices from anywhere
Vendor Hub — A one-stop shop to manage all vendor-related details and transactions
Product Catalog — View and manage the details of all products the restaurant has purchased, including units of measurement, price, and quantity
Purchasing & Order Management — Make purchases and manage vendor orders in a single, easy to-use interface
Reporting & Analytics — View reports that provide visibility into where money is being spent across vendors and locations
Participating in xtraCASH is simple. Customers simply sign up through a guided registration process. Once they've created an account, they can immediately begin to capture invoice data. xtraCASH customers can submit invoices through xtraCHEF's mobile app (available on iPhone and Android devices), as well as through a web-based drag-and-drag-and-drop
interface that accepts batch uploads.
"xtraCHEF and the Buyers Edge Platform have a mutual goal of offering operators efficiency and transparency," said Sean Donahue, VP of Strategic Partnerships at Buyers Edge Platform. "The team at Buyers Edge Platform is excited to partner with xtraCHEF to bring more value to their customers and the industry at large. As xtraCHEF extends this value to restaurants everywhere, together we will help operators spend more efficiently and improve their profits."
"We're not only pleased to offer the benefits of better visibility and automation to any restaurant, but also excited to combine that with the industry's most robust rebate program powered by Buyers Edge Platform," said Schwartz.
Does your company have news it would like to share with our readers? If so, we invite you to review our editorial guidelines and submit your press release for publishing consideration.