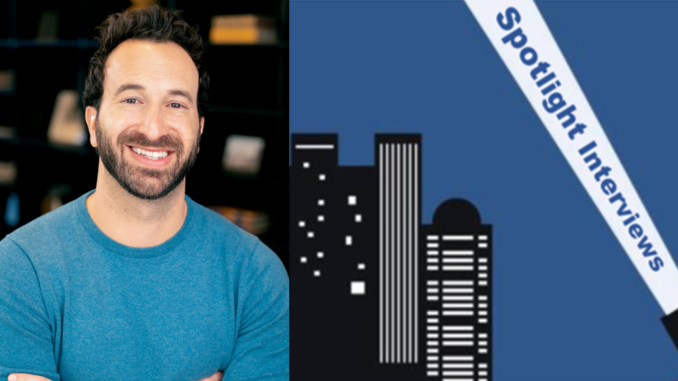 Andy Schwartz is the CEO & Co-Founder of xtraCHEF, a cloud-based restaurant management platform. Prior to founding xtraCHEF, Andy worked as Senior Vice President of Sales & Marketing for nine years at MTS Software Solutions. Andy's thoughts on leadership, company culture, and the importance of positivity and work-life balance in the startup world have been featured in Forbes and Fortune.
Could you talk a bit about the genesis of xtraCHEF? What was the original vision for the company? How do restaurants benefit by deploying your solution? Where did the name come from?
xtraCHEF was founded on the idea that paper-based processes in restaurants could be streamlined using automation technology that was previously only available to enterprise businesses. Today, xtraCHEF empowers restaurants with the tools and data they need to improve productivity and profits.
As my co-founder, Bhavik Patel, and I were launching xtraCHEF, we heard chefs say over and over again that what they really needed in the kitchen was an extra chef to help them do all of their paperwork. Since we automate tedious paperwork and data entry, we named our software after that mythical "extra chef."
Tell us a bit about your career trajectory. What is your professional background and what led you to launching xtraCHEF? How did you identify this market need?
Prior to xtraCHEF, I led the sales and marketing teams at MTS Software Solutions, selling automation technology and document management solutions to enterprise businesses. At MTS, I saw the opportunity for automation to make a big impact for small businesses, especially in the back office.
My partner Bhavik and I had begun to seek out new industries and applications for automation tech when we struck up a conversation with a chef friend, Chaz Brown. Chaz brought to our attention the lack of technology in restaurants, with many operators still relying on Excel to manage and track food costs. Together, we saw that the back-of-house was ripe for automation and xtraCHEF was born.
What do you do in your job as CEO on a day-to-day basis? What do you like most about your work? What are the biggest challenges?
I'm focused on growing the business by forming strategic partnerships, raising capital, and understanding the needs of our customers and our industry. I also spend a lot of time thinking about company culture, doing what I can to make xtraCHEF a place where my team is proud to work so we can channel that passion back into the restaurant industry we serve.
xtraCHEF is based out of Philadelphia, but serves restaurants all over the country. Why did you choose Philadelphia as your headquarters?
Bhavik and I are both local to Philadelphia. Philly has a great pool of tech talent, plenty of access to capital, and an incredible food scene, with more restaurants per capita than New York City. Though it's a smaller market than New York or San Francisco, there is a thriving startup community in Philadelphia.
How has the vision for the company changed — or not — as it has grown? 
As the company grows, our product has evolved to meet the changing demands of our customers and our industry, but the guiding principle of empowering restaurant operators with data is unchanged. All of our product features are fueled by our industry-leading AP Automation software and data that is unmatched in accuracy.
Today, our biggest challenge is navigating the COVID-19 landscape. Across the country, restaurants have closed their doors, or are operating at limited capacity. Determining the best way to support our customers and the industry at large during this difficult time has certainly been tough. But I'm proud of the work we've done so far, including deferring billing for our customers and offering a 90-day free trial of xtraCHEF to non-customers.
Do you have any metrics, such as time and profitability, you can share in terms of the extent to which xtraCHEF helps reduce some of the pain points that employers in the restaurant industry face? 
Metrics vary by customer, depending on their needs and usage of xtraCHEF. However, we recently spoke with one of our clients, Mighty Quinn's BBQ, who saw an immediate benefit from our technology.
Prior to xtraCHEF, Mighty Quinn's needed a team of employees at their corporate office to spend over 10 hours a week manually receiving, reviewing, and inputting invoice data. Now with our platform, one person spends less than two hours each week processing hundreds of invoices across all locations across the globe.
What new xtraCHEF capabilities are you most excited about and should restaurants also be most excited about?
We recently expedited the launch of a new feature called xtraCASH, which allows restaurants of all sizes to earn up to 1% cash back on purchases in the form of foodservice manufacturer rebates. In the face of the COVID-19 outbreak, restaurants need cash more than ever. We're very happy to make this product available for free to xtraCHEF customers and noncustomers alike and hope it helps our industry during this difficult time.
The restaurant industry is obviously taking a hard hit due to COVID-19. What message would you like to share to your fellow industry leaders and partners?  
Right now our industry is struggling. But this industry is made up of resilient people, and I truly believe that we'll all come out stronger on the other side of this. In an effort to keep our fellow industry workers safe and supported during this time, xtraCHEF compiled a list of resources for restaurant owners, operators, and employees that we're updating regularly. We're also featuring stories of hope and resilience on our blog, like our customer Tucker Silk Milk that transformed into a community market in response to the outbreak.