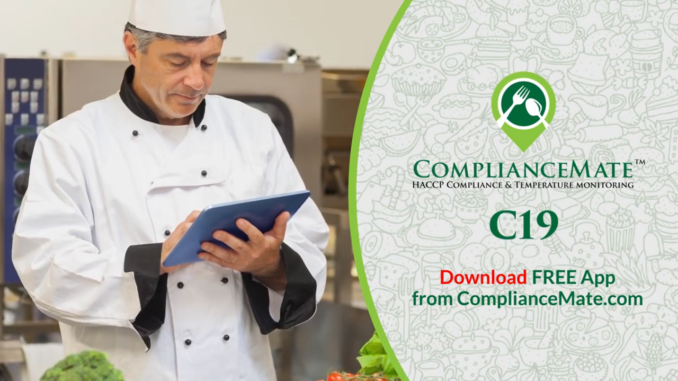 As the impacts of the novel coronavirus (COVID-19) increase and spread across the country and throughout the world, foodservice establishments are diligently working to protect their guests and staff. Yet, the safest and best practices to deal with COVID-19 are evolving almost daily, and implementing and adhering to rapidly changing guidelines and best practices is a 24/7 job.
ComplianceMate™, the global leader in enterprise food safety management tools, recognizes these challenges and is ready to help.
Starting Wednesday, April 1, 2020, foodservice companies can go HERE and get ComplianceMate's free web-enabled app ComplianceMate C19. It is accessible via any device and was created to support efforts to control the unique, constantly evolving recommendations and requirements for COVID-19 safety.
The app will automatically keep foodservice operators current on guidelines from the Centers for Disease Control (CDC), the U.S. Food and Drug Administration (FDA), and the U.S. Department of Health and Human Services (HHS) through always up-to-date checklists and workflows. At launch, the app will include guidelines for employee wellness checks, cleaning/sanitation checks, personal hygiene advice, and procedures for returning to work after an employee tests positive.
Simultaneously, the app will also record actions taken by the employee, so managers can quickly and easily confirm compliance with COVID-19 measures. The app can be used by c-stores, grocery, QSR, fast food, and restaurants offering third-party delivery.
"We want to help the foodservice industry successfully navigate through this trying time, so we've worked with leading public health professionals from around the country to develop this app," says Tom Woodbury, VP-National Accounts for ComplianceMate™. "As best practices continue to evolve, the app will be updated to reflect those changes."
For example, on February 11th, the CDC stated that an employee testing positive for COVID-19 needed negative results from "at least 2 consecutive sets of nasopharyngeal and throat swabs collected at least 24 hours apart" before ending home isolation. ComplianceMate C19 captures this requirement. As the outbreak progresses, this requirement may change, and the app will react quickly to reflect any new protocol(s) as changes impacting foodservice arise.
"It's a challenge for restaurants to stay up to date on the constantly evolving guidelines," says Cindy Rice, President of Eastern Food Safety. "This app will be updated as guidelines change, so foodservice can stay up to date on the latest CDC and FDA recommendations."
"Foodservice is our family and our focus as a company," said Steven Getraer, President of ComplianceMate™. "We want to make sure that we help find a way for our family and those it serves to stay safe in these challenging times."
For more information on installing the free web app, click here.