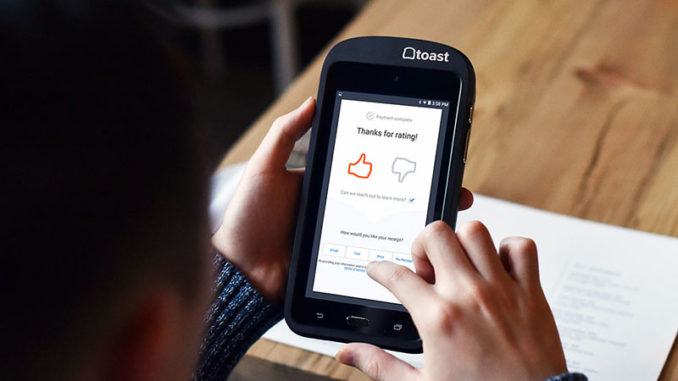 By Debbie Carson, Associate Editor
A one-star change in an online restaurant ratings can have a dramatic impact on revenue. It's no surprise, then, that solution providers have turned their attention to developing guest feedback applications that enable them to proactively address service concerns and re-engage guests directly with the goal of being able to better manage their online reputation, perform service recovery, attract new diners, and retain guests.
According to various sources, fewer than 5 percent of guests today bother to complete feedback survey or comment card, even when incentives are attached. Digital easy-to-use, guest-friendly platforms may make a world of difference when it comes to getting guests to participate in the feedback process and allow restaurants to gain more real-time feedback on their day-to-day operations.
A good example of a solution provider advancing the frontier on next-generation guest feedback technology is Presto. As reported here, Presto last month raised $30 million for wearable devices that allow servers and operators to access real-time guest feedback. Another good example is Square. The company's restaurant POS system allows restaurant operators to communicate directly with a guest through the digital receipt. It also provides a summary of guest feedback data.
Another good example is Toast, which this week raised the ante on restaurant guest feedback capabilities to a whole new level. Indeed, its suite of new guest feedback features and capabilities that may well be the most comprehensive in the industry.
Dubbed Toast Guest Feedback, the multi-channel feedback platform is designed to empower restaurant operators with the ability to collect and act on guest reviews in real-time. This is achieved via Toast Digital Receipts and Toast Go, which is a mobile POS device designed specifically for restaurant operations. The device allows servers to take orders, send orders directly to the back-of-house operations, receive real-time menu updates and accept payments at the table.
With Toast Guest Feedback, restaurants can collect positive or negative reviews from dine-in guests when checking out with Toast Go. They can also collect feedback from customers ordering food to-go through Toast Digital Receipts. The Toast Go device allows guests to leave feedback about their experience using the touchscreen tablet. Beyond leaving a "thumb up" or "thumb down" rating, guests are presented with an open text box that invites them to leave any number of comments about their experiences with restaurant, positive or otherwise.
That feedback data is processed in real time. Should they choose to do so, restaurant managers can receive SMS notifications whenever a guest leaves a negative review or complaint of any kind, enabling prompt resolution. Restaurants can try to resolve negative experiences without delay either in person or via email.  The reporting dashboard includes visualization tools that allow restaurant operators to view a summary of all guest reviews, making it easy glean patterns and emerging trends that may need to be addressed rather than later.
Toast, which last October secured $115 million in Series D funding to accelerate investment in research and development as well as expand its overall market presence, has also rolled out a self-ordering kiosk as part of its latest technology innovations in the realm of guest experience management. The kiosk is designed to accelerate throughput in high-volume restaurants during high-traffic times of the day. New Toast kiosk features include:
Payments and tipping: Guests have the option to tip when placing an order on a Toast Kiosk. Toast's data shows that adding tipping to the checkout flow increases tips, on average, by 30 percent;
"Order is ready" text notification: When paired with Toast KDS, Toast Kiosk can automatically send guests an SMS message when their order is ready; and,
Brand management: The Toast Kiosk start screen is now customizable to incorporate brand colors and images. Restaurateurs can also highlight add-on items to incentivize guests to bolster their orders, or choose to hide menu items that they do not want to offer on a Toast Kiosk
Latency is the enemy of guest experience management. Faster lines and real-time feedback empowers restaurant operators to reduce a major source of guest dissatisfaction while immediately addressing reviews on an individual basis, when necessary. Timely responses to negative ratings are more important than ever, given the ubiquity and permanence of social media. In fact, a study conducted by Toast found that 65 percent of one-star Yelp reviews were posted within one day of a poor dining experience.
Clearly, timing is everything in the restaurant business. Managers should make every effort to gather and address negative feedback even before the food gets cold. With the launch of Toast Guest Feedback, that possibility at a mass scale becomes much more of a reality.
Disclosure: Toast is a client company of Starfleet Media, which is the publisher of Restaurant Technology News.