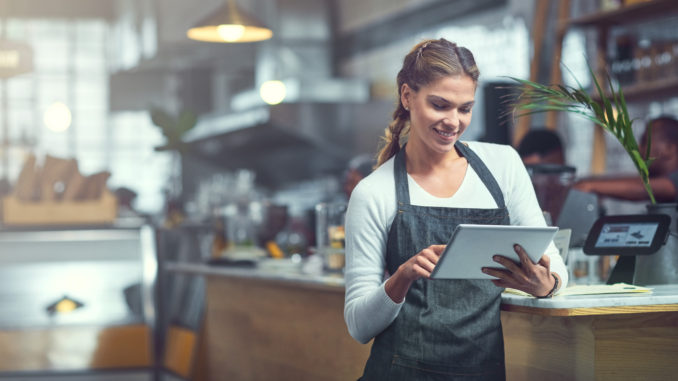 What is a restaurant technology stack? Otherwise known as the restaurant technology ecosystem, the technology stack is all the core software that helps run your restaurant business. Many restauranteurs think of the point-of-sale (POS) system as the hub of the restaurant technology stack. That's not surprising, considering the POS system is usually the first piece of technology you buy for your restaurant. And, granted, you can't run a restaurant without it.
All restaurant POS solutions allow restaurants to use cash management and integration with payment service providers to process orders.  However, many have added functionality to become a more integral part of a restaurant's technology. Next-generation, cloud-based restaurant POS systems are now providing tools to enhance the customer experience and streamline business operations, with mobility and labor management as some of the added functionality. Integrated POS systems even offer light versions of reporting and inventory management.
However, POS systems that try to offer more and more functionality can create scalability problems because a POS system that is best for one concept, may not be optimal for another. Consequently, you can't grow if you make your POS system the center of your restaurant world.
For example, if you operate a multi-concept restaurant group and track your inventory in your POS system, which is not connected to your suppliers, and then open a new concept with a different POS, you've painted yourself into a corner. Your data is siloed in separate systems, preventing side-by-side analysis. And you still have to take your data out of the POS system and enter it into your inventory system to conduct any serious analysis.
In addition, POS systems generally purge data after 18 to 24 months to keep the system light and fast.  Tracking year over year sales may be possible, but you're out of luck if you want data that's already been purged.
POS systems can also provide excellent marketing insights when customer data is exported into a loyalty app or CRM app. But it's those apps that do the analysis. The POS system doesn't do analysis.  Think of a POS system as a tractor. A tractor collects the hay, but it doesn't bundle it up and stack it. Similarly, a POS system is excellent at collecting sales and labor data. But, you still need a reporting and analysis tool to analyze your data.
To truly know what's going on in your restaurant business – and to conduct side-by-side analysis of all of your locations – you need a tool that touches all of your transactions as the brains behind your technology. And that is your accounting system.
Why Accounting Should Be the Hub of Your Restaurant Technology Stack
Whether you make a sale, order inventory, count inventory, waste inventory, pay vendors, schedule labor, pay staff or make a bank deposit – it all has an accounting transaction tied to it. Your accounting system is at the heart of your restaurant business. As such, it should be the hub of your restaurant technology stack.
Your cloud-based accounting system is where the most business-critical information takes place. Your accounting system helps you optimize labor, control food costs, and increase revenue. Your POS system can't do that.
With this in mind, consider accounting as the foundation of your technology ecosystem, followed by back office software, the POS system third, then other software, such as loyalty apps, delivery apps, scheduling apps, kitchen systems and more.
As recently as a decade ago, a sophisticated restaurant technology stack consisted of a POS system, a back-office solution and perhaps a labor scheduling tool. Single-unit restaurants and smaller chains weren't even that advanced. They had a POS system and managed the rest of the business with spreadsheet software.
Today, most restaurants choose a POS system and build other technology around it. Beyond a back office and scheduling tool, they add inventory management, accounting, payables management, payroll, financial reporting, budgeting, business intelligence, manager log, with some adding newer technologies such as third-party delivery, kiosks, online ordering and more.
Consequently, these technology ecosystems consist of one solution for accounting, another for inventory, another for tracking franchisees, another for tracking labor, and so on. In addition, there's an abundance of manual tasks importing data from one system to another.
Putting together a patchwork of solutions might be helpful to achieve specific functionality, but it creates significant work keeping them up to date and in sync with each other. Integration is costly and time consuming and communication between the disparate systems is virtually non-existent. These Frankenstein systems simply aren't sustainable.
That's why you need a cloud-based accounting system at the center of your restaurant technology to integrate all these functions. You want to be able to automatically pull detailed sales and labor data from your POS system. You want to connect to your vendors to streamline the accounts payable process and control inventory costs. You want to connect to your bank to simplify the bank reconciliation process. You want to connect to your payroll provider to ensure that your loyal staff is paid accurately and on time.
Beyond these third-party connections, accounting integrated with your back-office software makes it the undisputed winner in the POS vs. accounting debate. Imagine a system where labor, scheduling, inventory, food costing, menu engineering, AP automation, bank reconciliation, financial reporting, budgeting, fixed asset management, commissary, franchising, catering management, etc., were all part of an integrated system.
Further imagine that you had real-time access to all of that data, with automatic generation of actionable insights. Restaurant management software that integrates accounting and back office in a single platform can help your restaurant business manage prime costs through real-time sales, inventory, labor, and accounting intelligence, allowing you to make immediate, data-driven decisions that impact your bottom line, rather than waiting until the end of the month to make those decisions. The information is more accurate, and everyone gets it sooner. Your store managers, who are accountable for their sales, as well as their food and labor costs, would have access to the same information at the same time that corporate gets it. They no longer have to gather data from multiple systems, giving them more time to engage with customers and employees. Your accountants would no longer have to gather and disseminate the data, giving them more time for strategic pursuits that impact your business.
We love POS systems. Restaurant businesses couldn't operate without them. But, if you want the hub of your technology ecosystem to combine and house your critical systems, measure how you run your business, and help you control food costs, optimize labor and increase revenue, then your accounting system must be the foundation of your restaurant technology stack.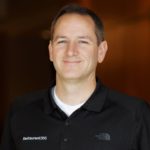 Morgan Harris is Co-Founder of Restaurant365, an enterprise accounting, back-office, and reporting solution specific to the restaurant industry.  Harris has worked in accounting since 1998 and earned his CPA license while working with PriceWaterhouseCoopers.  In his role at Restaurant365, Harris supports large accounts, strategic partnerships and executive-level sales. Harris is passionate about software and its potential to help growing restaurant businesses.
Are you an industry thought leader with a point of view on restaurant technology that you would like to share with our readers? If so, we invite you to review our editorial guidelines and submit your article for publishing consideration.